The 2008 NFL Draft was completed yesterday in New York, and, from the looks of it, could end up making the 2008-09 NFL season a very interesting one. As expected, Michigan OT, Jake Long, was taken number one by the Miami Dolphins, and the Dolphins O-Line is better already. Hall of Fame DE Howie Long's son, Chris, was taken by the St. Louis Rams at the 2 spot, the Rams D really needed a dominate force on the D-line, and it looks like they have finally found that guy. Atlanta took BC QB, Matt Ryan third overall, and he could end up being the starter on opening day, especially after looking at the Falcons Depth Chart and seeing Chris Redman at the top of it.
I am really confused at the Raiders pick (4th overall). I know, I know, Darren McFadden is hard to pass up, but why not go for a weak position? You just re-signed Justin Fargas to a contract, and also have fantasy sleeper, LaMont Jordan, and former Colt RB, Dominic Rhodes on the roster. If anything on offense, Oakland should have picked up an offensive lineman, or a wideout. Heck, I probably would have taken a TE over a RB. So, unless McFadden is gonna be returning kicks, I don't see this guy making an immediate impact like the top 3 picks.
Kansas City took the best Defensive Tackle available in Glenn Dorsey from LSU, but I think he's a bit of a risk when you consider his injury history. But, if he can stay healthy, Dorsey would really be a threat, and get to the QB 7-8 times in '08. Well, since Oakland took McFadden, the Jets had to settle with the D-End from Ohio State, Vernon Gholston, who will definitely make an immediate impact in New York, and boost the Jets confidence just a little on the defensive side. New Orleans is really trying to improve on defense, landing LB Jonathan Vilma from the NYJ earlier this offseason, and then drafting DT Sedrick Ellis out of USC with the 7th pick in the draft.
Well, it may not be Jason Taylor, but Jacksonville gets a D-End, Derrick Harvey, from the Univ of Florida. Harvey became the 3rd Defensive End drafted, and the 4th Defensive Lineman drafted, and he was only the 8th overall pick!! Well, many don't think Cincy's pick was a very smart one, but why is that?! Last year, their weakest position, by far. A few games they only had 3 or 4 LB's active, the Bengals LB corps was devastated by injuries and Keith Rivers has a pretty good track record, starting 36 games in his final 3 seasons at USC. This next pick is the one I am questioning. While I agree that New England's LB's are aging, I would still like to know why they passed up CB, Leodis McKelvin, for a LB. I'm sure Jerod Mayo would be a good fit in NE. But after losing Asante Samuel, who is headed to Philly, I think the secondary will really struggle this year, therefore, taking McKelvin at number 10 would have been a better fit. But hey! Belichick knows what he's doing, right?
Winners of the First 2 Rounds:
I was kinda surprised that Mike Tomlin didn't take an Offensive Lineman to help the struggling Line protect Big Ben, but am happy with the first two picks anyway. Rashard Mendenhall, the small, quick RB from Illinois, will do just fine filling in for "Fast" Willie Parker on third downs. Limas Sweed (taken 53rd overall), the tall, speedy wideout from Texas will make Roethlisberger happy, who says he misses Plaxico Burress, and would like a tall receiver with great hands.
I don't think they needed to draft TE, Fred Davis, but they are a winner for taking two outstanding WR's in an attempt to help QB Jason Campbell out on offense. Devin Thomas, who was said to be the best WR in the draft, was still on the board at pick 34, and Coach Jim Zorn snagged him. The Skins took Fred Davis at 48, and got a second WR, Malcolm Kelly from Oklahoma at 51. Kelly has great hands, and is strong, standing at 6 foot 4.
Miami helped 2nd year QB, John Beck, by taking the best O-Lineman in the draft at number 1. Miami decided it was wise to add depth at QB, after letting veteran signal-caller, Trent Green go over the offseason. So, Miami grabbed Michigan QB Chad Henne, a very smart QB. Miami can now trade Jason Taylor away in order to fill some more holes, since they drafted DE Phillip Merling from Clemson at 32 overall.
After trading away DE Jared Allen, their Defensive Line was rather weak, so Herm Edwards went out, and drafted Glenn Dorsey at the 5 spot. Although he may not be a DE, he will still anchor the D-Line, that is, if he can stay healthy. Brodie Croyle now has a 6 foot 6, 309 pound Guard in front of him, in Brendan Albert, who KC took with the 15th pick. The Chiefs also filled a hole at Cornerback by selecting Brandon Flowers from Virginia Tech in the second round.
New York, who needed help on the Defensive Line, will get alot of production from Gholston, who was taken with the 6th pick. The Jets also picked up the draft's top TE, Dustin Keller from Purdue. I'd say that's a pretty good 2 rounds.
Philly took a physical DT in Trevor Laws in the second round at number 47, which is a pretty good upgrade, and then finally gave Donavan McNabb what he had been wishing for a few picks later, a playmaking WR from the Univ. of California, Desean Jackson. Jackson was selected by Philadelphia at 49th overall.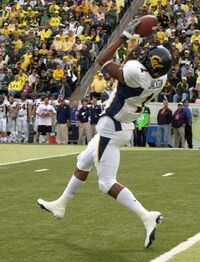 Carolina desperately needs help on offense, and that's just what they got in the first two rounds of the draft. First, Carolina drafted Oregon RB, Jonathan Stewart, who will make an immediate impact in the weak running game of the Panthers. In the second round, Carolina added Offensive Tackle, Jeff Otah, to help protect the injury-prone Jake Dehlomme, who calls himself an NFL QB.
Atlanta took Matt Ryan 3rd overall, and that alone, is an upgrade for Atlanta. But, they traded up to get OT, Sam Baker from USC, later in the first round. Baker will make an immediate impact at Tackle, and perhaps be the anchor of Atlanta's Line in the near future. As if that wasn't enough, Atlanta drafted ILB Curtis Lofton in round 2, to play alongside veteran, Keith Brooking in the defensive backfield.
Buffalo took advantage of NE turning up CB Leodis McKelvin, and landed the hard-hitting corner out of Troy. In the second round, Buffalo drafted a deep-threat to help out the injury-prone WR corps. Look for James Hardy to make an immediate impact up north.
Arizona really helped out their defense in the first 2 rounds, drafting CB Dominique Rodgers-Cromartie with the 16th pick, and adding dominate DE Calais Campbell out of Miami with the 50th pick.
Well, apparently new Head Coach, John Harbaugh, isn't confident enough in veteran Kyle Boller, and former Heisman Trophy winner, Troy Smith. Baltimore went out, and drafted the extremely accurate QB Joe Flacco from Deleware with the 18th pick, and picked up Rutgers RB, Ray Rice in round 2. Rice will most likely be a third-down back, and will do a nice job alongside Willis McGahee.
The Saints drafted a much needed DT, and CB in the first 2 rounds. With the 7th pick, New Orleans got Sedrick Ellis (DT from USC), and CB Tracy Porter with the 40th pick. I believe the Saints defense will be much better because of this, and the fact that they signed LB's Jonathan Vilma, and Dan Morgan earlier this offseason.
Don't be Surprised If...
Andre Woodson (drafted by NY Giants number 198 overall), and Colt Brennan (drafted by Washington number 186 overall), have a better career than Chad Henne (Dolphins), Brian Brohm (Packers), and John David Booty (Vikings).
Darren McFadden ends up holding out, forcing him to miss part of Training Camp, following the footsteps of new teammate in Oakland, JaMarcus Russell. Although, I would be surprised if he held out longer than Russell did last year.
Limas Sweed becomes Ben Roethlisberger's new favorite target.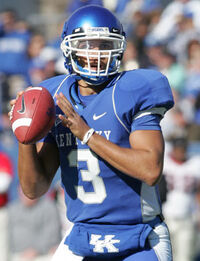 There isn't another Adrian Peterson in this year's draft class.
Glenn Dorsey gets hurt halfway through the 2008 NFL season.
Joe Flacco wins over the starting job in Baltimore, and does better than Boller, and Smith combined.
Willie Parker, and Rashard Mendenhall become the most feared RB duo in the League. Haha, I guess you can tell that I'm a Steelers fan, huh?
Coming Soon: I will be coming out with an early NFL season Preview. Yes, that's right, probably in May, maybe June I will come out with an early NFL Preview article. What can I say? I love NFL Football, and can't wait until the season kicks off in September. But, until then, I will continue to watch NFL Replay on NFL Network.
Ad blocker interference detected!
Wikia is a free-to-use site that makes money from advertising. We have a modified experience for viewers using ad blockers

Wikia is not accessible if you've made further modifications. Remove the custom ad blocker rule(s) and the page will load as expected.