Seahawks, Jags Move on to Second Round
Yesterday marked the first day of the 2007-2008 NFL Playoffs.  The Washington Redskins traveled to Seattle to take on the Seahawks at 4:30.  The favorite was Washington, despite them being the 6th seed playing the 3rd seed.  The second game of the double-header was between the 5th seeded Jacksonville Jaguars on the road against the 4th seed Pittsburgh Steelers.
Redskins 14 Seahawks 35
Washington kept the game close, down 7-0 at the end of the first.  Patrick Kerney, Seattle's Pro Bowl DE, dominated the 'Skins O-Line, getting to Washington QB Todd Collins on nearly every first half play.  Both offenses struggled throughout the first half, Washington punted on their first 7 possessions, on their eighth possession Washington turned the ball over on downs, and their next possession ended the first half.  Seattle led 10-0 at the half, the only TD coming on a 17-yard TD run by FB Leonard Weaver (his only carry of the game).  Josh Brown added a 50-yard FG halfway through the second quarter.
Just three points came in the 3rd quarter (Josh Brown 33-yard FG for Seattle), but Washington made a BIG comeback in the fourth quarter.  Towards the end of the third quarter Collins drove the Skins down the field, and scored on the first play of the fourth quarter with a 7-yard pass to Antwaan Randle El, who had a big day catching 10 balls for 94 yards and a TD.  On Seattle's first fourth quarter possession, Washington DB LaRon Landry picked off a Matt Hasselbeck pass.  The turnover led to another TD pass from Collins to Santana Moss for a 30-yard hookup, and after the PAT, Washington found themselves with a 14-13 lead with a little over ten minutes left.  Washington got a little cocky, and 6 minutes later gave up their lead after Hasselbeck threw a 20-yard pass to a wide-open D.J. Hackett for a TD, and a 21-14 lead for Seattle (after the 2-point conversion was good).  The 'Skins got the ball on the kickoff, only to throw an INT on the first play to Pro Bowl DB, Marcus Trufant, who returned the ball 78 yards for a TD.  It had appeared that wideout Santana Moss had just given up on the play, not knowing that Collins threw the ball to him, giving Trufant an easy INT, and a 28-14 lead.  BUT WAIT!!  There's more... about 4 minutes later Collins threw another INT, this time to Jordan Babineaux, who ALSO ran it back for a 57-yard TD, and a 35-14 lead.  35-14 ended up being the final score. Neither team ran the ball all that well, Seattle ran for 77 yards, and Washington ran for just 75.  Washington dominated the time of possession (34:15 to 25:45), and outpassed Seattle with 244 yards compared to the 'Hawks 227 yards through the air.  Both teams turned the ball over twice, and had more penalties (5/39, Seattle: 3/30).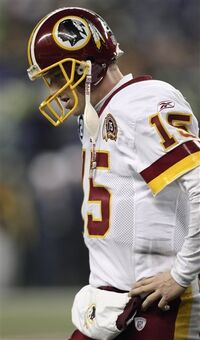 Washington played an all-around good game (minus the running game), but turned the ball over in key situations, and let them go for Seattle TD's. If Washington ran a little better, instead of 75 yards for an average of 2.6 YPC, that would have taken some pressure of Todd Collins, and he might've played a better game and not turn the ball over.  Washington just did not have the same heart Seattle had, and the 12th man seemed to take over late in the game.
Seattle: "Bring on the Pack"
Jaguars 31 Steelers 29
What can I say???  Jacksonville dominated the first half.  Pittsburghdrove down the field on 10 plays (80-yard drive) on their first possession, and took an early 7-0 game after Najeh Davenport ran the ball in from 1-yard out.  But, Maurice Jones-Drew ran the kickoff all the way down to the 1-yard line with a 96-yard runback.  Fred Taylor ran the ball in on the first play of the drive to tie the game up at 7.  Jacksonville dominated the entire second half with a Rashean Mathis 63-yard runback of a Ben Roethlisberger INT early in the quarter.  Two minutes later MJD scored again, with a 43-yard catch, and run from QB David Garrard.  After a Pittsburgh punt, and a Jacksonville missed FG, Pittsburgh got the ball back and was in Jacksonville territory when Big Ben tried throwing a short screen pass to Rookie Carey Davis, but the pass was intercepted by Derek Landri, which ended the first half.
Pittsburgh scored on their first four possessions of the second half (FG, TD, TD, TD), while Jacksonville scored once, and threw 2 INT's on their first four possessions.  James Farrior intercepted a Garrard pass on their first possession, and almost five minutes later Pittsburgh kicker, Jeff Reed added three with a 28-yard FG.  With 4 minutes to go in the third, Maurice Jones-Drew ran for a 10-yard TD run, to make it a 28-10 game.  But, Ben Roethlisberger threw a 37-yard pass to Santonio Holmes on the first play of the fourth.  After forcing a Jacksonville punt, Pittsburgh drove 69 yards down the field, and got within 5 points of the Jags after Big Ben threw his 2nd TD pass on the day, with a 14-yard pass to TE, Heath Miller (Pittsburgh missed the 2-point conversion).  Ike Taylor picked off another Garrard pass a few minutes later, which set Pittsburgh up for another TD, a Najeh Davenport 1-yard run.  Pittsburgh had taken just their second lead of the game, they elected to go for 2 again, but failed once again, so instead of a 3 point lead, Pittsburgh held a 1 point lead with 6 minutes left (29-28).
Jacksonville, and Pittsburgh exchanged punts, but, after that Jacksonville got down to business.  Jacksonville went on an 8 play, 44 yard scoring drive that took 2:01 off the clock, and was capped with a short, 25-yard FG.  Pittsburgh had less than a minute to drive down the field and get a FG, but Roethlisberger fumbled on the first play, and Jacksonville recovered the ball to end the wild game.
It's tough to lose that way, especially when you come back from an 18 point deficit in the playoffs.  If I was Mike Tomlin, I wouldn't have gone for two the first time around, had they kicked the XP, they would've had a 31-28 lead after the next TD, and the game might've gone to OT.  But, oh well, they fought hard, but Big Ben just dug himself too big a hole early in the game.
Jacksonville: "We deserve more credit!!"
Preview of Today's games:
Why is NY the favorite?!?!  Has everyone else been watching the same, inconsistent Eli Manning that I have been watching all season long?  He can't handle Tampa's cover 2.  Jeff Garcia's squad has been as underrated as the Jags have been this season.  So what if they won a rather weak division in the NFC South, they are a better team than the Giants.  Tampa wins 24-21.
SD is the heavy favorite in this one for a good reason.  The fan vote is SD 78% (last time I checked).  LT is going to run all over Tennessee, especially if Vince Young isn't 100%.  SD wins big 34-14.
WOW!!! That's amazing.  A Boston team ACTUALLY got overlooked yesterday.  The 29-3 Boston Celtics defeated the 26-8 Detroit Pistons 92-85.  We have two more big games on Today, and I will be doing a live blog on them (if there isn't already one made).
Ad blocker interference detected!
Wikia is a free-to-use site that makes money from advertising. We have a modified experience for viewers using ad blockers

Wikia is not accessible if you've made further modifications. Remove the custom ad blocker rule(s) and the page will load as expected.