Eli Manning overcomes critics, fans, and other people who didn't believe he would EVER join his brother, Peyton, as a Super Bowl Champion (this group included myself, at times).  Eli led his New York Giants to a GW TD drive, which was capped with a 13-yard TD pass to a wide-open Plaxico Burress for the 3-point lead, and win, with :35 remaining in the game.
The '72 Dolphins were partying ALL night long last night, that's guaranteed.  But, to tell you the truth, I have mixed feelings about the game, I would love to see a team go 19-0, but loved seeing Eli win more, especially after seeing his meeting with Peyton after the game, that was great.  And, I am not one to hate the New England Patriots, the only NFL team I hate, is the Baltimore Ravens (for various reasons).  But, I do hate Bill Belichick, I have not seen anything like what he did last night.  I know, he's looked like that after every game, but to leave before the game was over, and NOT come back, that's just uncalled for.  I am happy for Tom Coughlin, Eli Manning, Michael Strahan, Plaxico Burress, etc, etc, etc.
The game, surprisingly, was low-scoring, being 7-3 NE at the half.  New England's line was destroyed by the best defensive line in the NFL, sacking Tom Brady 5 times, two of which were recorded by Justin Tuck, who also added a forced fumble.  But, as always, Brady never gives up.  After being down 10-7, Brady led the Pats offense down the field for a TD with about a minute and a half remaining, which ended up being too much time for Eli, and Co.  After Eli orchestrated a 12-play, 82-yard drive to take the lead back for good.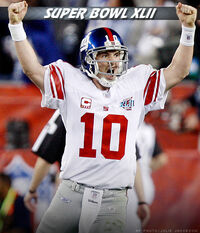 Coughlin did a fantastic coaching job in the last 5 or so games of the season, and his hard work paid off. I feel that New England came in with a big head, talking alot of trash (a least a few guys were). I am sure the Patriots, media, and fans that bashed Plax for his prediction feel pretty DAMN stupid right now.  Who says guarantees help the opposing teams win games??? New England was talking trash all game, and kept saying "Get ready to go home, fellas", looks like that came back to bite them.
New York set plenty of record in the game, one being the longest road win streak (11), and during the game, the Pats/Giants set a record for least total possessions in a quarter, which included a 10-minute drive put together by Eli (which, by the way, only led to a Lawrence Tynes FG). If you're a Patriots fan, and you feel you have to come up with a decent excuse (like most people do), then blame on your disrespecting coach. Belichick elected to go for it on fourth & 13 halfway through the 3rd QTR, and they were at the NY 31-yard line, all I have to say about that is, WHY?! Let your young kicker, Stephen Gostkowski kick the 47-48 yarder. I am really confused at that decision, because of the low-scoring game (7-3). I guess he just underestimated the Giants tough, hard-hitting defense, Brady knows they can hit hard, just ask him.
Well, anyway, I just wanted to congratulate the new NFL champions, and the MVP, Eli Manning. Very well-deserved, Eli played great, and he will now go down in NFL history, right next to his brother, how great is that???
18-1*
Ad blocker interference detected!
Wikia is a free-to-use site that makes money from advertising. We have a modified experience for viewers using ad blockers

Wikia is not accessible if you've made further modifications. Remove the custom ad blocker rule(s) and the page will load as expected.