The NL All-Star rosters should be alot more stacked than the rather weak American League All-Star roster (http://www.armchairgm.com/Article:BBB15%27s_AL_All-Star_Ballot). The competition is very stiff, and this is going to be tough to pick just one starter per position. So, debate my picks all you want...
Catcher:
Geovany Soto, Chicago Cubs- .280 BA, 11 HR's, 42 RBI's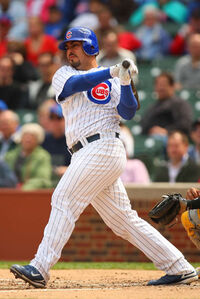 Soto is absolutely crushing the second-place catcher in the voting as of today. Soto may not have a BA over .300, but with 11 homers, 42 RBI's, and 31 extra-base hits, who needs a high batting average?! Soto says he's hyped about the All-Star game this year in New York, and he should be. Soto will be there this July, you can count on that.
Reserves: Brian McCann, Russell Martin
First Base:
Lance Berkman, Houston Astros- .374 BA, 19 HR's, 56 RBI's
An average of .374 in 238 at bats is unheard of!! If it wasn't for Utley's 21 homers, Berkman would, without a doubt, be the leader in the NL MVP race. But, don't count him out just yet. Lance is the reason Houston isn't dead-last in the NL Central, he's holding them at .500 (...for now). Don't be surprised if Lance runs away with the All-Star selection at first, especially when you consider the fact that Pujols will miss a nice chunk of playing time in St. Louis.
Reserves: Derek Lee, Albert Pujols
Second Base:
Chase Utley, Philadelphia Phillies- .310 BA, 21 HR's, 58 RBI's
Utley leads the Majors in homers, with 21, and has hit in 58 runners in 255 at bats. His batting average may not be an outrageous .374, like Berkman, but it's over .310, which leads all qualifying NL second baseman. Though Utley does have a little more competition at second than in the AL, he will run away with the voting, as well. I believe I have failed to mention that Utley's Phillies are in first in the NL East, two games ahead of the second-place Florida Marlins
Reserves: Dan Uggla, Brandon Phillips
Third Base:
Chipper Jones, Atlanta Braves- .410 BA, 15 HR's, 41 RBI's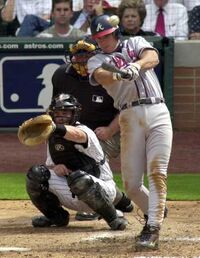 Earlier I said that Berkman's .374 batting average in 238 at bats was unheard of, but Chipper has a batting average over .400 in 222 at bats!! That's worthy of an All-Star appearance, don't ya think?? Chipper has surprised nearly every MLB fan, I actually thought he would get injured, like always, and miss 40 games or so. But no, Chipper has stayed relatively healthy, and has 15 homers. Chipper will be an All-Star in New York this year, I guarantee it.
Reserves: Aramis Ramirez
Shortstop:
Hanley Ramirez, Florida Marlins- .304 BA, 15 HR's, 32 RBI's
I was shocked to hear that Ramirez isn't leading the NL SS votes, and that instead the liar, Miguel Tejada, was leading the votes. Ramirez may be having a slower start than expected, but 15 homers, and a .304 batting average is nothing to sneeze at. Though Tejada does have a .304 batting average just like Ramirez, but Hanley does have seven more homers than Miggy, and 11 more stolen bases as well. Hanley is the NL All-Star at the shortstop position while Tejada is a close second (as of today).
Reserves: Miguel Tejada, Jose Reyes
Outfield:
Alfonso Soriano, Chicago Cubs- .283 BA, 15 HR's, 40 RBI's
Soriano is an NL All-Star in the outfield for now, but he will probably get passed on this list soon enough since he will be out about 6 weeks due to a broken hand he suffered last night against the Braves. Though Soriano has done a nice job, along with the rest of the Cubs squad, keeping the Cubs ahead of St. Louis in the Central. The injury will hurt both Soriano, and the Cubs team as a whole.
Ryan Ludwick, St. Louis Cardinals- .321 BA, 16 HR's, 52 RBI's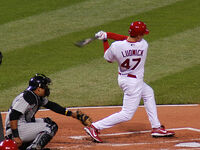 Ludwick is having a breakout season in St. Louis. Ryan has as many homers as "Phat Albert", and has hit in 10 more guys than him too. His .321 average in 196 at bats has done nothing but help the Cards win games. This spot could've gone to four to five other guys, but I chose Ludwick because no one else would've, and I think he deserves this All-Star spot.
Jason Bay, Pittsburgh Pirates- .285 BA, 14 HR's, 35 RBI's
Like I said before, this spot could've gone to many different guys, but Bay gets my vote. Partly because he's a Pirate, but he really does deserve a spot, and his 14 homers is keeping the 'Bucs away from the bottom of the NL Central, though they are just 1.5 games ahead of the last-place Reds. Major League Baseball rules state that every team must have at least one representative in the All-Star game, and Bay is my vote to represent the Pirates.
Reserves: Pat Burrell, Xavier Nady, Ryan Braun
Ad blocker interference detected!
Wikia is a free-to-use site that makes money from advertising. We have a modified experience for viewers using ad blockers

Wikia is not accessible if you've made further modifications. Remove the custom ad blocker rule(s) and the page will load as expected.