Since the MLB has been taken over by young, elite stars from the Minors these days, I have decided to put together an All-Star team consisting of only players that are under the age of 30. I broke this down in two parts: First comes the Starting lineup (Position players only). In the next few days I will post the pitching rotation, bullpen, and bench players. In order to be eligible for this U-30 team, a player must be under the age of 30, obviously. If a player is 29 now, and doesn't turn 30 until after the '08 regular season, then he is still eligible.
Starting Lineup:
1. Grady Sizemore (.284 BA, 79 HR, 267 RBI, 82 SB in 537 games with CLE)
Cleveland Indians, 25 years old
Sizemore, a two-time All-star, and 1 time Gold Glover, is a very durable player. He can do just about anything you want him to. The 25-year old hit 20 HR's in 2 consecutive season (28 in '06, 24 in '07), and drove in 78 guys last season. Sizemore's BA isn't exactly the best (never hit over .300 in 5 season with the Tribe), but Sizemore has alot of speed, stealing 33 bases in 43 attempts last year, adding a Gold Glove to that out in CF. I believe Sizemore has the potential to win 5-6 more Gold Gloves in his career, and hit 30+ HR's during each of those Gold Glove seasons. Keep an eye on this guy in the coming years.
2. Jose Reyes (.283 BA, 45 HR, 248 RBI, 235 SB in 605 games with NYM)
New York Mets, 24 years old
Reyes is 24 years old??? Yeah, I didn't believe it either. Reyes has already been to 2 consecutive All-Star games, and won a Silver Slugger award (last year). Reyes stole a career-high, 78 stolen bases last year, which led the majors. Reyes is in no means a power hitter (12 HR's last year), but this is the kinda guy EVERY major league GM wants on his team. He brings enthusiasm, and energy to the locker room, and sure can run. I think Reyes has the potential to win a few Gold Gloves in his career, and he could make a run to break the career stolen base record, you never know! Bottom line: this guy is exciting to watch.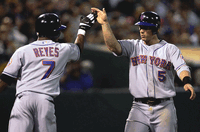 3. David Wright (.310 BA, 100 HR, 375 RBI, 79 SB in 554 games with NYM)
New York Mets 3B, 25 years old
Wright, Reyes' teammate, is just 1 year older than Reyes, and is just as exciting, and filled with energy as Jose. Wright already has more awards than Reyes, as he too, has been to 2 consecutive All-Star games, and won a Sliver Slugger award last year too, but Wright also won a Gold Glove at the hot spot (third base). Wright, unlike his teammate, has a little power, as he hit 30 HR's, and 107 RBI's last year, not to mention his .325 BA in 160 games. Note to all you fantasy owners: Wright would probably be a better choice, but of course, you probably already knew that.
4. Albert Pujols (.332 BA, 285 HR, 869 RBI, 40 SB in 1104 games with STL)
St. Louis Cardinals 1B, 28 years old
Pujols has had a HOF-caliber career so far in his 8 seasons with the St. Louis Cardinals. Pujols has hit 30+ HR's, and 100+ RBI's in each of his 7 complete seasons. Albert is known for his power, but did steal 16 bases in 2005. Phat Albert is, by far, the best first baseman in the Majors, which gives him the starting spot (and clean-up position) on the U-30 team. The lowest BA Pujols has had in a single season was .314 (in his sophmore season in '02), when he played in 157 with St. Louis as their left fielder.
5. Ryan Howard- DH (.288 BA, 132 HR, 359 RBI, 1 SB in 423 games with PHI)
Philadelphia Phillies 1B, 28 years old
Howard, who I have listed as the DH on this team (though he plays in the NL), has had 2 consecutive 40+ HR, 130+ RBI seasons. Howard is considered one of the most dangerous National League hitters, aside from Pujols (and maybe Fielder). Howard's career sky-rocketed after the '05 season, when he hit 22 HR's, and 63 RBI's, and had a BA of .288 in just 88 games. Howard may only be hitting .184 thus far, but don't expect that to last very long, Howard will once again hit 40, possibly 50 HR's again this year.
6. Matt Holliday (.319 BA, 106 HR, 406 RBI, 39 SB in 571 games with COL)
Colorado Rockies LF, 28 years old
Holliday, who hit .340 last year in 158 games, led his Colorado Rockies to a WS appearance last year (but got swept by the Sox). The 28-year old Holliday has already hit 30+ HR's in two consecutive seasons, and has gotten off to a pretty good start this year (.286 BA, 2 HR, 7 RBI's in 9 games). Holliday has a pretty bright future in Colorado, and will most likely be in New York this July for the All-Star game, and not only play in it, but start for the NL in LF.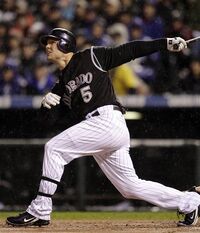 7. Alex Rios (.287 BA, 52 HR, 259 RBI, 65 SB in 558 games with TOR)
Toronto Blue Jays RF, 27 years old
Rios is a highly underrated player, and could be one of the League's best outfielders. Rios is not what you would call a "power hitter" (24 HR's, 85 RBI's in '07), but he can get the job done when you need him. Rios hit .297 in 161 games last year, and even stole 17 bases. I expect Rios to hit well over .300 this year, and hit 30+ HR's, and possibly even snag a Gold Glove award out in RF, while he's at it.
8. Joe Mauer (.312 BA, 35 HR, 221 RBI, 29 SB in 426 games with MIN)
Minnesota Twins C, 24 years old
It's amazing that Mauer is only 24 years old. Mauer has already eclipsed guys like Jorge Posada, and Ivan "Pudge" Rodriguez as the AL's best catcher (in my book, anyway). He only played 109 games last year, so he hit just 7 HR's, drove in 60, but he did manage to hit .293. I expect him to be healthy and get back to his 2006 form, when he hit 13 HR's, 84 RBI's, and hit .347. Mauer's biggest strength is probably his fielding behind the plate. Expect a monster year from Mauer this year, and a Posada-like career.
9. Chase Utley (.301 BA, 100 HR, 397 RBI, 48 SB in 589 games with PHI)
Philadelphia Phillies 2B, 29 years old (Born December 17th, 1978)
Utley is the best second baseman in the game. In 132 games last year, Utley hit 22 HR's, 103 RBI's, stole 9 bases, and had a .332 BA. Had he not been injured, Utley could have won the NL MVP award. I believe Utley has it all, he's got a glove, speed, and a pretty fantastic bat to add to all of that. His numbers over the last 3 years are looking pretty great too (20+ HR's, 100+ RBI's, with .291 being his worst BA over that 3-year span). This guy really knows how to get on base, too, with a .410 OBP last year, which was 11th best in the entire MLB.
( )- Career Stats as of Sunday April 13th
Next up: Pitchers, Bench Players
Ad blocker interference detected!
Wikia is a free-to-use site that makes money from advertising. We have a modified experience for viewers using ad blockers

Wikia is not accessible if you've made further modifications. Remove the custom ad blocker rule(s) and the page will load as expected.