With just a month to go until the All-Star game in Yankee Stadium, I thought it was time to share my all-star votes with the AGM community. Feel free to debate my selections, and share your own selections on this thread. The American League is first.
Catcher:
Joe Mauer, Minnesota Twins- .327 BA, 2 HR's, 27 RBI's
The American League catchers are rather weak this year, but Mauer deserves an all-star selection. Mauer leads all qualifying AL catchers in batting average, .327, and is the best qualified catcher right now for the all-star game.
Reserves: Jorge Posada, A.J. Pierzynski
First Base:
Jason Giambi, New York Yankees- .257 BA, 14 HR's, 35 RBI's
Unfortunately, Giambi eventually came out of his slump, and is on a roll. I guess wearing a gold thong does help you get out of slumps (or was it his 'stache that did the job, who knows?). Anyway, Giambi has 14 home runs this season, and has helped the Yanks win games by hitting in 35 runs. Not to mention his .395 OBP, Giambi has helped in every way he can, and he isn't even on Roids (...anymore). This may be the first All-star selection that he earned on his own.
Reserves: Kevin Youkilis, Justin Morneau
Second Base:
Ian Kinsler, Texas Rangers- .307 BA, 8 HR's, 36 RBI's
Kinsler, who leads the American League in Batting Average (among those with 100+ at bats), has surprised many so far this year. Kinsler has driven in 36 runs for the 33-33 Rangers. Of the American Leauge second baseman, Kinsler gets my vote.
Reserves: Brian Roberts, B.J. Upton
Third Base:
Joe Crede, Chicago White Sox- .286 BA, 14 HR's, 41 RBI's
Crede is another surprise in the AL. Joe, who was close to being traded this offseason, is third in HR's among third baseman (1st among AL third baseman), and has hit in an astonishing 41 runs in 206 at bats for the ChiSox. Crede is the best third baseman in the AL right now, and is my vote for the starter in the all-star game in July.
Reserves: Alex Rodriguez, Evan Longoria
Shortstop:
Michael Young, Texas Rangers- .308 BA, 6 HR's, 32 RBI's
Out of AL shortstops with 200+ at bats, Young has the highest batting average. In his 263 at bats, Young has hit 6 home runs, and drove in 32 RBI's. Young is the second Ranger to be on my all-star selections, which is rather surprising to me.
Reserves: Jhonny Peralta, Derek Jeter
Outfield:
Manny Ramirez, Boston Red Sox- .305 BA, 15 HR's, 48 RBI's
Manny is having a fantastic year, which is worthy of another all-star selection, which would be his 12th in his career. Not too long ago Ramirez reached a huge milestone, he hit his 500th career home run, and is real close to the Hall of Fame. Of all the AL outfielders, Manny would be my first pick.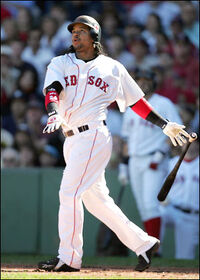 Josh Hamilton, Texas Rangers- .309 BA, 17 HR's, 70 RBI's
Yes, that's right, another Ranger on my All-star team. Hamilton is crushing the competition in both the AL, and NL in RBI's with 70. Hamilton has also hit 17 HR's, which is tied for fourth in the Majors.
Magglio Ordonez, Detroit Tigers- .314 BA, 9 HR's, 39 RBI's
Maggs is the only upside of the Tigers season so far, unfortunately. Magglio has the highest batting average on the roster, and pretty much leads in every other hitting category, as well. If it wasn't for him, the Tigers may not even be in 4th place in the AL Central.
Reserves: Bobby Abreu, Jermaine Dye, Carlos Quentin
Go ahead, bash my picks, praise my picks. Do whatever you please. National League picks are up next.
Ad blocker interference detected!
Wikia is a free-to-use site that makes money from advertising. We have a modified experience for viewers using ad blockers

Wikia is not accessible if you've made further modifications. Remove the custom ad blocker rule(s) and the page will load as expected.