It's about that time!!!  Yes that's right, the NFL's season opener is just one day away.  Thursday, September 4 th (my little bro's 10 th birthday), the defending champion New York Giants will host the Washington Redskins on NBC.  I can't wait!  Here is my last-second breakdown of the upcoming season…which includes division results, playoff results, and the season's award-winners.  Enjoy!
AFC North
Pittsburgh Steelers 12-4*
Cleveland Browns 10-6*
Baltimore Ravens 7-9
Cincinnati Bengals 5-11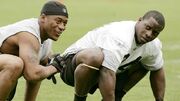 Don't worry, I didn't pick the Steelers to win the North just because I'm a fan.  Derek Anderson's Cleveland Browns aren't a playoff lock as of right now.  We can't really base a season's success on just one good season.  But, I do believe that Anderson has the ability to carry this team, which, by the way, has a very talented, young offense.  Never underestimate their defense—which is lead by young LBer Kamerion Wimbley—either.  Ben Roethlisberger, and Derek Anderson are both poised for yet another great season, and, according to my predictions at least, will lead their team to another playoff appearance.  The second half of this division is looking pretty sorry right now.  Yes, there are bright spots, such as rookie QB Joe Flacco in Baltimore, but Chad John—er Chad Javon Ocho-Cinco seems to overshadow the bright spots.  Marvin Lewis is doing a horrible job controlling the heathens we call the Cincinnati Bengals.  The 5-11 record says it all…
AFC East
New England Patriots 14-2*
New York Jets 9-7
Buffalo Bills 7-9
Miami Dolphins 6-10
The AFC Champion Patriots, who went 16-0 during last year's regular season (as we are all well-aware of) makes them the team to beat, of course.  But, what does Brett Favre's presence do to the Division?  Does it mean playoff berth for New York??  No, of course not, but it does mean they will have a higher number in the "W" column.  At least that's what people in New York would like to think.  New York's offense is one hell of a lot better with a QB of his caliber under center.  So, like half of you New Yorkers, I will jump onto the bandwagon, and say the Jets will win an astonishing 9 games this season.  As for the Bills, and the Dolphins?  They will have another losing season, but both are well on their way to a winning season sometime in the near future.  It looks as if both teams have found their QB, Chad Pennington in Miami, and Trent Edwards in Buffalo, but it takes a little more than a solid QB to make a playoff appearance.  Let's leave it at that.
AFC South
Jacksonville Jaguars 12-4*
Indianapolis Colts 11-5*
Tennessee Titans 9-7
Houston Texans 5-11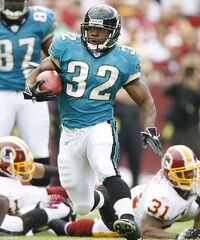 I'm out on a limb for this one.  Jacksonville knocks off Indy for the Division crown, and the second seed in the playoffs.  Their running game is always solid with the duo of Maurice Jones-Drew, and Fred Taylor, they added a few targets for David Garrard, who may end up with a single-digit interception total...again this year.  The defense may end up being the problem, but hey, Indy has their own problems on D with leaders Dwight Freeney, and Bob Sanders battling injuries.  Not to mention the tender knee of Peyton Manning, and the loss of All-Pro center Jeff Saturday.  Vince Young, and his Titans have added offensive weapons this offseason in an attempt to get back to the playoffs.  The large TE Alge Crumpler will be a nice target for VY, and the speedy (4'2 forty time) rookie RB, Chris Johnson will accompany LenDale White in TEN's crowded backfield.  ***Houston we STILL have a problem***  That's pretty much what the Texans have been saying ever since they came into the league in '02.  Matt Schaub has failed to show me why he was so great back in Atlanta, and they have never really had a solid run game.  Their D is what they should be known for.  Defensive lineman Mario Williams, and Amobi Okoye, and second-year LB DeMeco Ryans have the front seven looking mighty sharp.  Look for them to continue to dominate the trenches this season.  Yes, even against the high-powered offenses in Indy, and Jacksonville.
AFC West
San Diego Chargers 11-5*
Denver Broncos 9-7
Oakland Raiders 6-10
Kansas City Chiefs 3-13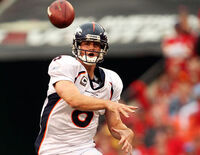 Every time the season rolls around, I'm thinking, 'this may be Denver's year out west'.  Jay Cutler has let me down too many times.  So, if he doesn't pull through this time, me and him are over.  OVER I tell ya!  This team just doesn't have it, unfortunately.  The line is looking sorry, and I don't care if Mike Shanahan is a genius when it comes to trimming up 'backs.  Denver isn't going to the playoffs.  LT is always ready, and always pulls through (except when it comes time for the playoffs, apparently).  I really think Phillip Rivers has stuff together, especially after his performance last season, when he led San Diego to the AFC Championship, only to lose to the eventual Super Bowl losing New England Patriots.  Oakland's running game should turn out pretty well, and JaMarcus Russell can only get better from here.  If you have as strong an arm as Russell does, you should eventually break through with a big year, as long as you follow the system, and throw to the right guys.  Oakland's secondary is solid, and their young defensive 'backers should impress.  Defense is certainly not Oakland's weakness as of right now.  Out in Kansas City, who knows what's going on!  Herm Edwards is probably pretty confused himself.  Their QB situation really hasn't clearly been solved, and Larry Johnson has disappointed all.  Can anyone save this once-great team?
NFC North
Minnesota Vikings 13-3*
Chicago Bears 5-11
Detroit Lions 5-11
This Division no longer belongs to the Packers.  Adrian Peterson is back in town, and he's here to stay.  Peterson, my pick for league MVP, will breakout with 1,600 yards, and possibly even top Tomlinson as the top fantasy back next year.  If Tarvaris Jackson plays just above par, this team will exceed all expectations this season, and I believe that, with the strength they have on defense (with the acquisition of KC's Jared Allen), the Vikings will win the Division easily, and win over the second seed in the NFC playoffs.  Whew!  That was a long, run-on sentence, but that's ok.  Now, about the rest of this Division…Green Bay will be great, but Aaron Rodgers may struggle at times.  I expect Ryan Grant to match his 2007 success, and we all should know about the Pack's receiving core.  This season, their defense is ranked among the top, along with San Diego, Pittsburgh, New England, and Minnesota.  Chicago still hasn't been able to answer their offensive problems, though they have made a small attempt by ending the Rex Grossman era (not that there was ever really a Grossman era), drafting Tulane RB Matt Forte, and signing former Lion RB Kevin Jones.  Jon Kitna should have fun with Roy Williams, and Calvin Johnson, who will breakout with a huge season through the air.  But, Detroit struggles with pretty much every other aspect of football.  Expect 5-6 wins from Rod Marinelli's Lions.
NFC East
Dallas Cowboys 13-3*
Philadelphia Eagles 12-4*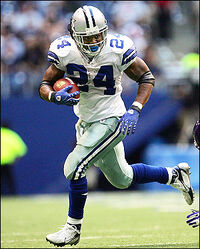 New York Giants 10-6
This East, as expected my most, will be stacked this year.  The defending champs will miss the playoffs, and the last-place Skins will have 8 wins.  That doesn't seem right.  But, Tony Romo, and Donovan McNabb are poised for big years with their respective teams, and I expect Romo to finally break his consecutive playoff loss streak in round two.  Marion Barber will finally get his chance to shine full-time, and Terrell Owens is…Terrell Owens.  No problems on offense for pretty much all four of these teams.  Although their may be a question mark beside Jason Campbell's name in D.C.  The Skins do have potential to win a division crown this year, don't count them out.  There really is no right or wrong here, the results could end up being the complete opposite, so I'm just gonna stop right here.
NFC South
Carolina Panthers 11-5*
New Orleans Saints 10-6*
Atlanta Falcons 5-11
Again, I'm going out on a limb here, like I did in the AFC South Division.  No one knows what to expect from Jake Delhomme, but I think he will have the season of his career coming off Tommy John surgery.  Believe it or not, the odds are with Delhomme when it comes to a healthy recovery.  If Steve Smith, and new-comer Muhsin Muhammad (yes, he is back in Carolina) perform to their ability, it will make for a nice trio.  Rookie RB Jonathan Stewart out of Oregon is on everyone's radar, too.  DeShaun Foster is out, but DeAngelo Williams remains.  I know I'm not the only one who thinks Williams will have a great season (ehem [[1]]).  Drew Brees, and the Saints will return home for the season opener, and are hoping Reggie Bush will finally prove he belongs in an NFL uniform.  If not, I really don't think New Orleans will finish 10-6, like I said above.  No way Jeff Garcia leads this Tampa team back to the playoffs, they will most likely end the regular season with a losing record (7-9).  Matt Ryan will be the best rookie QB this season, but they will need a top 10 defense, and an All-Pro offensive line to finish with more than 5-6 wins.
NFC West
Seattle Seahawks 10-6*
St. Louis Rams 5-11
San Francisco 49ers 4-12
The West in the NFC is possibly the weakest Division in the League.  Seattle will continue to dominate the West, and NO, it's not Arizona's year to finally reach the playoffs.  I said that last year, and was highly disappointed with the end results.  I am one of those many people that think Matt Leinart will gradually be kicked out of Arizona.  I mean, Kurt Warner is still an NFL starting QB.  What's up with that?  Edgerrin James' best days are behind him, and Anquan Boldin doesn't seem to even want to be in an Arizona uniform.  Seattle ended the Shaun Alexander era, and Mike Holmgren--who went out and drafted Felix Jones to accompany Julius Jones in the backfield--looks to end his Seattle career on a positive note (Super Bowl Championship).  St. Louis' O-line is battered, and Steven Jackson is not looking like he wants to break 1,500 yards this season.  Not to mention Marc Bulger has looked lost out on the field for the past year or so.  San Francisco has named J.T. O'Sullivan their opening-day starter, and looks to be gradually improving on both sides of the ball, but is still no where close to matching the Seahawks for the West title.
Playoff Seedings:
AFC
1. Patriots
2. Jaguars
3. Steelers
4. Chargers
5. Colts
6. Browns
Just missed: New York Jets (9-7), Tennessee Titans (9-7), Denver Broncos (9-7)
NFC
1. Cowboys
2. Vikings
3. Panthers
4. Seahawks
5. Eagles
6. Saints
Just missed: New York Giants (10-6), Washington Redskins (8-8), Green Bay Packers (8-8), Arizona Cardinals (8-8)
Playoff Results:
Wild Card
AFC
Steelers over Browns
Pittsburgh has the better offense and defense. Not to mention more postseason experience.
Chargers over Colts
Wow, imagine that, Peyton Manning with an extremely early exit in January? Now THAT's something you don't see every day, or should I say year...
NFC
Saints over Panthers
Delhomme will break through with a great regular season, but I don't think his offense will have what it takes to withstand New Orleans' offense, led by Brees, and Bush.
Eagles over Seahawks
McNabb will dominate the Seahawks defense, though it will be ridden with Pro Bowlers (Lofa Tatupu for example). Holmgren's Super Bowl hopes will be flushed down the toilet rather quickly.
Divisional
AFC
Patriots over Chargers
Pats/Bolts playoff matchup yet again. Tom comes out on top like usual. Will LT sit out with another "injury"?
Jaguars over Steelers
As much as I hate to say it, the Jags seem to own the Steelers during January. This one will be won by Jacksonville, though it will be close.
NFC
Cowboys over Saints
Romo will finally get his long-awaited postseason win. Barber will break 150 in Texas Stadium.
Vikings over Eagles
If this was a battle of the QB's, the Eagles would win no question, but Minnesota has the next BIG thing (AP). Plus, a great defense with Jared Allen, and the 'Williams boyz'.
Conference
AFC
Patriots over Jaguars
Brady's middle name is January. No question Tom Brady's Pats will defeat David Garrard and the Jags to cruise to yet another Super Bowl.
NFC
Vikings over Cowboys
Sorry Romo, I'm going with the underdogs in this one. Romo throws 3 picks to Minnesota defenders, and loses by 14 points.
Super Bowl
Patriots over Vikings
MVP: Tom Brady (of course!)
Could Minnesota be the second straight team to upset New England in the Super Bowl? NAH! Brady will get number 4, and another MVP award.
Season Awards:
League MVP: Adrian Peterson
Offensive Rookie of the Year: Matt Forte
Defensive Rookie of the Year: Vernon Gholston
Coach of the Year: John Fox
Comeback Player of the Year: Jake Delhomme
Breakout Player: Michael Turner
Yes, I know, mine are probably much different than everyone else's.  But hey, anything can happen this year, that's why they play the games.  We could witness the greatest season EVER this season, you never know.  Stay tuned to find out…
Ad blocker interference detected!
Wikia is a free-to-use site that makes money from advertising. We have a modified experience for viewers using ad blockers

Wikia is not accessible if you've made further modifications. Remove the custom ad blocker rule(s) and the page will load as expected.