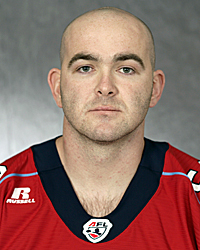 With starting quarterback Sonny Cumbie missing in action, the Avengers called upon seldom-used backup quarterback Tim Hicks (pictured) to help stop the team's four game losing streak. While making just his second career start, Hicks certainly answered the call, throwing eight touchdown passes and zero interceptions in L.A.'s 79-62 victory over the Utah Blaze.
Hicks, a 28-year-old out of West Liberty State in West Virginia, has not exactly been a hot commodity in the Arena Football League since graduating from college six years ago. At first, Hicks failed to make an AFL roster, spending four seasons in the developmental league, before eventually earning a spot as a backup in Los Angeles for 23 games. Just last week on April 4th, Hicks made his first career start against the Colorado Crush.
However, Hicks's poise and coolness in the pocket made him look like a seasoned AFL veteran. On the first drive of the game, Hicks threw his first of eight touchdown passes to give Los Angeles the lead. However, Utah would make it a very competitive first half, as they went into halftime down by just ten points, 44-34.
In the second half, it was the Avengers defense that made a stand, stopping the Blaze on their first possession of the half. Regaining the ball, Hicks threw a five yard touchdown pass to offensive lineman Clay Harrell, giving LA a 51-34 lead.
The offense was aided once again by the defense, which intercepted former Ohio State quarterback Joe Germaine. The interception led to a 45 yard touchdown pass from Hicks LaShaun Ward. After this there was no looking back.
On the final play of the game, the Avengers nearly broke the team's four year old franchise record for most points in a game, but fullback Lonnie Ford was tackled at the one-yard line. The victory ended the team's four game losing streak and put them in a tie with San Jose for first place in the West.
Ad blocker interference detected!
Wikia is a free-to-use site that makes money from advertising. We have a modified experience for viewers using ad blockers

Wikia is not accessible if you've made further modifications. Remove the custom ad blocker rule(s) and the page will load as expected.