Well, kids. Daddy took a hiatus from the 'Chair...he needed to take a breath, live his life and see what he was doing with his life. This has been taken care of, so he comes back with a bang:  
Today: Larry Bird
When Larry Bird played he had one of the most beautiful jump shots in the league.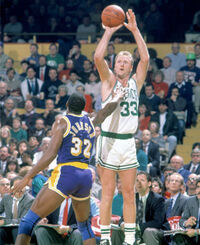 This is also true about Gertrude Taylor (right) who now uses her free time to teach others in her "home".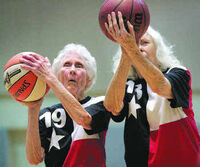 I couldn't tell you anything about what kind of burger he is selling, but he was sure getting paid.
So did this woman who has an MFA in Acting and ended up selling "Headache Cream".
One of his trademarks was his mustache - yes it is there...look closer...
Who doesn't love a good wispy mustache?
I don't blame him, but Larry's legs were terrible with those short-shorts.
Nothing like Lt. Jim Dangle's.
This is an old photo of him getting in a fight and getting choked.
How does that feel Mets fans?
This is a photo from when he was drafted...have you seen a more awkward handshake?
Never mind...
He has let himself go a little bit, having taken an office job.
But now he fits in fine with the other fans.
He wasn't a big fan of watching guys get in fights.
We all know what happens when the fight isn't diffused.
Here we see him smoking a cigar, which (according to sources) is a joy of his.
But a lot of people love cigars...right, guys?
And that is that...tomorrow...someone from the Lakers.
From Afraidofedhochuli
Ad blocker interference detected!
Wikia is a free-to-use site that makes money from advertising. We have a modified experience for viewers using ad blockers

Wikia is not accessible if you've made further modifications. Remove the custom ad blocker rule(s) and the page will load as expected.