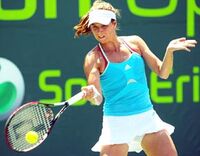 23 year old American tennis player, Ashley Harkleroad has turned more heads despite a first round exit to Serena Williams in the on going French Open. She becomes the first tennis player to pose nude for playboy and would appear in the August issue of the magazines. Ashley was earlier recovering from a surgery to remove a cyst from her ovaries and now finds herself in the men's magazine baring all. The magazine is scheduled for release on july the 13th. Serena was in a jovial mood claiming that she wasn't sure if she would follow in her colleague's footsteps. Harkleroad follows in the footsteps of swimmer Amanda Beard and Volleyball player Gabrielle Reece. Ashley claimed, she was sitting around doing nothing when the offer came and decided to do it. It takes a lot of courage for one to pose said Serena and applauded her for taking this step.
Ad blocker interference detected!
Wikia is a free-to-use site that makes money from advertising. We have a modified experience for viewers using ad blockers

Wikia is not accessible if you've made further modifications. Remove the custom ad blocker rule(s) and the page will load as expected.