Last night was a BIG night in the NBA, Shaquille O'Neal, and Jason Kidd both made their debuts with new teams, and another trade took place. Shaq took on his former team, the Los Angeles Lakers, and Kobe Bryant, while Lebron James recorded his second straight Triple-Double as he led the Cavs over the Indiana Pacers, 106-97.
The Big Cactus scores 15:
Last night was a high-scoring night around the NBA, Shaq may not have been enough for the Suns to get the win, but they did manage to put up 124 with him in the lineup. If they weren't playing the high-powered LA Lakers, they wouldv'e easily won the game. Shaq scored 15 of the 124 points, racked up 9 rebounds (to accompany Amare Stoudemire's 15), with 3 assists, and 2 blocks. Though Shaq did get in a little foul trouble, ending the game with 5 personal fouls. Kobe Bryant was able to lead LA to a win despite big nights from Shaq, Stoudemire, Steve Nash, and Grant Hill. Bryant recorded his 90th career 40-point game, and is currently 3rd on the all-time list.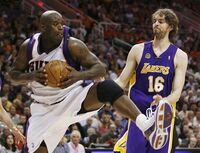 What impressed me is O'Neal's effort. If you watched this game, you might have noticed that Shaquille was all over the floor, he was going all-out. He missed just 3 shots, going 6 of 9 from the floor, and I could really tell this guy wants to win another championship.
New Orleans tops Kidd, Dallas:
Jason Kidd, who was recently traded to the Mavs, also made his debut last night. Like Shaq, Kidd's team lost, but Dallas is optimistic about the trade. Kidd scored just 8 points, but 6 rebounds, 5 assists, and 3 steals, but also got in foul trouble, and ended with 4 personal fouls. If Dallas wants to win a championship this year, they are going to have to get more production from Kidd. Dallas, currently standing at 35-19, plays the Memphis Grizzlies on Friday, and will hope for more production from Kidd.
Toronto Wins High-scoring game over Howard, and the Magic:
Chris Bosh proved why he was an All-Star this year, putting up 40 points, shooting 14-16 from the floor, and had a perfect Free Throw percentage, going 11-11. Bosh had a little help, though. Rookie, Jamario Moon, had 12 rebounds, and PG Jose Calderon assisted 13 times. Not to mention Carlos Delfino's 23-point performance from the bench. Orlando's Dwight Howard, this year's Slam Dunk Champion, had a big night on the other side of the court, but didn't have much help from teammates. "Superman" scored 37 points, and 15 rebounds, missing just 3 shots the entire game. This was a very good game the whole way through, and the final score ended up having Toronto out ontop, with a score of 127-110.
New Jersey wins in OT:
Looks like the Kidd trade not only made Kidd happy, but NJN Forward, Vince Carter, as well. Carter broke out with a 33 point, 9 rebounds performance, just 1 rebounds shy of a Double-Double, and just 3 assists, and 1 rebound shy of a Triple-Double. New Jersey had 20+ point performances from Richard Jefferson, and Marcus Williams, as well. The only reason that Chicago took this game to OT, was the performance their bench had, scoring 47 points. But, in OT, Chicago fell apart, and scored just 8 points, while NJ doubled that with 16. It looks to me like the Nets are glad to have gotten rid of Kidd.
Baron beats buzzer, and Celtics:
The 33-21 Golden State Warriors handed the Celts their 11th loss this season after GS PG, Baron Davis, hit the GW 2-point FG with 0.3 seconds remaining. Davis put up 29 points, and 6 rebounds, making up for his 5 turnovers, and 3 personal fouls. Veteran Forward, Chris Webber, was the only GS starter to not reach double-digits in points, with 5, even Al Harrington reached double-digits from the bench, with 22 points. Sports Illustrated's vote for MVP, Kevin Garnett who recorded had a double-double, scored 17 points, aand 15 rebounds. Pierce led the Celts in points, 23, and missed just 1 free throw. And, my vote for Boston's MVP, Ray Allen, scored 32 with 3 rebounds, and 6 assists.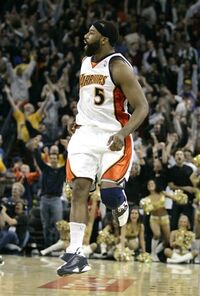 Billups' 34 points not enough:
The Detroit Pistons PG, Chauncey Billups, put up 34 against the 20-34 Milwaukee Bucks, of the weak Eastern Conference. Milwaukee is 19 games behind the Pistons in the Central Division of the Eastern Conference. Milwaukee's Michael Redd had a big night for the Bucks, 24 points. The difference in the game was the bench, like alot of games played last night. Milwaukee's bench outscored Detroit's 27-13, and Milwaukee pulled out in the end, and won a rare game over the Pistons, 103-98.
Others Scores:
Philadelphia 76ers over New York Knicks 124-84- How can you lose by 40 points?!?!
Sacramento Kings over Atlanta Hawks 119-107- Kings put up 119 without Mike Bibby, who was recently traded to the Hawks, and put up 17 points against his former team.
LA Clippers over Memphis Grizzlies 100-86- Corey Maggette puts up 30.
Trade:
The San Antonio Spurs, looking to add another big man, traded Brent Barry, Francisco Elson, and a 2009 first-round draft pick to the Seattle SuperSonics, for Big Man Kurt Thomas, who will accompany veteran Tim Duncan in SA.
Notes:
-Of the 20 teams that played on Wednesday night, 15 of them topped 100 points, while 3 more topped 90.
-Of the 10 games last night, ALL of them had at least one team top 100 points, while 5 of those 10 games had both teams top 100. Talk about high-scoring!!!
Ad blocker interference detected!
Wikia is a free-to-use site that makes money from advertising. We have a modified experience for viewers using ad blockers

Wikia is not accessible if you've made further modifications. Remove the custom ad blocker rule(s) and the page will load as expected.