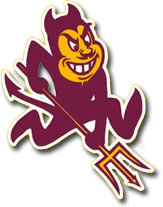 As of 6:51 on the east coast, it's been less than an hour since the news broke that Arizona State announced it was
reinstating its wrestling program
.
InterMat will be updating the blog with reactions from folks around the country.
Brian Stith, Assistant Coach
Brian's currently coaching incoming transfer Erik Nye at the University World Team Trials in Colorado Springs. He didn't have much time to talk with the finals starting just as he answered.
"I'm happy right now and we've got a lot of support. We want to thank everyone. We're going to need continued support and we're going to still need a lot of help."
Scott Casber, Takedown Wrestling Radio
"The support for wrestling is strong and passionate, our wrestling family gathered together and accepted the challenge. We followed this thing, we hammered it the right way."
Zeke Jones, Head Coach, Penn; Arizona State alum
"I don't know what's going to be a bigger day in history for Arizona State, a national title in 1988 or the reinstatement of the program. This is going to change the face of wrestling for the next 25 years. Lisa Love wrote a new page in the book of how athletic departments can look at the sport of wrestling and she's shown there's another way to look at the sport.
The wrestling community is a strong community, the same character that goes out on the wrestling mat solved this issue. I think the wrestling community says hey, the same intensity we try to persevere through in victory and defeat. This is something, if we work hard, diligent, committed and we think about it intelligently. That's what happened today. Wrestling community relied on its character and applied it to solving a problem like we did this week.
A lot of people are going to learn now that wrestling is in a position of strength at Arizona State University. The work's not done. It got pulled up out of the ground and the casket, but the work's not done. The wrestling community - it's a misconception where we are back to where we were, but we've got a lot of work to do financially to make sure the program is successful."
Mike Moyer, Executive Director, National Wrestling Coaches Association
"It's a testimony to the will of the wrestling people where no challenge is too great to overcome. We're also grateful forever for the local organizing group out there who provided the funding. Everyone knows how fragile intercollegiate wrestling is in the Southwestern U.S. and losing that program simply wasn't an option.
Hopefully this is a catalyst to that this can turn the pressure back on the University of Oregon because the Northwest is just as fragile. A lot of people have talked about stepping to the plate and there was never a better time than right now to follow through.
The biggest winners in all of this are the 5,000 high school wrestlers in Arizona. They have a college program they can compete and that program has been the training ground for the teachers and coaches of the state. The education those wrestlers received is a direct result of that program."
Rich Bender, Executive Director, USA Wrestling
"This is a testament of the strength of the wrestling community to band together and make a difference. We are fortunate that the wrestling community in Arizona and around the nation was able to persevere and stand up for the sport. We need to remain vigilant as a community to do all in our power to entrench our programs and allow them to thrive." — from themat.com

Art Martori, Founder, Sunkist Kids Wrestling
"At the end of the day, Lisa Love made the decision that there was a strong wrestling community out there that would support wrestling at Arizona State. She did it in a leap of faith. Not a dime has changed hands at this point. She has faith that the money will come to fund the program's operating expenses and to endow the program long term. She understands that this will take time. She believes that we are sincere in how we are going to do it. We laid out a plan and it was accepted.
I think wrestling grew up. Wrestling drew a line in the sand. We are not going to always just get this for free. We will have to pay for our sport, and we have shown it can be done. We are coming up with the operating budget, the scholarships and the travel. But we aren't paying for the facility and the administration costs and other things. The university still has a lot invested in this program and this sport. The wrestling community is putting into the game as well. It is a win-win situation.
This happened because of courage and leadership from Lisa Love and the university. The people on the message boards and blogs that defiled her did not help wrestling. All they did was tear down someone they did not know. To rip her apart that way makes you a sick person. She has stepped up for wrestling and put her neck out for us. This woman stepped up and was willing to put back wrestling in just two weeks. We were able to save the program and keep our athletes at Arizona State.
The biggest thing we learned was that so many people care. There are people willing to step up, not only with their mouths but with their wallets. This is a sport of individuals. But, there is a very strong team effort behind wrestling." – from themat.com
Thom Ortiz, Head Coach, Arizona State
"I feel wonderful in the fact these kids are going to be able to get their education, move on and go wrestle. That was afforded to me and my friends and it changed my life. Lisa Love was once a head coach and she knows what it's about. She worked with us as much as she could. We went out and did it with a whole lot of help.
We're fortunate she had the guts to step in and reinstate the program. She didn't have to. She's an ex-head coach, I think that's what saved us. She's not selling insurance, she knows the value of education and sport.
Luckily for us Art Martori wrestled for Arizona State. He's done more for this effort and community nationwide. He doesn't want the notoriety or his name on buildings. He wants wrestling in America to continue, he loves wrestling and thanks go to him. He's doing it from his heart … and he can. It's heartfelt."
Bobby Douglas, Former Head Coach, Iowa State & Arizona State
"I think there's light at the end of the tunnel. This could work in the favor of wrestling in a big big way. The community and several people stepped up and said wrestling's important in the state of Arizona and wrestling's important in the West. A lot of people who thought if Arizona State went, they'd be singing who the bell tolls for. It took Lisa Love great great courage to do what she first did and more courage to do what she lastly did.
There were big players behind the scenes who didn't want to see wrestling die. We had friends we never knew we had. We're the ones that are losing wrestling. We can blame the AD's and administrators, it's wrestling coaches and wrestling people who are losing wrestling because we're not doing our job.
Those people are there, we should have found them before this happened. Jerry Colangelo and Art Martori, those people stepped up and said wrestling is important to America. Colangelo's a basketball person and others aren't as connected to wrestling, but they've taken a good look at what wrestling does for kids and they wanted wrestling to be a part of Arizona State.
I was jumping for joy. It's obvious this is huge. I couldn't believe it in a way, and I still don't believe it. Someone outside of the wrestling community stepped up and said this is important. If ASU goes, the west is gone. The entire western U.S. wrestling programs would have an unbelievable impact. The American wrestling program would be in trouble. If it wasn't for Sunkist, wrestling might not be here.
If Sunkist is no longer a player in the American wrestling scene, it affects the entire U.S. wrestling program. Sunkist has put several million dollars into the American wrestling program. I know if ASU lost their program, there would have been some hesitance for Sunkist to continue to fund wrestling."
Nick Frost, Arizona State Alumni
"I was obviously excited. We were all very upset when we heard it was getting dropped. It's good to have it back. It would be better if all this stuff never happened, hopefully it's not going to be any different than it used to be in terms of how the program is being run.
It's great, because kids here are close to their families and they don't want to go too far away. It gives you a chance to compete at the highest level in your home state.
Arizona State's got a great history and a lot of tradition, I really wanted to go there and the Arizona kids are the same way. It would have been pretty devastating for a lot of people.
It's great, especially for wrestling in the west. Programs are probably on the block and with Oregon dropping, then ASU dropped - Athletic Directors might have seen it as everyone else is doing it. It's really important for us to bring a program back. I can't imagine that's happened too often."
Aaron Simpson, Assistant Coach, Cal Poly; ASU All-American
2008 Contestant, American Gladiators
"We were shocked to hear it was dropped. Everybody was kind of up in arms and I almost think I'm in more shock now. Keeping a sport like wrestling out West is very important. Us alums that have a history there and didn't want to see the history not remembered, it means a lot to us.
I moved from Nebraska in the sixth grade, I always thought I was going to be a Husker. Once I moved to Arizona and started hearing about ASU. That was in 1986. Then they won the nationals and it became realistic I wanted to be a Sun Devil. My senior year, I turned money down at Nebraska to walk-on at Arizona State. I loved everything about Arizona State, there's more to that university than people realize.
I think a lot of people took the program for granted. This happening may have brought ASU wrestling to the forefront to those high school kids. This was a wakeup call and then people can really come and support the program. Everyone's got to circle the wagons and start pulling each other.
This is a very important step for college wrestlers. We need to thank Lisa Love. She got a lot of flack, but she was very courageous through this. She could have put her foot down and said no."
Updated 11:53 p.m. EDT
Ad blocker interference detected!
Wikia is a free-to-use site that makes money from advertising. We have a modified experience for viewers using ad blockers

Wikia is not accessible if you've made further modifications. Remove the custom ad blocker rule(s) and the page will load as expected.