http://www.intermatwrestle.com | http://intermat.wordpress.com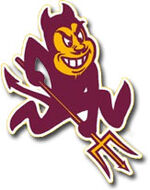 A lot has happened over the last 18 hours regarding the news about the alleged dropping of wrestling at Arizona State University. A lot of rumors, message board posts, e-mails, IM's, text messages and phone calls have been circulating.
The one thing I have been informed by Arizona State Sports Information Director Alex Ryan is "The rumblings are true."
Update: 12:53 p.m. (Eastern)
The pending announcement from Arizona State's sports information office is expected to come "shortly," according to Ryan.
Sadly, this comes the same day Thom Ortiz had confirmed three additional signees to the Sun Devil program, including two talented Junior College transfers Joe Cornejo and Erik Nye along with High School All-American Jake Meredith of Temecula Valley, Calif.
One member of the Arizona State wrestling team, who spoke on the condition of anonymity, said, "The athletes feel shut out by the administration."
Earlier this morning, e-mail correspondence between Ortiz and InterMat seemed to indicate these rumors were unjustified.
At 8:14 a.m. Eastern, Ortiz confirmed he had five signed letters of intent, including two from prior verbal commitments Te Edwards of Virginia and Eric Starks of Washington.
Update 1:02 p.m.
It's officially been released by the school: Click here for the release.
School citing finanical woes, despite the fact three teams are announced as being cut, men's wrestling, men's tennis and men's swimming. The school is "financially" cutting two teams where the same facilities are used for women's athletics, too.
Update: 2:05 p.m.
Brian Stith, two-time All-American and 2006 NCAA finalist for the Sun Devils and current ASU assistant coach finally replies to my text message.
"We done Twink. Can't talk now. I'm a mess."
Just got off the horn with Aaron Simpson, former assistant and ASU alum. He's got some interesting things to say. A few more phone calls to make and we'll see if we can start to push this in another direction, because there's so much wrong with this decision.
Update: 2:59 p.m. Interview with Aaron Simpson
I didn't have to ask Aaron Simpson a real question to get his sentiments. All I had to say was "Aaron, It's Jason Bryant from InterMat."
"It's ridiculous, I don't know what to say," he said almost immediately.
Simpson, a two-time All-American, is one of a growing list of vocal and ticked off alumni itching to get a chance to speak their mind.
"She (Athletics Director Lisa Love) wanted an excuse to drop the program, in my opinion," said Simpson. "A lot of us are very angry and very upset. We were upset when Oregon and Fresno State was dropped and we felt like we were almost untouchable."
"The A.D.'s want to appease the football boosters and basketball boosters and that's all," said Simpson. "And if they can get a little prod in for Title IX, that makes them look good too," he said.
Simpson did verbalize one chilling realization many wrestling fans have feared.
"If Arizona State's not safe, no one's safe," he said. "We have good donors and boosters and it still happened."
Simpson found the financial excuse laughable.
"I heard ASU was in a deficit, but (Love's) building a multi-million dollar indoor football practice facility in a place where there is no snow," said Simpson rhetorically. "High school players practice outside in Arizona."
"Basketball really did need a facility, but not at the expense of 70 athletes," he added.
Simpson fingers the blame in Love's direction.
"If you're an A.D. who can't raise money and can't find solutions to keep programs, you're not doing your job," said Simpson. "Your job is to go in there and raise money and not cut programs. I'd never hire an A.D. if you can't keep a program."
But perhaps the most painful, well, painful being relative when you have to tell 70 athletes they can't compete at their chose school anymore,
A kid like Anthony Robles, what other sport could he really compete in? And here he is, a minority, a phenomenal athlete who's missing a leg, a handicap, a disabled kid, whatever you want to describe him," explained Simpson. "You just took his dream away."
Update: 4:43 p.m. — Some stats to think about
As you might think, the swimming and tennis communities are also pretty angry about this decision. SwimmingWorldMagazine.com posted this story, which included a form letter e-mailed to the student athletes.
One thing in the form letter, probably the most emotionless thing you can send to someone, a meeting is mentioned at 1 p.m. … I must ask this, WHERE are the students on May 13. When exactly did classes end at ASU for the spring semester.
Here are some numbers, courtesty of NCAA.org and the National Federation of High School State Associations (NFHS).
In Arizona, there were 5,474 high school wrestlers according to the 2006-07 participation numbers posted by the NFHS. There were 2,015 male high school swimmers and 2,086 male high school tennis players.
Wrestling-wise, if the ASU decision stands, there will not be a Division I wrestling opportunity in the state of Arizona. There will only be TWO four-year opportunities, one at Division II Grand Canyon University and one at NAIA Embry-Riddle Aeronautical. There are no Division III opportunities in Arizona.
Effectively, Arizona State has wiped out the option for in-state wrestlers with tax-paying parents to attend Arizona State, denying over 5,000 wrestlers the opportunity — the option even — of competing at the Division I level in their home state. They will also be denying a public school option, because Grand Canyon and Embry-Riddle are both private institutions.
The demise in swimming is just as bad, despite half the participation in Arizona. The loss of ASU men's swimming would leave just the University of Arizona as the only Division I swim team in the state. Like wrestling, it would create only one public school option, rival U of A. Grand Canyon University, again in Division II, would be the only other four-year varsity opportunity for men's swimmers within Arizona as the NAIA and NCAA Division III do not have teams within the state.
In men's tennis, it's again, similar. Three Division I programs would be cut to two, leaving Northern Arizona and Arizona. There is no Division II or III programs in the state. There are also no NAIA programs.
Arizona State isn't honoring its duty to offer opportunities to its in-state tax-supporting residents.
While this isn't an attack on any other particular sport, Arizona State does sponsor women's water polo, a sport, according to the NFHS, fielded zero high school programs in Arizona. Not a single rostered athlete on the women's water polo team is from Arizona. Not one.
Ad blocker interference detected!
Wikia is a free-to-use site that makes money from advertising. We have a modified experience for viewers using ad blockers

Wikia is not accessible if you've made further modifications. Remove the custom ad blocker rule(s) and the page will load as expected.