"The Stream of Consciousness is the process of the chain of thoughts that occur in one's head. Simply put, the thought of one thing in the mind leads to the next thought and the next through association. It is how the thoughts flow. It is how you can go from thinking about baseball to wondering if the stove is turned off at home. It is that stream that flows..."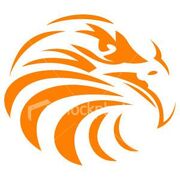 The
Series
picks up again. This time diving into the thoughts of the
falcon
from Math 118 (calculus)...
"...Why must people be so bothered with their views on others? Why does it matter what others people decide to do with their lives or why they act a certain way? Does it reflect or effect that person in anyway? Chances are it does not, yet people (in general) constantly feel the need for everyone to agree with their opinions and conform to how they believe things must be done. Key words are "opinion" and "believe" which are things that are going to be different for every single individual...
"Take that
headline
from the
'Chair
"Philadelphia Sports Fans... YOU STINK!!!" That's great. Take your shots (whomever is the author), but why must you feel the need to bash what it is you do not know? Glad there is a "comment of the day section" because that is the only way that article would have been opened on this computer. Another thing that is nice to see is that somebody knows what they are talking about...
"Mr. Stiles let his opinion rip and shows again why he is Dr. Commento (retired, not, doesn't matter). After a glance over this wonderful mini-article, there is no longer reason to defend the city in which I belong (I'm in New Jersey, but a three block walk and a quick little swim across the Delaware River could fix that). Plus, there is no need to argue on the Internet...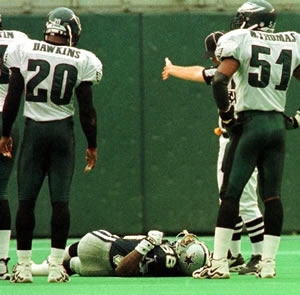 "Being from the Philadelphia there are some things that need to be said about the attitude of the natives. Mostly, this blue-collar city doesn't give a flying fack about anything. Call us degenerates if need be but the city
did
rejoice when
Michelle Irvin
fell down and cried. Throwing
snow balls
at Santa Claus is humorous to many because there weren't many children present to view the onslaught. Batteries falling from the upper deck, well nobody died, right? Then it is all in good fun. Hey, it could have been beer bottles (I'm sure they had plenty with them). Maybe this shows some of that Philly-Attitude...
"The city is starved for a major championship. Maybe (just maybe) the Flyers can keep it together and make a run for the Cup. They played one heck of a game last night. High intensity, high impact hockey is one of the best parts of sports. The NHL Playoffs are where this level of urgency and passion is displayed...
"Hatcher back on the ice is a great thing but countered with the news of Kimmo Timonen's untimely injury makes the situation a simple swap of defense-men. Hatcher did a great job holding down Ovechkin while Kimmo was out of the game. A.O. and Green both were basically shut down last night. That is how to beat the Crapitals, take out their two best only good players...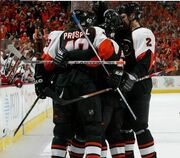 "Much respect was lost for Ovechkin after that dive he took in open ice last night. He really is better than
Sid the Kid
at everything (good and bad). Even with Ovechkin and Green playing to their potentials it would be little use.
Daniel Briere
is on fire and
Martin Biron
is the ice. Danny lights up the scoreboard and Biron freezes the door shut. If the team can pull out a win Thursday and take a three games to one lead, consider this series over because..."
Cut off by a whisper from Davey, "When we are done with today's lesson, we are going to be able to send a rocket to the moon."
Replying in a whisper, "You might. I stopped paying attention a few weeks back."
"Davey Sammons is a pretty cool kid. His racing league kicked off last Saturday (Davey is a driver for the URC 360 Sprint Series). He made a bad judgement in the qualifying heat by trying to move up from the fourth position while too close to the end of the heat. His ill-executed move on a dried up track dropped him down to seventh. That means he needed to run in another heat. The second time the Palladino No. 99 car ran away from the pack. A start at nineteenth was acceptable at the time because it was Davey's first time with his new team...
"The No. 99 car had the fastest overall lap of the race, but a few small miscues kept
Davey and Palladino Motorsports
from making up too much ground. Being it was their first race together and the fact that the car was still intact, they were satisfied with their twelfth overall spot in the race. He'll do better next week at the
Delaware International Speedway
. The Palladinos finish first there last season and Davey (racing for his dad) finished in second. They
really
like their chances for a win this week...
"After breaking out in 2006 to be named the Rookie of the Year, Davey's family gave up racing (still involved heavily with the league but don't run a car) at the end of the 2007 season, the young talent would move onto with Pat and Kathy Palladino (two very experienced and highly capable sponsors) and one of the fastest cars on the circuit."
After a break where some actual work is attempted (nothing got done) the notes from earlier just lay out; starting with that waste of a space article...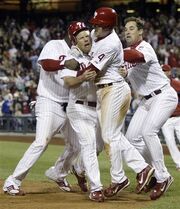 "Philly has spirit, yes they do. After the news of the Flyers' victory, the
Fightin' Phils
figured that they
may as well win
too. Down three to nothing entering the ninth a comeback seemed out of the question. The team was unable to muster any type of offense all game and
Jose Valverde
was coming in to close...
"Needless to say, after one run crossed the plate, Pat the Bat came up clutch (yes, Pat Burell came up clutch for once) with a two run home run. Geoff Jenkins would later take off from first on a sure double by Pedro Feliz. Jenkins blows through the stop sign at third just as the throw is coming in from left... He slides... SAFE!!! PHILLIES WIN!!! What a comeback..."
Today's Lesson: It's a great day to be fan from Philadelphia...
Ad blocker interference detected!
Wikia is a free-to-use site that makes money from advertising. We have a modified experience for viewers using ad blockers

Wikia is not accessible if you've made further modifications. Remove the custom ad blocker rule(s) and the page will load as expected.