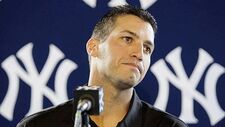 It was a day of "I'm sorry's" for a couple of pitchers named in the
Mitchell Report
today.
Andy Pettitte
sat in front of a sea of reporters, as well as
Derek Jeter
,
Mariano Rivera
, and
Jorge Posada
and poured out an apology. Pettitte appeared to be quite up front and frank, and answered every question asked of him. Given his reputation, you can't help but believe what he says. Pettitte described himself as stupid and desperate. He also warned "If you are currently doing anything, after what you see what I've been through and what Roger (Clemens) has been through, you better clean yourself up quick." In theory, that makes perfect sense, but history has proven that most athletes feel they are invincible and can never be caught. Somehow, Pettitte comes out of this looking better than anyone else who has been implicated with performance enhancers. But I guess that is the reward for (apparently) living a clean life and doing (most) things the right way. Without a press conference, and with much less fanfare,
Eric Gagne
also apologized to his family, friends, and Brewers teammates??? What has he been on the team for two months?? Although he should be apologizing to the Brewers, somehow he is going to make $10 million this year, and will not follow that up with $10 million worth of performance.
Brewers
young ace in the making
Yovani Gallardo
got some bad news this week. It was confirmed that he torn cartilage in his left knee, and was due to have arthroscopic surgery Monday. He will reportedly miss the next four weeks, making it very likely that he will not be ready when the season opens in April. He will most likely be healed, but he will need sometime to get his arm strength up for the regular season. Gallardo has a chance to be a fantasy stud this season, and this is just a minor setback. The Brewers don't seem overly concerned, and most will bump Yovani down a couple of rounds after this news. It could be a chance to get a steal in the later rounds, for a young strikeout pitcher on a pretty good team.
The Chicago White Sox have a heck of a decision for their starting third base position. Joe Crede has been the serviceable, but not spectacular starter for the White Sox since 2003. Slowly, Crede's back has gotten worse and worse, so much so that last year finally required surgery and cost him all but 47 games. Waiting in the wings for his chance to play was young Josh Fields. Fields took full advantage of his opportunity slamming 23 homers and driving in 67 runs in just 100 games. Although he struggled with his plate discipline (.244 avg, 125 K's), Fields showed enough pop in his bat to have the White Sox looking for trade partners for Crede. GM Kenny Williams has said that Fields will be starting at third base this year... either in Chicago or in the minors. This makes Fields a risky fantasy pick, but there have been rumors landing Crede in San Francisco.

Centerfield in
Cincinnati
(sounds like a romantic comedy) is still up for grabs as Spring Training opens. The humorous part of this is that two of the rumored candidates are not currently on the Reds' roster.
Kenny Lofton
, who I believe broke into the majors the same year as
Babe Ruth
, is the latest player rumored to be headed to Cincinnati to roam center field and bat leadoff. While most likely at an age where he would be unable to play everyday, Lofton has still been better than average in the last few years, still hitting near .300 and stealing roughly 30 bags the last three years. Former Oriole
Corey Patterson
has also apparently been in contact with the Reds. Patterson hit nearly .275 and stole 45-50 bases the last two years. The fantasy favorite for the job is super prospect
Jay Bruce
. One of the top ten prospects in all of baseball, the 21-year-old Bruce has Reds' fans excited about the future. Bruce was on the fast track through the minors, as he went from A-ball all the way to AAA in just one season. Combined at all three stops he hit about .315 with 26 HRs and 89 RBI in 133 games. Bruce would certainly have the greatest fantasy impact of the three, but of course, that means nothing in the world of actual baseball. If you are in a keeper league, you need to grab Bruce now anyway. Even if he doesn't start the year with the big club, he has the talent that he is worth waiting for his ticket to Cincinnati to be punched.
Ad blocker interference detected!
Wikia is a free-to-use site that makes money from advertising. We have a modified experience for viewers using ad blockers

Wikia is not accessible if you've made further modifications. Remove the custom ad blocker rule(s) and the page will load as expected.