Did any have a heart attack?
New York Mets
general manager
Omar Minaya
made a trade with the
Atlanta Braves
, which involved outfielder,
Ryan Church
going to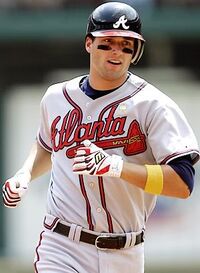 Atlanta for right fielder,
Jeff Francoeur
.
Francoeur always felt he'll be traded, but it never crossed his mind that it'll be involving the Mets.
"What's just weird is you imagine to be traded, but you never imagine to be traded to maybe your biggest rival," Francoeur said.
Francoeur has a .250 batting average, with five home runs and 35 RBI's on the season. Many believe Francoeur could perform better then his statistics and playing for another team would work for his career.
Church hasn't be impressive this season. Injuries and his relationship with Mets manager, Jerry Manuel, has raised many eyebrows.
This season, Church has a .280 batting average, with two home runs and 22 RBIs.
"He (Manuel) told me, he sat down in spring training, that he was going to be tough on me regardless," Church said. "Maybe he was trying to motivate me. … There was never anything that was negative."
The Mets were attacked by injuries this season. Carlos Delgado (first baseman), Jose Reyes (shortstop) and Carlos Beltran (center fielder), are the three important players for the Mets. With them suffering from injuries, it has effected the Mets on the baseball field. This was a huge blow to the line-up and Minaya felt he needed to provide some help.
Minaya will continue to try and make moves. He said he'll "shake it up" a little and doesn't want to stop after this trade.
"As a front office, we're going to continue to try to do things to, you know, shake it up a little bit, not just be complacent and say this is it," Minaya said. "I'm hoping that between here and the All-Star break, you know, we have other things that we talk to teams about, and they may come to reality."
Church was shocked about the trade and he's happy that he'll be able to go against the Mets. "Shocker. Came out of nowhere," Church said. "The good thing is I get to play these guys next week."
Church said the Mets will need to change up the signs, because he'll be helping out the Braves and filling them in. "They're going to have to change up a lot of signs. I know everything," Church said. "I'll definitely fill them in."
The Mets clubhouse understands Francoeur's ability to play and Mets third baseman, David Wright believes he'll be able to make a fast impact for the Mets. "Jeff brings a certain energy," Wright said. "He can really come here and make an immediate impact."
The Mets are currently 40-45 and are fourth in the NL East with the Philadelphia Phillies leading the division.
Yahoo Quotes
Ad blocker interference detected!
Wikia is a free-to-use site that makes money from advertising. We have a modified experience for viewers using ad blockers

Wikia is not accessible if you've made further modifications. Remove the custom ad blocker rule(s) and the page will load as expected.