From: http://afraidofedhochuli.blogspot.com/
NFL:
Sapp fined $75,000 for outburst against referee
Nick Barnett gets angry  

Broncos S Lynch remains mum on plans for future
Broncos plead; Lynch misses coverage  

Report: 'Wasted' season won't be last for Dunn
Travis Henry exhales.  

Vikings DE Scott cited for marijuana possession
Travis Henry heard laughing.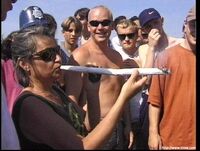 Parcells goes to work, checks out Dolphins practice
Not expected to take any of Ace Ventura's crap.  

Michael Silver: The Gameface Further down the page (Lies, Lies, Lies):
"1. Lions president Matt Millen signed umpire Jim Quirk to play linebacker for the season finale against the Packers.
2. Now that Roger Clemens' lawyer is launching his own investigation into the allegations against his client, we'll get to the bottom of all of this steroids stuff.
3. If the 49ers (or Dolphins, or Jets, etc.) can close their season on a winning note, it'll give them momentum heading into next year."
Awesome  

The release schedule for NFL awards and the All-Pro team:
OFFENSIVE ROOKIE OF THE YEAR -- For Thursday AMs, Jan. 3
DEFENSIVE ROOKIE OF THE YEAR -- For Friday AMs, Jan. 4
COMEBACK PLAYER OF THE YEAR -- For Saturday AMs, Jan. 5
MVP -- For Sunday, Jan. 6
DEFENSIVE PLAYER OF THE YEAR -- For Tuesday AMs, Jan. 8
OFFENSIVE PLAYER OF THE YEAR -- For Wednesday AMs, Jan. 9
ALL-PRO TEAM -- For Thursday AMs, Jan. 10
COACH OF THE YEAR -- For Sunday, Jan. 13  
MLB:
Teams pitch Santana deals but nothing connecting
ESPN wins award for imagery.  

Congressman: Let's focus on the future
Big Mac: That's what I was saying!!!  
I have no witty comment…this is just messed up  

Robinson Cano: Yankees Want Him to Take a Break
So does the rest of the AL East.  

Prior to pitch close to home, agrees with Padres
University of California, San Diego Medical Center put on code blue.  

Royals sign ex-Marlins catcher Olivo to 1-year deal
Bill Bavasi laughs at Royals need of Mariners "talent".

Big spenders: Yanks, Red Sox hit with luxury tax
Duh.

NBA:
Heat's O'Neal, Williams checked out by doctors
No one surprised.  

Report: Injury sidelines Hawks' Claxton for season
At least 12 newspapers have headline of: "Brakes put on Speedy"  

What a horrible death to die, a horrible death, a horrible death, what a horrible death to die... (If you don't recognize this, you were NEVER a Cub Scout)
Ad blocker interference detected!
Wikia is a free-to-use site that makes money from advertising. We have a modified experience for viewers using ad blockers

Wikia is not accessible if you've made further modifications. Remove the custom ad blocker rule(s) and the page will load as expected.