In lieu of making up stories, or reading the same books over and over again, I have been reading baseball stories to my son at bedtime. The stories come from a book called "Peanuts and Crackerjack: A Treasury of Baseball Legends and Lore" by David Cataneo.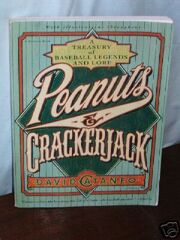 I've read the fine articles that other users have written for AGM telling their stories of Jackie Robinson. I chose not to write anything because I felt that my own account would pretty much echo many others that have been written. The man is a legend and any baseball fan knows this without me cobbling together another article.
But then I came across this story in this book. The story opens with this: "By the late 1980's, the Jackie Robinson story had settled firmly into American history, and, like Antietam, Sam Tilden, and the Works Project Administration, the Jackie Robinson story was becoming largely forgotten."
Can you believe this? I can't imagine this being the case, but check this quote out: "It has been largely forgotten. We see that as we go from city to city. We see schoolchildren who don't know who Jackie Robinson was. They know the name, but not who he was. I do fear he will be forgotten."
Who was the speaker here? Rachel Robinson.
It may be true that MLB is gimmickising Jackie Robinson. But now that I've read these words by Rachel Robinson, I'm glad MLB did what it did. I can't imagine baseball today without all fans stopping for a moment on April 15th to remember a great baseball player...and a great man.
I'd like to think that Rachel Robinson would be proud to see the reverence in which Jackie is held today. I'm glad she lived to see all of the accolades that came Jackie's way after 1989.
I'm proud to be a baseball fan on this day, and even more proud to be a Jackie Robinson fan. He changed baseball forever through talent, dignity and bravery. And none of us who are baseball fans should ever forget that.
Here's an interesting [Scholastic Q&A article] with Rachel Robinson from 1998, if you're interested in reading more about her.
Ad blocker interference detected!
Wikia is a free-to-use site that makes money from advertising. We have a modified experience for viewers using ad blockers

Wikia is not accessible if you've made further modifications. Remove the custom ad blocker rule(s) and the page will load as expected.