Before the Houston Rockets 94-74 loss to the NBA's top team, the Boston Celtics, Houston had a team-high 22-game win streak. Houston's streak was also the second-longest in NBA history; longest was the Los Angeles Lakers 33-game win streak that went from November 5th, 1971 to January 7th, 1972. Before the 20-point loss to Boston that snapped the streak, Houston was 24-20, and looked like they could fall to under .500.
After the Rockets stretched their streak to 12 games, the Rockets found out they will have to finish the season without 7 foot 6, All-Star Center, Yao Ming, who suffered a stress fracture in his left foot. Houston went on to win their next game by a score of 94-69 over the 27-30 Washington Wizards. Before the streak, Houston's star SG Tracy McGrady struggled, averaging just 17.9 PPG in the first two months of play, and 5.4 RPG in the first month, and 3.6 in December. McGrady missed 11 straight games at the end of December, and begining of January.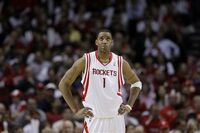 As of late, McGrady's PPG went up, and so did his RPG, meaning less assists. Overall, McGrady's stats have been lower than they have in the past 5 years. His PPG haven't been lower than this years 21.6 since the '99-00 season (when he played for the Toronto Raptors), and his rebounds haven't been this low since his rookie year in the '97-'98 season.
Despite being out of the lineup since Febuary 26th, Yao Ming still leads the team in overall Points scored (1,209), Rebounds (594), and blocks (111). Houston sure does miss his 7 foot 6 body, and skill in the paint. I don't think the Rockets (46-22; 1/2 game behind New Orleans Hornets in Southwest Division) will manage to get out of the first or second round of the NBA playoffs without Ming.
Since their loss on March 18th, the Rockets have dropped two games, and are no longer ontop their Division. Both losses have been by 20+ points, and McGrady managed just 8 points in the game vs Boston, and 15 against New Orleans. McGrady obviously needs to be ontop of his game, and carry the Rockets through the playoffs if he wants to win a championship. Houston has 14 games remaining until playoff time, and will play at Golden State tomorrow night at 10:30 PM ET.
Ad blocker interference detected!
Wikia is a free-to-use site that makes money from advertising. We have a modified experience for viewers using ad blockers

Wikia is not accessible if you've made further modifications. Remove the custom ad blocker rule(s) and the page will load as expected.