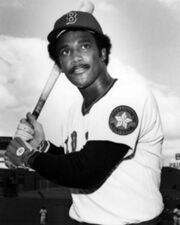 There are under 48 hours until we elect our latest batch of Hall of Famers, players who stand above the rest, having achieved true greatness. We already know of one who will be crowned, the great second baseman Joe Gordon. A nine-time all star and MVP, I personally find him deserving of a spot. What about the other candidates though? How well will they do? Will there be surprises? Let's start from the beginning.
Introduction
On Monday at 1:30 PM EST, 575 writers will elect these greats to the Hall of Fame. (well, the writers already chose them, but you know what I mean) This means that for a player to receive 75% of the vote, they need 432 votes. Needless to say, that is a lot of people. Each writer can vote for 10 players. However, there is a scant 23 players on the ballot this year, the smallest number in history. This is huge for those who have been borderline for so long, and are itching to be elected. This technically means that if every writer voted for 10 people equally, then each player would have 250 votes, 43% of the total. Again, this is very significant. This makes it likely that there will be nice jumps for those who have been gradually increasing over time, and they need those jumps, because 2004 is a class filled of good hall-of-fame type players, but certainly no first-balloters like Rickey Henderson. How will each player do though, given the trends and the shifts, especially given the steroid era, the type of players they were, and given their character.
The Ballot
Let's look at each player and their chances for the Hall.

Harold Baines: Would he be in the Hall already with 150 more hits? Probably. He has 2866, second-most out of the 23, of course behind Henderson. In my personal opinion, a 5.2% and 5.3% finish in his first two ballots don't make too much sense. Yes, he wasn't a flashy player and one who was on the highlight reel day in and day out, but his six all-star appearances speak pretty well. However, one cannot really tell what the writers are looking for. He never had a true MVP-type year, and although his stats are very solid, none truly jump out. I think he deserves better ballot-wise, but I dunno how well things will go for him.
Prognosis: At best he'll have a Blyleven-type jump, at worst he'll just float on the list for 15 years a la Dave Concepcion. 6%ish

Jay Bell: Bell signifies the player who is very good, was very reliable and was a good guy to have on your team, but he's not going in the Hall. Fellow ballotee Alan Trammell beats out Bell in virtually every statistic. I'd give him more of the benefit of the doubt if he won more than one gold glove, but it's alright, he'll make room for next year's batch.
Prognosis: 1 vote.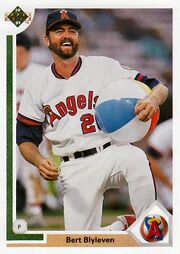 Bert Blyleven: I'll make it easy for everyone out there; Bert and his Hall of Fame wait have been beaten to the ground, maybe more so than Jim Rice. He dominates all other pitchers on the ballot in innings pitched, wins (sans Tommy John), complete games, shutouts, and strikeouts, so if a pitcher is going in this year, it's him. His jump last year was huge, and he easily has the strongest grassroots following of anybody. I can't guarantee he'll get through, but he has the numbers, and most importantly, he has the support of the writers more than ever. Two all-star appearances hurt, as does one 20-game season and his 250 losses, but as stated, the writers are really looking at him this year.
Prognosis: He'll squeak in, barely, to nail a spot as a member of the Class of 2009. At least that's what i'd like. My gut's saying he'll just miss a la Rice last year, but my heart says he'll jump just enough to get in, and I'm going with my heart. (between 72-76%)

David Cone: I've touched on Cone's Hall-of-Fame-ness in the past, and to put it bluntly, good guy, not a ball of famer. Being a Cy Young award winner will give him some votes, and a 192-126 pitching record actually isn't too bad. The trick will be if he gets enough to stay on the ballot, and it'll be an interesting one to watch. People will look at his record % rather kindly, and he'll get a bump from award-lovers, but his more strenuous stats such as complete games aren't impressive at all.
Prognosis: In the 6% range, enough to stay on the ballot, barely.

Andre Dawson: Dawson's another one that you have to wonder just how long he'll have to hold out until he makes it in. Unlike Rice and Blyleven, he's not getting the grassroots bump he needs at this stage of the game. His 438 home runs is second to McGwire, and his other stats are impressive as well. He's a rookie of the year, an MVP, finished 2nd twice, and an eight-time all-star. So, how is he not in? simple, he played for a small-market team in Montreal, which is going to hurt. He played for the Cubs, which is a big market, but neither team wins, which should not be a shot at Dawson at all, but unfortunately is. Personally? I think he should easily, easily be in. But will he get in this year? Despite the jumps... the lack of real attention is going to keep him off for one more year.
Prognosis: 69%, he'll be the head of the Class of 2010.

Ron Gant: He has the same problems as Jay Bell. Good guy, had a few great years, but other people in his same position easily dominate him stat-wise. 1651 hits and a .256 batting average won't cut it. A couple all-star bids are nice, but he's not in.
Prognosis: 1 vote.

Mark Grace: This is the guy I've been rattling my brain over. On the one hand, 2445 hits and a +.300 batting average are nice numbers, and he was a very reliable hitter. His 511 doubles and four gold gloves are great as well. However, he has the Harold Baines problem of not really having anything amazingly impressive about him. He is a fan favorite in Chicago, and maybe he deserves better, but Cub fans, you should be throwing your support to Dawson, who needs it.
Prognosis: 4%ish; won't quite stay on.

Rickey Henderson: Bill James said it best: "If you could split him in two, you'd have two Hall of Famers."
Prognosis:Over 95%, he's obviously in.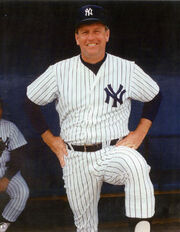 Tommy John: John is another one I've talked about in the past. I think he should be in, many disagree with that. I don't necessarily understand it, 288 wins, getting surgery that changed the careers of many after that, several 20-win seasons, 2 Cy Young runner-ups... But as has been stated, no one really knows what the writers look for. And it looks like he'll have to go through via the Veterans' Committee.
Prognosis: Off the ballot, 32%.
Don Mattingly: This is a legitimately tough one. His numbers are impressive, but they are pretty loaded towards the earlier part of his career. His numbers flew down before they rose in the ballot, and while he doesn't think he's a Hall of Famer, of course the Yankee fans are going to vote him in, that's a given. A six-time all star, a nine-time gold glove winner, an MVP award, that's a nice resume no matter which way you look at it. Still... 20.3%, 13.7, 12.8, 11.4, 12.3, 9.9, 15.8... it's rare for anyone's numbers to go down like that, and I see them rising the other way again. He won't get in the hall, but watching the rise will prove interesting.
Prognosis: 17-18%

Mark McGwire: We all know this story.
Prognosis: Around 25%, the small jump coming due to few people being on the ballot this year. I don't expect any major rise at all though.

Jack Morris: Morris's World Series championships (3-0), five all-star appearances, 254 wins, and handful of 20-win seasons are very nice stats. He's going to continue to climb as people look more closely at those postseason heroics, which is good since his stats are nice, but not quite Hall of Fame. His ERA of 3.90 would make him one of the highest Hall of Fame pitchers to have that. His stats are a puzzle though, one to figure out another time. For now, we know he's not getting in the next couple years.
Prognosis: 45%, maybe a bit more.

Dale Murphy: Oh, Dale Murphy. A two-time MVP not in the Hall of Fame. He's been struggling in the numbers game recently, and hardware-wise it's hard to see why. Six gold gloves, seven all-star games... and a closer look at the stats show consistency and pretty good numbers. his batting average at .265 is unimpressive, but that isn't how he became the player that is on the ballot. He'll get a jump like anyone else, but admittedly, I'd be surprised if the Veterans' Committee didn't appoint him, and most likely he'll be waiting for them.
Prognosis: 15%, maybe another knockdown next year.
Jesse Orosco: He had great longevity, but what else did he have besides that? Not much. maybe there will be a middle reliever with a great enough career to make the Hall, but Orosco isn't it.
Prognosis: He'll get a few votes, but he's off the ballot.

Dave Parker: Parker had a nice career, no doubt about that. An MVP award, a seven-time all-star, and several other close MVP finishes show a nice picture. He has great stats and seems like a hall of famer, yet again there's no one thing that jumps out to writers, which is ironic since he was an MVP. So why isn't he doing better? I'm actually not sure. Perhaps the writers don't like the true jack-of-all-trades guy that Parker was. He could do it all, though perhaps none of it was Ruthian in and of itself.
Prognosis: 15% or so again.

Dan Plesac: To be blunt, I'm not seeing anything Hall-of-Famey here. Good relief pitcher, three-time all-star, but nothing special at all.
Prognosis: Well, someone has to be the one that gets 0 votes.

Tim Raines: Tim Raines is the poor man's Rickey Henderson. Ironically, I think this might cause him to be one of the only people to dip a lot this year. But look at the stats. 808 stolen bases, 1571 runs, 2605 hits, a batting average nearing .300... those are leadoff batter numbers that show a Hall of Famer. A seven-time all-star who was hurt by the small-market team jinx, as have been others. Once people really start looking at him when Henderson goes in the Hall, we will see him skyrocket in his percentages by people who start seeing how great his stats were to his team.
Prognosis: 23-24% or so, easily passing 30% next year.

Jim Rice: If he doesn't get in, after everything that's happened, then the Hall of Fame is even more broken than Bill James says it is. He's also been done to death, so I won't reiterate.
Prognosis: 77-78%, Class of 2009.

Lee Smith: You could find so many different arguments on this guy. Some will say his saves easily put him in the hall and he's a first-ballot kind of guy, others say saves are overrated and his stats are not impressive. The debate on him is just going to continue for quite a long time. A six-time all-star and 478 saves are good, a 71-92 record not so much. A 3.03 ERA is okay, but not really amazing. His stats seem to mirror Gossage's, so we'll see how things go. Who knows which way the poster boy for a split in the community will go.
Prognosis: 45%, though it may drop next year.

Alan Trammell: Trammell is an interesting case. Solid individual numbers, but he's not really remembered as a true great. Six all-star appearances, 2365 hits, gour gold gloves, all very nice but nothing that's mind-blowing. He needs to really get the momentum going this year, since there's going to be a shortstop that'll make him look lesser in comparison next year.
Prognosis: Around 18-19% again.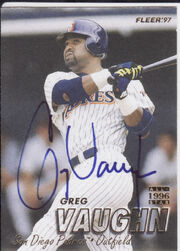 Greg Vaughn: He had a nice career, but here's why he's out: Only one remarkable season (1998), a .242 batting average for his career, and 1475 hits. Three strikes and you're out.
Prognosis:1-2%, off the ballot

Mo Vaughn: Pretty much the same story as Greg, but at least his batting average is decent, and he won an MVP trophy. His best season doesn't look that great (I'd argue he shouldn't have won the MVP in 95), but he played well, better than his cousin.
Prognosis: 2-3%, off the ballot
Matt Williams: I dunno, i don't see it with this guy. He had some great seasons, but they were pretty scattered. Despite a sizable career he didn't hit 2000 hits either. 4 time all-star, gold glove, and silver slugger winner is nice, but we'll see what happens. I don't see him hitting 5%, but the Hall of Fame may surprise me.
Prognosis: 3-4%, off the ballot

Conclusion
I'll write a follow-up article shortly after the balloting is presented. As the time nears, here are my official predictions for how the balloting will turn out: voter # in parentheses.
Henderson 99.13% (570)
Rice 77.04% (443)
Blyleven 75.30% (433)
Dawson 68.86% (396)
Morris 44.86% (258)
Smith 44.34% (255)
John 32.34% (186)
McGwire 24.52% (141)
Raines 23.82% (137)
Trammell 18.78% (108)
Mattingly 18.08% (104)
Parker 16.17% (93)
Murphy 15.82% (91)
Baines 06.08% (35)
Cone 5.56% (32)
Grace 4.00% (23)
Williams 3.82% (22)
M. Vaughn 2.26% (13)
G. Vaughn 1.21% (7)
Orosco 0.52% (3)
Bell 0.17% (1)
Gant 0.17% (1)
Plesac 0% (0)
Will we really see a Blyleven/Gordon/Henderson/Rice quadruplet in the Class of 2009? Well, one could argue that we're due for a bigger class, though if Bly or Dawson doesn't get in this year they are shoo-ins for next. My ones to watch are David Cone (I may very well be much higher on his % than votes show) and Tim Raines (I may very well be much lower on his %).
Ad blocker interference detected!
Wikia is a free-to-use site that makes money from advertising. We have a modified experience for viewers using ad blockers

Wikia is not accessible if you've made further modifications. Remove the custom ad blocker rule(s) and the page will load as expected.