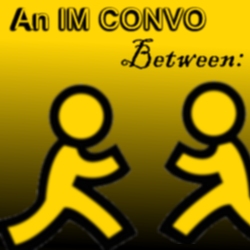 This time featuring Stephon Marbury and Isiah Thomas...Isiah is pissed that Marbury is out of the season and with enough cursing to make Chris Berman blush, enjoy
StarburysNow$2.99: Hey wassup coach
FireIsiahLMAO: What you want wuss
StarburysNow$2.99: You're not gonna hold a grudge are you, I'm actually hurt look at the X-Rays
FireIsiahLMAO: Fack an X-Ray I just know your a b****, how u gonna quit on me, I never quit
StarburysNow$2.99: What about that time in Boston in the second half you just sat playing PSP
FireIsiahLMAO: I was looking up plays on NBA Live and then I looked at the scoreboard and there was no point
StarburysNow$2.99: I'm sorry man, I'll make it up to you how bout we go out tonight mad b****es with no morals all on me
FireIsiahLMAO: Nah cuz u a quitter what if a b**** says no you gonna jus quit
StarburysNow$2.99: I'm not trying to get sued, thats you and MSG
FireIsiahLMAO: Whatever you know damn well no one wanted that broad
StarburysNow$2.99: So what you gonna do the rest of the season
FireIsiahLMAO: I aint doing sh*t, I'm not gonna get fired, my franchise player is a quitter and everybody know the Celtics or Detroit gonna win the East
StarburysNow$2.99: New Yorkers gonna whoop ya a** one day
FireIsiahLMAO: New Yorkers aren't worried bout Zeke, the Giants done won the Super Bowl, the Mets traded for Juelz Santana, they aint even worried bout Zeke right now, they saying Zeke do your thing
StarburysNow$2.99: Don't you mean Johan
FireIsiahLMAO: The lil dragonball z character, what the hell he gotta do with this, you high already and you aint even share, see your different Stephon real different
StarburysNow$2.99: Never mind man, ayo Zeke I was thinking...
FireIsiahLMAO: What
StarburysNow$2.99: I kinda wanna go to a contender, I been in the league for over 10 years and got nothing to show for it
FireIsiahLMAO: Oh you quit and you wanna leave fine you really a b*** now, I should send you with punk a** George Karl, iight you can do the deal tell him I want JR Smith, and 3 cases of Vitamin Water
StarburysNow$2.99: Why the hell would I have his number, and he's a coach anyway
FireIsiahLMAO: Oh yea he dont got the skills like I do, I run sh** I'm the King of New York
StarburysNow$2.99: No offense but I want to salvage my career
FireIsiahLMAO: Man what career? Were you ever an allstar? How many rings you got? How many Marbury jerseys you see on the market? Man Steve Francis is a has been you a never were
StarburysNow$2.99: Whatever man
FireIsiahLMAO: Awww now you gonna cry
StarburysNow$2.99: No, its whatever man I'm a better player than you will ever be a coach, when was the last time you took a team to the playoffs
FireIsiahLMAO: I could've went last year, I just wasnt gonna go get swept, f*** that I got my extension and fell back, you talkin why didnt you take them to the playoffs, Lebron took his team by himself
StarburysNow$2.99: Get me some help and I will
FireIsiahLMAO: I got you help the Knicks are 88 on Live and 89 on NBA 2K8, but no you wanna quit like b**** you unappreciative
StarburysNow$2.99: I BROKE MY F***ING ANKLE FireIsiahLMAO: yea yea and I'm the Executive of the Year
StarburysNow$2.99: Man I dont even know why I bother talkin to you, ur an a**hole
FireIsiahLMAO: Oh jus for that the Knicks arent wearing no more Starburys, the official team sneaker are LA Lights
StarburysNow$2.99: Man I gotta go
FireIsiahLMAO: I thought you was hurt now you wanna go out
StarburysNow$2.99: Oh well at least I'm getting a check, now who I sound like
FireIsiahLMAO: Man f*** you
Ad blocker interference detected!
Wikia is a free-to-use site that makes money from advertising. We have a modified experience for viewers using ad blockers

Wikia is not accessible if you've made further modifications. Remove the custom ad blocker rule(s) and the page will load as expected.