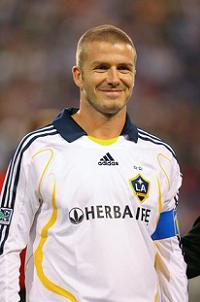 About one year ago, British soccer phenomenon David Beckham left one of the world's most prominent clubs, Spain's Real Madrid, in order to come to play for the MLS's Los Angeles Galaxy. In Europe, everybody was wondering, "What is Becks he doing?" In America, everybody was wondering whether Beckham knew that futbol, otherwise known as soccer, was probably the fifth or sixth most popular sport in the States.
Immediately following the signing of Beckham to a 5 year, $250 million contract, the skeptics and doubters began downplaying the Galaxy's newest acquisition arguing that few Americans actually cared about this thing Europeans called futbol. It remains to be seen how much Beckham will ultimately increase soccer's popularity in the States, but it is clear that he is making a major impact on the Galaxy's performance this season and also in the sport's popularity.
So far in his twenty appearances for the Galaxy, Beckham has scored five goals, many on his trademark freekicks. However, it is important to note that he has never been a goalscorer, rather a playmaker who gets many assists with his accurate passing and crossing. Therefore, his Galaxy teammate Landon Donovan is leading the league in scoring partially due to the play of Beckham. The duo of Donovan-Beckham and the new coach Ruud Gullit has positioned the Galaxy in first place in the Western Conference and they are poised to make a run at the MLS Cup.
While it's clear that Beckham has made an impact on the field in year two, many are wondering whether he has made any sort of impact off the field. Despite the fact that Beckham spent much of his 2007 debut season in L.A.'s training room, year one was still a resounding success financially, as the Galaxy cleared an extra $13 million in overall revenue and sold 250,000 jerseys before the 33 year old Brit even played one match for the team.
While year one was successful financially for the MLS, year two has been even more profitable.
"Beckham Year 2 is more than we could've hoped for, just like Year 1 was more than we could've hoped for," said MLS commissioner Don Garber in an interview with the New York Post.
"The league is far more recognizable here and abroad than it ever was before David, as evidenced by the number of media that cover the league, the number of credentials for Galaxy games, global merchandise sales, the interest from players around the world to come into the league.
"A lot of that started with David. Are we a more valuable league today because of David Beckham? Probably. What's happened in the last year in terms of international friendlies, Euro rating were up…the sport is catching on in the last 12-18 months in ways I'm not sure we would've happened at this point. David's been a part of that, without a doubt."
Some of the testaments to the impact of Beckham is the rising league attendance, increase in jersey sales, and higher television ratings.
Last season, the average attendance of 16,770 increased to 28,035 for Galaxy road games, while this year's average of 16,360 jumped to 27,094. During yesterday's high-profile game between the Galaxy and the New York Red Bulls at Giants Stadium, 45,000 tickets were sold. The Galaxy have also tripled their season ticket base, increased the average ticket from $20 to $38, and have sold out every single game since the Beckham signing.
While attendence has skyrocketed, the number of Beckhamn jerseys sold is equally astounding. Recently, the Galaxy announced that they had sold an astounding 300,000 Beckham jerseys, which is more than Derek Jeter, David Ortiz, Tom Brady, Brett Favre, or any other professional athlete. In comparison, Reebok told the Post that jersey sales for NBA superstars Kobe Bryant and LeBron James were in the 75-80,000 range. Beckham's sales were four times as much as these American icons.
As a result of the financial success and popularity that Beckham has achieved here in America, expect other soccer titans to look for a possible transfer to the MLS. Recently, big name stars such as Thierry Henry, Ronaldinho, Zidane, Luis Figo, Andriy Shevchenko, Ronaldo, and others have expressed interest in playing in MLS one day.
With Beckham, there has been a certain increase in attendance and interest in soccer, and as a result, look for this game to keep on growing.
Ad blocker interference detected!
Wikia is a free-to-use site that makes money from advertising. We have a modified experience for viewers using ad blockers

Wikia is not accessible if you've made further modifications. Remove the custom ad blocker rule(s) and the page will load as expected.