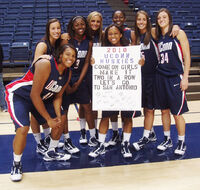 It's official.  The UConn women play like men.
I'm quite sure that if they were to play in the Men's March Madness that they could make it to the Sweet Sixteen or higher.
When they do play against the boys we need to get a gender test, for the boys.
Boys pull down your trousers because after you lose to the Lady Huskies things might magically alter right before your very eyes.
Boys, be happy you don't have to face them.  Baylor wished they didn't faced them on Sunday night.  They also wished Brittney Griner had another year to mature into a superstar.
After Sunday's night lost to UConn in the Final Four, the only thing left to ask yourself is: Can UConn, once again, go the distance for a 39-0 season record?
Based on their performance in the Final Four, I believe they can.  That's not to slight their next opponent, the Stanford Lady Cardinals (the last team to bea(s)t them in 2008).  The Huskies are just simply that amazing.
On Sunday night, Maya Moore, Tina Charles and crew put on a how-to clinic.  How to shoot.  How to run a fast break.  How to defend a 6'8" center. How to press. & How to play like champions.
Moore came out firing on all cylinders.  She accumulated 21 1st half points.  Charles was, presumably, going to hook Griner and Baylor to death.
Late in the 1st quarter, Griner asked to be taken out of the game.  I understood why.  There isn't enough oxygen coursing through one's body in an almost near death experience.
From the tip-off, UConn took it to this young lady.  2 points, Hayes is all in your face.  No matter how many shots Griner altered, she alone was no match for Geno Auriemma's Huskies.
On this night, Baylor needed offense.  They needed a string of consistent shooting.  The Lady Bears started the 2nd half with a 13-point deficit, and for the first 5 minutes or so of the 2nd half, they went on a run to bring themselves within 3 points of UConn.
However, after the Baylor run, Auriemma called a time-out.  He challenged his players to step up, to rise to the occasion.  During the game, he said to Charles, "How many lay-ups are you giving up tonight?"
Her response through her play: "Not many, sir!"
Griner scored 13 points on 5-13 shooting.  Meanwhile, Charles had 21 points on 9-17 shooting.
Charles was only bested by her teammate, Moore.  Moore had 34 point, shooting a little over 50% from the field..
It wasn't just a Charles/Moore show.  The Lady Huskies brought an in-your-face defense.  It started with Caroline Doty.
Melissa "I'm a Christian" Jones was aggressively guarded by Doty during Jones' first touch of the ball.  Doty's passion traveled to every Husky.
Griner barely touched the ball in the 1st half.  In all actuality, the defense won the game (along with Moore/Charles).  Baylor had 11 turnovers in the 1st half.  Also, with about 12 minutes left in the game, I thought the Lady Bears could continue their 2nd half run.  They had 42 points or so and the commentator said that if they could scored 70 then they could quite possibly steal the game for the uspet.
70, you say.  Baylor ended the game with 50 points, far from the 70 that I assumed was within reach.
Blown away by the game, I came to one conclusion, one comparision.  The Yankees = UConn.
Besides the fact that no one likes a winner, the Yankees and the Lady Huskies don the same uniform.
Like the Yankees, UCONN doesn't have to showcase individual names on the back of its uniforms.  The only name people need to see is UCONN.  Right now, at this very moment, the people of the sporting world are witnessing a team that reads: "A Winning Tradition"
Ad blocker interference detected!
Wikia is a free-to-use site that makes money from advertising. We have a modified experience for viewers using ad blockers

Wikia is not accessible if you've made further modifications. Remove the custom ad blocker rule(s) and the page will load as expected.