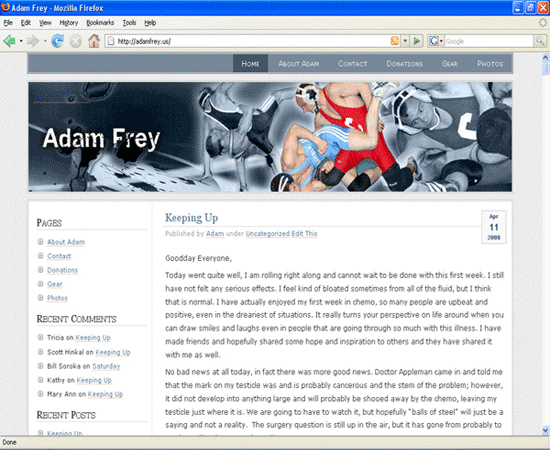 Pretty much everything surrounding Cornell sophomore Adam Frey in recent memory has been noteworthy.
There was his Ray-Brinzer-esque Gumby display after winning the USA Wrestling Junior National Freestyle Championships in 2005. There was a Herculean rise up the rankings his freshman year (2007), when he missed weight the second day at the NCAA Championships. And there were the bizarre weight management situations, which led Frey to a rocky campaign this past season, which saw him constantly in and out of the line-up. He looked like a shell of the wrestler once regarded as one of the nation's top recruits just a few short years ago.
Frey qualified again for the NCAA Championships this March and opened up with a dominant first-period technical fall over Northern Iowa's C.J. Ettelson. But then, Frey was sent to the consolation bracket after getting pinned by Oklahoma State's Nathan Morgan.
Frey won once more in St. Louis, where he pinned Ohio's Germane Lindsey before he was eliminated by Penn State's Garrett Scott at 141 pounds.
And approximately 96 hours after Frey was knocked out of the tournament, March 21, the native of Pittsburgh, was nearly knocked off the planet.
Frey rolled his 1997 Honda CRV into a tree going 55 miles an hour, "which should have killed me," he said. The 22-year-old overcompensated after nearly veering off the road and upon coming back on to the road, he hit gravel and lost control.
Miraculously, Frey physically walked away from the accident with a pulled muscle in his neck. He actually had more visible bruises and scrapes from a slight tumble he took scaling one of Ithaca's gorges last summer.
But the accident, a near tragedy, turned into a blessing in disguise.
Tumors were found in his liver, lung and kidney after an MRI was conducted to see if Frey had sustained any further injuries, other than whiplash, from the accident.
As soon as the news had spread, friends and supporters had already sprung into action. National Wrestling Media Association photographer of the year Danielle Hobeika quicky registered a domain name and set up a blog at adamfrey.us to give Frey an outlet to keep people posted on what was going on.
It's something Hobeika is known for: hopping on a cause immediately, as in the case with Frey, and save wrestling sites for Fresno State and Oregon.
"I cannot compliment her enough," said Frey of Hobeika. "She really has helped with everything and is tireless with the whole process. It was through her that I had this avenue or channel to air my story and I appreciate that greatly."
"Adam's a friend of mine," said Hobeika. "Cancer is a life or death matter so obviously I put it as a priority in front of anything else that was going on in my life as soon as I heard the news."
But is the blog a therapeutic way of dealing with the fight?
"It is, it gives me something to look forward to doing," said Frey. "In a way, it lets my real personality shine through.
"On the mat there is no real time for horseplay and kidding around," he said. "So it is good to both let everything out in a sense knowing that people are reading it and supporting me as well being able to reach out in a way that is not so intense."
Teammate Eric McGill started a group on the popular online networking site Facebook. The group already has 2,925 members from schools ranging from fellow EIWA programs like Harvard and Penn to folks in the British Virgin Islands and Haiti.
The day of the accident, folks started to blow up Frey's spot.
"I had literally 100 voice mails," said Frey.
Hobeika points out the site has attracted nearly half a million hits in the two weeks since the news first broke following the accident.
One thing the blog and daily updates have been able to do has been to help him maintain his sense of humor.
A lot of people don't know how funny of a guy he is. Stories circulate, things like the re-invention of Gumby, which was Angry Fish wrestling club coach Ray Brinzer's thing, to Frey's freestyle rap battle at the Wrestling USA Dream Team Classic a few years ago down in Texas.
"If people start ragging on my hairline, I'm definitely going to play the chemo card," he said jokingly.
But there have been some serious times already for the sophomore government major from Pittsburgh.
"It's a roller coaster," said Frey. "Some of my blogs have really been down. I mean, sometimes it really hurts."
"There was no laughter when I was told that I may go sterile, and have only a 60 percent chance of beating this," he explained. "That's been very hard, very sobering."
Since the web site was set up, the biggest bombshell dropped on people was the discovery of the weight of one of the tumors — approximately 10-12 pounds — as Frey describes it, 8.5 percent of his body weight when he's at 141 pounds.
"It's between my kidneys, right above my bladder, so it pushes on that and makes me have to go to the bathroom like every hour," said Frey.
But when it came time to make weight, Frey was obviously flustered.
"It was very frustrating, and very painful," he said. "My lower back and kidneys hurt a ton thinking back on it. I just figured it was the nature of the beast and pushed through it."
The comments are coming in as well, from former teammates and even wrestlers Frey has faced on the mat.
"There have been a lot of comments that have really made me think about the effects things like this have on other people," said Frey. "It's just great the positive connotations I can get and maybe help others through this. There are too many support stories to imagine."
As Frey continues on blogging, undergoing chemotherapy and trying to stay somewhat grounded, the site really has been a plus.
"It really gives me motivation when I need it," he said. "It's great to have a large group of of people to sympathize with."
I've known him for just a few years, I'm sure others have greater stories and memories to tell and testaments to how tough he is, but if there's someone that's as qualified enough to put cancer's efforts into submission, it's Frey.
Frey couldn't quite put a finger on the hardest thing he's had to come to grips with, since it's less than a month from the discovery and diagnosis.
"Probably the fact of being sterile … or maybe even death," he said.
"There are so many downsides to this dogfight. I may lose some collateral and down the line it may be more challenging to come to terms with, especially the way people react to that sort of thing," said Frey. "It is also hard to come to grips with being so healthy and doing things right, only to fall into a battle for my life."
"I feel I have been able to come to terms with those demons and I am ready to beat this thing up."
Hobeika, who wrestled herself, believes it, too.
"Adam seems to have luck on his side," she said. "In addition, his sense of humor throughout all of the bad news that has been thrown his way and his strong will are assets that will help him to come out on top in his bout with cancer."
I wholeheartedly agree. Good luck buddy, we're pulling for you.
Originally Published by W.I.N. Magazine
http://www.win-magazine.com/Archives/v14%20archives/v14i8%20stuff/bryant%20column.html
(You can also read this article by subscribing to W.I.N. Magazine. Either contact our office at 1-888-305-0606 or subscribe through this website by selecting the "Subscribe" section on our front page.)
(Jason Bryant is the lead writer/webmaster for InterMat and the 2007 W.I.N. Magazine Wrestling Journalist of the Year. The views expressed in his column are not necessarily the views of W.I.N. Magazine or Bryant's parent company, the National Wrestling Coaches Association. He can be reached at jbryant@intermatwrestle.com.)
Ad blocker interference detected!
Wikia is a free-to-use site that makes money from advertising. We have a modified experience for viewers using ad blockers

Wikia is not accessible if you've made further modifications. Remove the custom ad blocker rule(s) and the page will load as expected.