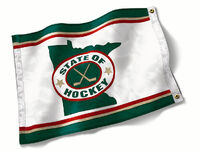 Ah, the month of March.  Spring is on it's way, and it's starting not to be freezing cold here in Minnesota (although this year it's still damned cold, and I'm getting tired of it).  This weekend also marks something eventful in Minnesota, the MSHSL Boys Hockey State Tournament.  This is not any high school tournament.  This is one of, if not the most intense and challenging high school hockey tournament in the nation.
You see, Hockey isn't just a sport in Minnesota.  It's a way of life during the winter.  Whether on a pond, or in an arena; if you grow up in Minnesota, Hockey is a part of life.  This is both a history of the tournament, and a collection of stories from the State of Hockey.
It's a Friday night in February, and the Girls Hockey Section 5A finals is taking place at the Parade Ice Garden on the outskirts of Downtown Minneapolis near the Western Suburbs.  Facing off are two rivals, which coincidentally are two of the top Prep Schools in the States (Blake and Breck).  The stadium is packed.  Nearly the entire student bodies of both schools are in attendance, plus several faculty members.  There are parents of the players, and friends from other schools of both those on and off the rink.  Even families and kids with no connections to either school showed up.  All the seats are taken, and people are standing both behind the seats.
The game is scoreless through one period, and into the second, until Breck Scores towards the end of the second period.  Breck scores again in the third period, and wins 2-0. After the game, the fans from Blake are somber.  The Girls team had gone undefeated until that point, and were the State Champions the year before.  But the loss doesn't mean that Blake students can't enjoy the rest of the night.  After the game, we headed out to play Pond Hockey until it was too dark to see.  No skates, and no fancy gear, but it doesn't matter.  It's still Hockey, which in the end is all that matters.
The stories of the importance of Hockey in Minnesota include some very bizzare events, including this story from ESPN analyst Jess Meyers [1]
On a frigid Saturday afternoon in January, with what can only be described as "a cold sun" shining brightly on Minnesota, Buck Humphrey needed a place to hold a meeting in Minneapolis. The grandson of former U.S. Vice President Hubert Humphrey, Buck is a local political activist, and wanted to get together with a group of college Democrats.

In true Minnesota style, instead of finding a community center or union hall, the group booked an hour at a small college ice arena in the heart of Minnesota's most populous city. After donning skates and helmets, Buck and the College Dems hammered out their issues via a series of long passes, wrist shots and blocker saves.

Such is life in the State of Hockey, where the sport so perfectly suited to Minnesota's five months of winter seeps into nearly every facet of life.
I asked someone who grew up in Minnesota what they remembered about High School Hockey when they were young, and they ended up giving me a story.  "I was a swimmer in High School, and every year we would have a meet against Virginia (about 3 1/2 hours north of the Twin Cities), and each swimmer from the home team would bring someone from the visitors home with them for the night.  One time, when we went up to Virginia, we were stuck in a huge snowstorm.  The father of the family opened his door to look at the road to make sure we were going straight, and the mom looked ahead to make sure we didn't hit anything.  We were going to the host family's son's Hockey Game, and sure enough, when we got there, everyone was there."
In a Blizzard, people still were risking their safety to go to a Hockey game.  That's dedication
But, this is the month of the Boy's High School Tournament, which means it's now time to shift focus to the tournament itself.
The tournament is held the weekend after the first full week in March.  Saturday night was the Boy's Finals, the class A game between Duluth-Marshall and St. Thomas Academy (St. Thomas Academy won 5-1).  But, in prime time TV on a non-cable channel, Edina High School and Hill-Murray faced off in the AA championship.  The tournament is so important that the
Minnesota Wild
and the
San Jose Sharks
had to practice at high schools Saturday, because the Xcel Energy Center was reserved for the games today.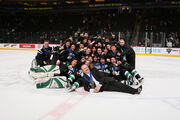 Imagine that, the
NHL
team in the State of Hockey gets the boot in the middle of their season from their stadium for the High School Finals.  In most sports, the MSHSL has to schedule around the Pro or College team's schedule (depending on where the event is being held), but in Hockey, the Pro team has to move.
The Tournament itself is rich in history.  Neal Broten, Herb Brooks, Phil Housley, Tom Preissing, Doug Zmolek, John Mayasich, Craig Norwich, Mike Antonovich, Henry Boucha, Steve Janaszak, John Pohl, Dave Spehar and Mark Parrish all played in the Tournament at some point during their career[2].
Hockey is the only sport where the small towns can succeed.  Duluth, Eveleth, Grand Rapids, International Falls, Roseau, all have had dynasties in the history of this great tournament.  Chances are, if you don't live in Minnesota, you couldn't locate any of these on a map (maybe Duluth, but that's probably stretching it).
But, I'm not a Hockey Player, so I can only say so much as to what the joy of the tournament amounts to.  Here are the words and stories of those who have played and coached it.
Golden Gophers freshman forward Gino Guyer came to "the U" (as the locals call it) after a stellar prep career at Greenway High School in tiny Coleraine, Minn., a struggling mining town of barely 1,000 residents, three hours north of the Twin Cities. As a senior, Guyer helped the Raiders reach the state tournament, and came close to bringing a state title home before settling for third place. As his college teammates celebrated being the best in the nation last April, Guyer was asked how winning the NCAA title compared to playing in the state tournament in Minnesota.

"This is amazing, but it's different than high school because there you win with the guys you've known since you were little and who you've played with all your life," he said. "Still, winning this national title is an incredible feeling, and it's almost as good as making it to state." Almost. [1]
Find me another player who feels winning the NCAA Title is a step down from playing in the High School Tournament in their sport.  There's just nothing like playing Hockey in Minnesota.
But, as if you need more proof, how about from the Face of team USA,
Herb Brooks
:
A few years ago, a hockey columnist quoted former University of Minnesota and U.S. Olympic coach Herb Brooks as saying that winning a state championship for St. Paul's Johnson High in 1955 was one of the best moments of his career. Upon reading it, Brooks called the writer and claimed he had been misquoted. Brooks said it was the best moment, better than coaching the Miracle on Ice team in the 1980 Winter Olympics. [3]
The Guy who lead the Miracle on Ice admitted that it was second to winning a State Championship.  Only in Minnesota, where local Hockey is so strong, that the North Stars had to pack up and leave town because people could go to similar quality games for only a fraction of the price.
Maybe I'm insane.  Maybe the whole Hockey culture in Minnesota is insane.  Or maybe the entire State of Hockey is insane.  Whatever the case may be, it won't put an end to our way of life during the winter.  This is Minnesota, where Hockey reigns supreme.
References
↑ 1.0 1.1 Meyers, Jess . "ESPN - Hockey roots run deep in Minnesota - NHL." ESPN.com. 8 Mar. 2008 <http://sports.espn.go.com/nhl/allstar2004/columns/story?id=1724057>.
↑ "Minnesota high school boys hockey." Wikipedia, The Free Encyclopedia. 12 Mar 2008, 01:45 UTC. Wikimedia Foundation, Inc. 17 Mar 2008 <http://en.wikipedia.org/w/index.php?title=Minnesota_high_school_boys_hockey&oldid=197623146>
↑ Dohrmann, George. "SI.com - SI 50th - Minnesota - George Dohrmann: High School Heaven - Wednesday March 17, 2004 03:16 PM." SI.com - News and Scores from Sports Illustrated. 17 Mar. 2008  <http://sportsillustrated.cnn.com/magazine/features/si50/states/minnesota/story/>.
Ad blocker interference detected!
Wikia is a free-to-use site that makes money from advertising. We have a modified experience for viewers using ad blockers

Wikia is not accessible if you've made further modifications. Remove the custom ad blocker rule(s) and the page will load as expected.