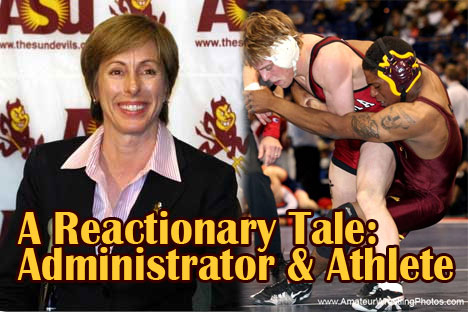 The scene in St. Louis was moving.
A capacity crowd at the Scottrade Center at the 2008 NCAA Division I Championships standing and applauding a Herculean effort by Arizona State redshirt freshman Anthony Robles.
Robles wasn't cheered because he won the bout, but was praised because of his grit, determination and heart. An overtime loss to three-time All-American Tanner Gardner of Stanford in the Round of 12 at 125 pounds ended his season.
But he didn't think it would end his career as an Arizona State Sun Devil.
Wrestling fans, and much of the sporting world, might have heard his story despite probably never seeing him wrestle.
Born with one leg, Robles won the NHSCA Senior National championships at 112 pounds in 2006 and signed with coach Thom Ortiz at Robles' beloved ASU.
On Tuesday, Arizona State announced it was discontinuing three men's varsity programs, effective immediately, in a budget cutting move to shave off just over $1 million off a growing $42 million budget.
"Honestly, we got blind-sided by this," said Robles. "Everything was fine, we were excited about the season next year."
Now Robles and his ASU teammates aren't thinking about wrestling on the mats in Tempe next season, they're just worried about if there will be a next season.
A rumored $8 million price tag has been placed on the sport at ASU, a number supporters, donors and alumni will have to hit to endow the program and ensure its continued presence.
"We got an e-mail (Tuesday) morning that the teams were getting cut and there was going to be a meeting at 1 p.m.," explained Robles. "I didn't see the e-mail first, but I had a friend text me the wrestling program got shut down.
"I texted my coach and he said they're calling us into a meeting," he continued.
"I woke up thinking we had a team and found out later that day we didn't."
Robles, a Mesa native, finds himself in the same spot as nearly 5,400 high school wrestlers in Arizona … no place to wrestle at the highest collegiate level in his home state.
"It's really important (wrestling in Arizona)," said Robles. "My dream was to wrestle at ASU and after I won nationals, I got offers here and there, but ASU was my number one choice. I got that chance on the collegiate level.
"I wanted to be ASU's next national champion," he said.
Robles, like many associated with the program and the sport in general, isn't pleased.
"I'm upset and angry I don't get that chance now," said Robles. "It's really hurting our sport. Every school they take away hurts us that much more. We didn't do anything to get dropped and I thought we were one of the schools that was safe from getting cut."
"I don't want to be too over the line, but this whole situation is disgusting," he said. "For kids that grow up here and want to wrestle for ASU because it's home, there's a certain pride. You get to wrestle in front of your home crowd.
"Now the kids won't have that," said Robles.
The well-spoken redshirt freshman didn't bite on the reasoning for the drop either.
"Obviously being a student-athlete, I'm going to disagree because I think there was something we could have done," explained Robles. "Oregon got a whole year to try to get donations and put money together. They called us in one day and said we don't have enough money."
"If they would have given us more time and help out and pay for it ourselves … it just sucks right now. I'm still I shock," he said.
Robles and his teammates are left in a lurch of sorts, some financially, some with leases on apartments they'd signed and now with no place to wrestle, barring an $8 million windfall.
"We're trying to figure stuff out," said Robles. "For me personally, I don't know if I'm going to stick around and hope it comes around or transfer out. The whole team is trying to figure out what we're going to do."
Many of the wrestlers are still in Tempe, either training or taking summer school courses. Some have places to live, but with no team left to compete.
"Now we're stuck here," said Robles. "If we wanted to transfer, there's no guarantee there is any money for scholarships."
"There's a not a whole lot of options for us, unless we walk-on somewhere," he continued. "Teams are pretty much done with their recruiting. What we can do as far as choosing a school puts us all in a bad spot."
The announcement came just hours after Ortiz had reported five signed commitments – Eric Starks of Washington, Te Edwards of Virginia, Jake Meredith of California and Junior College transfers Joe Cornejo and Erik Nye.
As of Tuesday morning, Ortiz still believed he had a team.
"He was just as shocked as we were," said Robles. "He's trying to set the example and encourage us not to give up and do whatever we can to keep the program going."
Robles and his teammates have one major thing bugging them.
"The big thing we're all thinking is, this is the biggest campus in the U.S., the biggest main campus. The football team is doing well, basketball is doing well and a lot of us are having a hard time understanding why we don't have the money to fund it," said Robles.
"It bothers me and still doesn't make sense."
Ad blocker interference detected!
Wikia is a free-to-use site that makes money from advertising. We have a modified experience for viewers using ad blockers

Wikia is not accessible if you've made further modifications. Remove the custom ad blocker rule(s) and the page will load as expected.