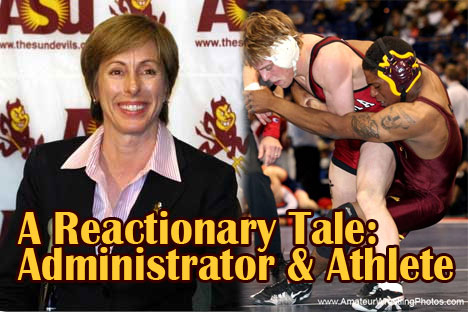 Anthony Robles had already signed a lease on an apartment for next year when his school dropped a bomb on him.
On Tuesday morning, Vice President for University Athletics Lisa Love announced Arizona State was eliminating three men's sports from its athletics roster, effective immediately.
The three programs – wrestling, swimming and tennis -- would amount to roughly 70 athletes and put the Sun Devils' total male athletic enrollment to somewhere around 240.
Love and staff waited until after school was out to inform the student-athletes, citing concerns of distractions during finals and a men's tennis team still competing.
"Students ought to be able to take their finals and the other team be able to compete at the NCAA championships without this distraction," said Love. "Tuesday is the day we decided to tell the coaches and the three teams involved."
The team Love alludes to was the 23rd-ranked men's tennis team, which learned of its demise 48 hours after falling to Duke in the first round of the NCAA Division I men's regionals.
Love points to finances, which according to Tuesday's release from Arizona State University, the three teams elimination would save roughly $1.1 million of the Sun Devils' $42 million budget.
But why these three teams, including wrestling, which is the only team west of Oklahoma to win an NCAA Division I wrestling championships, chosen?
"There were certainly lots of other things considered," said Love in an interview with InterMat on Tuesday afternoon. "We've been having a pretty powerful year, very cost efficient. The who, what and how had to do with our competitive and financial efficiency."
And gender equity.
"There's no way you can discount the gender equity component," said Love.
When asked if any women's teams were considered for elimination, Love said none were and pointed directly to proportionality.
"We didn't explore prong two or prong three, but rather the gender balance of your program," she said.
According to the Office of Postsecondary Education, Arizona State had 533 student-athletes on its overall roster for the 2006-07 reporting year.
Undergraduate enrollment, again according to the OPE, was 51.7 percent female while the percentage of male athletes was swayed the other direction.
Males made up 56.7 percent of the athletes at Arizona State, or 311 overall. Of the 311, 120 were football players.
If those numbers stayed within a reasonable window, the approximately 70 athletes affected will put the ratio of athletes in the men's favor, but by a much more manageable 52 percent.
Love continued discussing finances.
"We've had a pretty significant history in working managing this financial profile at Arizona State," she said. "The previous Athletics Director ended up having to reduce the department by a number of staff positions. It's been an ongoing challenge."
Arizona State's wrestling program moved into a new wrestling room recently, so the school is just going to toss away the use of a relatively brand-new facility?
"Three years ago, we opened a new wrestling facility," explained Love. "The thought was to enhance, and we have, the problem is that is hasn't kept pace with the pace in the cost to run a program."
Unfortunately for Love and Arizona State, the cost isn't just monetarily, it stands with the Arizona taxpayers and the over 5,400 high school wrestlers in the state.
But what's Love take on those in-state wrestlers who no longer have a change to wrestle at the Division I level in Arizona, specifically at ASU?
"We know the wrestling programs that are standing strong," said Love. "There's a power base in the Midwest for the sport. For our talented wrestlers coming out of Arizona, they have opportunities to look at other schools that are sponsoring wrestling.
"Not within the state, but there are programs in the country and in the region," she said.
Sadly, Love and the administration at ASU is turning its back on Arizona natives who have long excelled wearing Sun Devil maroon.
According to WrestlingStats.com, there are 20 wrestlers who have earned 34 All-American medals at the Division I championships. Four wrestlers have won NCAA championships.
Of those 20 wrestlers, 15 wrestled at Arizona State for a total of 26 medals. Three of the four NCAA champions from Arizona, wrestled at Arizona State – Curley Culp, Eddie Urbano and Eric Larkin.
Love pointed out wrestling wasn't the only program with tradition, as Arizona State's teams have won NCAA Division I championships in 10 men's sports (five in baseball, two in golf, one in gymnastics, one in outdoor track and one in wrestling).
Individually, Arizona State has 49 men's championships, with 14 coming in track and 10 apiece coming in gymnastics and swimming. Wrestling has eight individual championships.
"I want to impress upon you this is an economic reality for us," said Love. Rather than completely shut the door on the three sports, Love did point out there was an option for one, if not all three, to stay on as varsity programs at the Tempe school.
Money.
During the interview, Love didn't have any exact figures, but a contact at Arizona State has heard the programs can stay if endowments are created in the sums of $5 million each for tennis and swimming and $8 million for wrestling.
Those numbers are unconfirmed as absolutes, but seem to be the most common numbers being discussed. And miraculously enough, Love said no additional women's sports would have to be added and/or funded by either of the three factions, which has been quite a change from the norm when programs at the Division I level have been dropped.
"We hope the enthusiasm for the sport will hit a fundraising element," said Love. "We are hoping those who are passionate about the sport … a tight, loyal group."
Wrestling is a sport Arizona State doesn't seem to mind having, but one not important enough for the school to pick up the tab.
Ad blocker interference detected!
Wikia is a free-to-use site that makes money from advertising. We have a modified experience for viewers using ad blockers

Wikia is not accessible if you've made further modifications. Remove the custom ad blocker rule(s) and the page will load as expected.