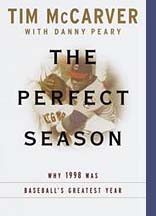 10 years ago, we were heading into the baseball season with optimism. The wounds from the baseball strike were still fresh, and the league hadn't completely earned back the trust of its fan base. However, things were looking up. There were many established stars and marketable players… Mark McGwire, Ken Griffey Jr., Roger Clemens, Randy Johnson, Derek Jeter, Nomar Garciaparra, Alex Rodriguez; the list goes on. The game was being played at a higher level than ever before, and my baseball card collection was really hitting its stride (sadly, gum in the packages was a thing of the past at this point).
Expectations for the '98 season were big, and baseball did not disappoint. It was a magical year. Records fell, milestones were reached, rivalries were waged, new teams were introduced and perfection was achieved.
It was a time where baseball seemed so perfect and so innocent. But times change, and often what seems too good to be true really is. Now it's steroid scandals and perjury charges that rock the baseball world. There are certainly still many great things going on in the game today, but it's an era of skepticism in which clouds of doubt loom over every achievement.
10 years is a long time, so there was never any doubt that the game of 1998 would be different from the game of 2008. 1998 was just what the doctor ordered for the game of baseball, but now in 2008 we see that many of the great accomplishments and bright futures we thought we saw in 1998 were illusions.
Take a trip back with me to the 1998 Major League Baseball season in part 1 of this 3-part series, where we view the awe-inspiring year from our new 2008 perspective.
(Note: I was going to post this all at once, but nobody really wants to read an 8,000 word article.)
Bud Selig becomes permanent commissioner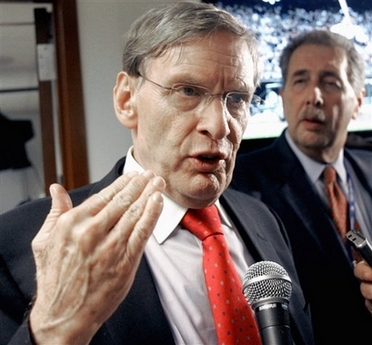 Viewed as a visionary by owners and a villain by fans, Bud Selig officially became the Commissioner of baseball in 1998. He had already been serving as acting commissioner since 1992, so this was neither big news, nor the beginning of an era, but Selig has come under much scrutiny for many reasons since 1998. Most recently he's come under fire for steroids and the question of whether he has turned a blind eye on its use has been posed. Should testing be stronger? This seems like a perfect place to insert my opinion on the topic, so listen close.
Testing should not be left to Bud Selig's MLB. They have incentive to keep steroids in the game, as it improves the quality of the game and keeps fans interested (Case-in-point: the Big Mac and Slammin' Sammy home run race wouldn't have happened if they had been busted for steroids). It's like the FBI putting Matt Damon in charge of finding the rat in The Departed, when he was the one who was the rat. Of course he's not going to investigate himself, and MLB will never come up with a positive test on one of it's star players because that's only going to be bad news for MLB itself.
Some say Selig should turn it over to an independent entity, but who's going to pay that "independent" tester? Major League Baseball. That's basically the same as MLB doing it.
The real answer to the problem is for Donald Fehr and the Players Association to step and do the testing themselves, and it should be blood testing to cover all their bases. Really, the only people who lose from steroids are the players. Owners and fans don't lose because they both get a higher quality game, but PEDs are bad for the guys using them and the MLBPA needs to step up and realize that.
But, that's never going to happen because the MLBPA's priorities are in the wrong place. They care far more about how much money they can get their guys rather than how long their lifespan is supposed to be. Anyway, let's get back to Bud Selig.
After steroid problems Selig will probably be most well-known for Interleague Play; a smashing success that will never go away. He was also in office for the beginning of the wild card team, although it really wasn't his baby. It was intended to start in 1994, but because of the strike, wasn't implemented until '95. He was responsible for two new teams entering the league in 1998, which we will talk about more shortly.
Selig will also be remembered for the 2002 All-Star game which embarrassingly ended in a tie. In fear of fans losing all interest in the All-Star game after that, Selig declared in 2003 that the winner of the All-Star game would get home-field advantage in the All-Star game, a move that has been question by many people, although the rule is still in place.
Bud was also important in the implementation of the World Baseball Classic, which was pretty much a total failure.
In 1998, Selig was viewed as an owners' commish and he has done very little to change that reputation in his tenure up to this point. He signed a contract extension this January that will run through 2012, at which point we will likely see the end of the Bud Selig era.
It's very arguable whether or not Selig has had a positive impact on the state of the game, but one thing's certain: it's still alive and kicking with (or perhaps despite) Selig at the helm.
Two new teams were introduced into baseball in 1998: the Tampa Bay Devil Rays and Arizona Diamondbacks. Tampa got put in the AL East, moving Detroit to the AL Central and Milwaukee to the NL Central. Then Arizona was placed in the NL West. Obviously, they both sucked in 1998, as is to be expected from a first-year expansion team. Tampa Bay notched a 63-99 record, while Arizona finished at 65-97.
However, after 1998 the teams took dramatically different turns. Arizona went on to be very successful, winning 100 games in only their second season as an MLB franchise behind stars Matt Williams, Jay Bell, Luis Gonzalez and Steve Finley, and newly acquired ace Randy Johnson.
Arizona would then win the World Series in 2001, and have had several more successful seasons since then. Meanwhile, Tampa Bay has never topped 70 wins in a season, and has only finished outside of the AL East basement once in their 10 years of existence. They've been a team who has undoubtedly had great talent in its system, only to ship it off somewhere else or watch it fizzle out in the Major Leagues. If teams won on potential, Tampa would be very successful.
Entering this season, they've undergone a logo change and dropped the "Devil" from their name, making them simply the Tampa Bay Rays. It's an attempt at better marketing to attract fans to the often barren Tropicana Field. But more than likely, the only thing that will draw fans is good baseball.
These two baby-boomer teams who entered the league in a season of flourish have seen two dramatically different fates in their decade of baseball.
Kerry Wood strikes out 20 in his 5th career start: the next Nolan Ryan?
The 20-year-old Kerry Wood was the real deal in 1998. He won the rookie of the year and struck out 233 batters. He was going to save the Cubs franchise and finally get them to the promise land.
Ah, the optimism of 1998. Looking back from our comfy seat in 2008, we see how naïve we all were. Kerry Wood was always injury prone, and nothing changed when he reached the big show. He missed the entire 1999 season with Tommy John surgery and was mediocre in 2000. However, he made a comeback in 2001 and struck out over 200 in 3 seasons from 2001-03. He was back in form. He almost took the Cubs to the World Series in 2003, but Steve Bartman robbed the Cubs of more than just a championship that year; he stuck a dagger in Kerry Wood's career. Wood has spent more time rehabbing since 2003 than he has on the mound. He's had a wide array of injuries, each one inducing the same old painful groans from the Cubs fan base.
The stars were aligned for Kerry Wood, and he had a nice little run, but the next Nolan Ryan he was not. Had Wood stayed healthy, he surly would've been among the all-time leaders in strikeouts and would've kept the Cubs in many more playoff races.
Unfortunately, a lot can change in 10 years, including the illusion of a dominant pitcher like Kerry Wood.
Roger Clemens tosses his 3000th strikeout: best pitcher ever?
In a season characterized by the long ball, we're talking about another pitcher, showing just how good the overall quality of play was that year.
Roger Clemens won 20 games and threw 271 strikeouts in 1998, but more importantly, he began the finishing touches on what we thought would be his legend as the greatest pitcher to ever toe the rubber. And with his pitching, Clemens continued to build that legacy. He won two World Series titles, 7 Cy Young awards, an MVP title and tossed 4672 Ks. Nobody has ever accomplished such an outstanding array of feats.
However, ten years later, we've become used to seeing Roger Clemens in a different uniform. Not a Red Sox or Yankees or Astros or Blue Jays uniform. Instead we're seeing Roger Clemens in a suit and tie, in front of Congress, with Rusty Hardin and Lenny Brewer at his back instead of seven fielders. Instead of going up against Ken Griffey Jr., Derek Jeter and Cal Ripken, we now find Roger Clemens going at it with Brian McNamee and George Mitchell.
If you didn't know steroids existed, you might look at Roger Clemens and say, "that was the best pitcher in history", or at the very least he'd be in the conversation. But now, his legacy is tainted. Hall of Fame voters will not look at his body of work on the mound as much as they will see his escapades with McNamee, his wife's injections, the Canseco party, the abscess, the dirty needles, the nanny, and all the other crap.
In 1998, Roger Clemens was just a great player. Now he's become an icon of something more than just a baseball player; something more, but something worse. He will be placed on the Mount Rushmore of 'Roid-heads with Barry Bonds, Mark McGwire, and Jose Canseco. It's unfortunate that this will always define a hero to me and many other baseball fans, but Clemens did the crime, so now he must pay the consequences. It's just a shame that, in the aftermath the fans have to pay almost just as much.
---
This is just the beginning of our journey back to 1998. We thought it was "a season of perfection", but in hindsight, "a season of illusions" may be more accurate. In part two, get ready for David Wells, Cal Ripken, the shortstop trio, and Jose Canseco. Until next time, sports fans!
This has been a Bobbyjim45 Production.
Ad blocker interference detected!
Wikia is a free-to-use site that makes money from advertising. We have a modified experience for viewers using ad blockers

Wikia is not accessible if you've made further modifications. Remove the custom ad blocker rule(s) and the page will load as expected.