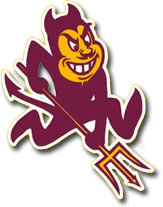 It's a new day here on the east coast and the phone calls, voice mails and text messages are still pouring in. I've been making calls getting reactions to the ASU reinstatement since hearing the news just over six hours ago (it's currently 12:16 a.m. as I write this).
The continued comments will be posted throughout the weekend here on the blog. Be sure to add your own comments!
Kelsey Campbell, Arizona State women's wrestler
On hearing the news
I was so fired up, I couldn't stop smiling. When I first found out, I sent a text to Coach Ortiz and asked if it was true and he said it was happy. I was just really, really happy. Part of me was like "I just knew the community could do it, but when I found out, I was like "there you go."
Perspective from a female on the team
I know that being on a the men's team as a woman wrestler, a lot of young women were inspired. I knew a lot of people would have wanted to come to ASU. Wrestling's an amazing sport and an amazing community and you can bring in the other half of society, it brings more people into the sport.
With Title IX, women athletes shouldn't be (negatively) affected, but me being on the team, I was affected. I got to see it from the male perspective. I think it's super important women's teams get added and for that to happen, you need to bring more people into the sport. I'm glad to be on the team and glad to be supportive of the sport.
Ron Renzi, Arizona State Alum
Initial Reaction
"We're pumped. My brother Ricky called me and the first call I made was my 16-year-old brother. He's dreamed about going to ASU since he was eight. He was devastated when they cut the program. He's extremely excited now. We saw what happened to Oregon, so we got to keep the support going and keep it going.
The groundswell of grassroots support here was amazing. A lot of support from MMA and just nationwide. We all try to do our part and show we're not going down quietly.
On moving up to ASU
It truly was an honor. I remember four years ago at the wrestling banquet and how much of a privilege and an honor it was to be a part of that history and to be able to represent my friends, my family and my teammates. It's one of those things really where, wrestling's a sport where people don't understand why we do it. It's not about fame, money, girls, when you win, you're humble in victory. It's the most pure sport you can compete in.
What it means and what it takes
Wrestling for a school like ASU … my brothers and family, it's been a dream of theirs. The great wrestlers and fighters who came out of there. I couldn't be more happy that we can continue the tradition and get back to our winning ways. We have everything it takes to be a top five. We have facilities, we have support. We just got to get there.
Ken Chertow, Olympian, Ken Chertow Wrestling Camps
On being proactive
"We need to be proactive in all efforts to promote and grow our sport. We need to strengthen all of our current programs at all levels, while continuing to work to add new programs like Baker University in Kansas and Grand Canyon University in Arizona. It is exciting that the wrestling community was able to save ASU Wrestling! We need to keep fighting to save Fresno, Oregon, JMU, Slippery Rock, Eastern Illinois and the many other programs that have been cut. Every community and every wrestling program at all age groups needs to work hard to build and promote our sport and their program."
Dan Gable, Olympic Gold Medalist, Former Head Coach, Iowa
On the last 10 days
"It's getting a little scary and I think it's at the point with the people in our sport, they're reacting. We're being more proactive than ever and sometimes it doesn't take very long for us to get organized. It's almost like a national emergency took place and we answered almost immediately."
On being proactive within the sport
"Look at what Ron Finley has done (at Oregon). He's not getting any support there and he's raised over 2 million. People want our sport around because of the people that want our sport. It's sad we have to support our own thing, but that's the direction we seem to be heading away from football and basketball and women's sports."
On Arizona State
"I commend ASU for saying they're going to make a bigger commitment. We made some negative news and the same program looked at it in the right manner, too. ASU made a splash. The NWCA is doing a lot of things, USA Wrestling's doing a lot of things. We're being more proactive and we're trying to prevent those negative things. Just like the other day in New York City."
C.B. Dollaway, Arizona State All-American
Cast Member, The Ultimate Fighter
Initial response
"I was ecstatic. For a minute, I was down and not thinking we'd be able to raise that money that fast or at all. For it to happen that fast just blew my mind. I put out some bulletins and called the people like Coach Ortiz and Brian Stith and Aaron Simpson, but they'd already heard, but I congratulated all of them getting that done and getting the program set."
On the MMA perspective
"I'm going to be writing my blog next week on MMAjunkie and that's where I'll get the biggest response. A lot of people were glad to see how fast Arizona State turned around."
ASU within the MMA community
"It's done great things for ASU wrestling. A lot of people are looking at it about why me, Bader and Velasquez and now Simpson are now transferring over to MMA. A lot of it has to do with us all being there at the same time and interested in going into MMA, but it's put ASU wrestling on the map in the MMA community. Oklahoma State's been on the map, they are the only other collegiate wrestling program which is producing guys - guys like Johny Hendricks, Jake Rosholt and Shane Roller."
On why I came to ASU
"I wanted to come to a place with nice weather, a laid back area and Arizona State … got a call from them and ASU is a competitive program. Had everything I wanted and being able to train outside year round and it doesn't snow and rain all the time. The wrestling program was top notch. The year I was getting recruited, the previous year they were fourth in the country."
Art Martori, Founder, Sunkist Kids;
Arizona State Alum
On being an ASU wrestling alum
"When you go through wrestling, we're brothers. We're family. We don't see each other for 10 years, we're still brothers. It means a lot to keep the program there and the heritage of the program. I'm happy to be a part of doing that."
On the impact saving ASU wrestling could have nationwide
"It can mean a lot or it could mean nothing. If people understand they have to step up and say well, they're holding us hostage and they should be paying, it means nothing then. This makes people aware there is a way to save a program and that's a partnership with a university. There's a budget, there are assets and there is administration. There's a lot of skin in this other than budget. We're going to come up with part of it and ASU is going to have those expenses related to the facility and the athletic department.
If people want to have these programs, they have to be part of the solution. I've talked to people at Fresno and Oregon and it also - you have to have an A.D. that's willing to be part of the solution. For a lot of AD's, it's easy. They take the heat for a little bit and it goes away. We had to strike hard with a real proposal they couldn't refuse."
On Lisa Love and the blame game
"Calling her the names people called her … If I went in there and called you (these things), we'd be in a fight. You can disagree. People have a right to say what they want, but to be blatantly antagonistic and not even a part of the solution, how does that help a program? This woman stepped up and listened and made a decision that no other AD has been willing to do. She had to be part of the solution and not part of the problem. It's not her fault the economy is the way it is. Was it her decision to drop wrestling? Yes, in part, but a lot of people played a role. You step up and calling me those names, and I'm supposed to talk to you civily? She's a bigger person than I am.
It's always quick to blame an AD. I was really mad when it first happened, there was no communication. They surely got our attention."
On Sunkist Kids' relationship with Arizona State
"I have a contract with ASU, so I was going to be in that wrestling room no matter what for the next three years (with Sunkist). It's good to have our athletes workout with their athletes. Monetarily it didn't affect us (Sunkist) at all. For having wrestling in the west coast at a school that's won a national title and have that school be able to bring it back within 10 days and having such strong support. Wrestling is an important sport in the country. It's not just the west coast that's supporting this, it's support across the country. Support from coaches from one end of the nation to the other. I'm really enthused about people's concern and the people being happy it's reinstated.:
Updated 4:39 p.m.
Ad blocker interference detected!
Wikia is a free-to-use site that makes money from advertising. We have a modified experience for viewers using ad blockers

Wikia is not accessible if you've made further modifications. Remove the custom ad blocker rule(s) and the page will load as expected.