Tmil42 and Falcon02520 wrote us an Armchairgm Fantasy Baseball Update every once in a while.  So why not a Fantasy Football update.  I'm really only in the mood to complete this task because my team is doing so well.  The football league is setup a little different from the baseball.  Instead of a points system, you have a schedule just like the NFL and you go head-to-head with the other teams each week.  I think this way is so much better than the rotisserie-type league.  In the end, six of the ten teams will advance to the playoffs.  So, here's the standings so far, and a rundown of how each team is doing.
After five weeks of play (Owner in parenthesis):
1. Rodgers for MVP (Coreyisarealboy)   4-1
2. Drunken Penguins (Mike P)               4-1
3. BBB15 (Behbigben15)             4-1
4. British Lions (Alex Holowczak)       3-2
5. Bobbyjim45's Boys (Bobbyjim45)         3-2
6. California Packers I (The Beast)          2-3
7. Tyler's Salt Shakers (Tylersalt)       2-3
8. BigPPup on the Hunt (BigPPup)         2-3
9. The Schrute Bears (I am a cpcp)         1-4
10. Falcon02520 (Falcon02520)           0-5
I am unsure who the "manager" is for the Drunken Penguin. If you are the owner, or know who the owner is please let me know so I can change it on here, thanks.
I sorted the ten teams by Tiers. The higher the tier, the better the team is doing, obviously.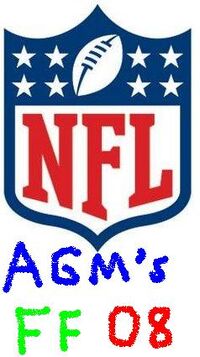 Tier 1 (Rodgers for MVP, Drunken Penguins, BBB15):
I am not really sure how Corey is 4-1.  It seems Tony Romo is holding his team together right now because his starting receivers seem rather weak (Greg Jennings, Dwayne Bowe, Patrick Crayton).  Only one of the three can be considered a true number 1 wideout, he has gotten just 6 TD receptions between the three.  His backfield is explosive though, and makes up for his receivers.  Adrian Peterson and Brandon Jacobs anchor that backfield, and Earnest Graham is a nice third option.  The thing I am impressed with is that he has Brett Favre as his second QB.  Corey won't miss a step when it comes time for Romo's bye week.
The Drunken Penguins look like they have the most dangerous team out there right now.  Peyton Manning and Jake Delhomme are both great fantasy QB's.  Yes, that's right I said Delhomme.  And his three starting receivers (Larry Fitzgerald, Chris Chambers, and Muhsin Muhammad) have produced 11 TD receptions.  Ronnie Brown and Marion Barber anchor his dangerous backfield, and also have 11 TD's between them.  The Drunken Penguins play Rodgers for MVP this week, and I expect the Penguins to prevail and pull out ahead.
Unfortunately, my team (BBB15) is looking alot like Corey's.  I am really unsure how this team managed to beat four different teams with David Garrard at QB, and Reggie Bush as the big-time RB.  But, nonetheless, I stand at 4-1 with my only loss coming to the Drunken Penguins in week 1.  I believe this team is just one trade away from being a one-loss team through the entire season.  If I can get a dependable/more consistent QB via trade, I feel this team can go real far.  Plaxico Burress will be back in the lineup this week, and Andre Johnson always gets a lot of balls thrown to him.
Tier 2 (British Lions, Bobbyjim45's Boy's):
All Alex needs to do to get this team to the top is add a playmaking running back.  He already has the offensive firepower through the air.  Drew Brees is the highest rated QB in the NFL right now, and he has two very dangerous WR's in Randy Moss and Terrell Owens.  Tight end Jason Witten may be Romo's go-to guy, and is definitely the best TE in the league right now.  Hines Ward is overlooked most of the time, and it is definitely a blessing to have a player of his caliber as the third WR.  Look out for this team.  Who said Alex doesn't know anything about the NFL?!  He looks like he knows a hell of a lot more than some of us Americans:)
Ah, it's just too bad Derek Anderson didn't live up to his offseason hype, isn't it?  I actually thought he was going to have a career year, but it looks like that's the only thing holding Bobbyjim's team back.  Yes, I know, all three of his WR's (Torry Holt, Donald Driver, Joey Galloway) seem to be past their prime.  But who needs wide receivers when you have Clinton Portis, Marshawn Lynch and the explosive little guy, Michael Turner?  Advice to you: Start your second QB, Philip Rivers, and get a younger receiving core.  Do this, and you may be up to the top three in no time.
Tier 3 (California Packers I, Tyler's Salt Shakers, BigPPup on the Hunt):
Weak backfield his holding this team back.  Jay Cutler may be the most productive QB so far, and a solid one-two punch at WR (Steve Smith and Reggie Wayne) looks good.  It's just too bad that Smith isn't playing like he did back in '05 and '06.  The injury to Anquan Boldin definitely hurt this team, but there's no need for three defenses.  Joseph Addai has produced the TD's (4), but not the yards...yet.  Roddy White has certainly surprised me, and was a nice steal.  He has gained more yards than both Smith and Wayne (454, with 2 TD's).  Not bad.  If Selvin Young and Addai live up to their expectations, you may have a pretty good season, as well.
It's unfortunate when you have to sit two former fantasy studs in Matt Hasselbeck and Carson Palmer, but trust me, the answer is not starting J.T. O'Sullivan.  Especially when he is playing Philly's defense this weekend.  Palmer should be the starter, he was able to put up 2 TD passes against the Cowboys defense this past week.  Felix Jones and Frank Gore have both put up a solid 3 TD's so far, and I expect that to go up a lot.  The biggest weakness in this team is the QB and WR positions.  All three starters (Brandon Marshall, Marvin Harrison, Robert Meachem) have disappointed me, and I don't expect it to get any better.  Harrison is definitely past his prime and just too beat up.  don't expect him to ever be drafted before the 5th round in any fantasy draft.
I know it's very tempting, but I think it was a bad decision to start Jason Campbell over Eli Manning.  I guess you really can't wrong either way, but I just have more trust in Manning because he's already proven himself.  T.J. Houshmandzadeh is a big timer, and Miles Austin may be tempting, but I think Chad Johnson should still be the starter each and every week because he is due for a big game.  Chansi Stuckey is a solid WR in New York, and has gotten the ball in the red zone (3 TD catches).  Inconsistent play from RB Larry Johnson should have you worried, and I have never thought of Michael Pittman as a solid fantasy RB.  Right now, the backfield should be you're biggest concern.
Tier 4 (The Schrute Bears, Falcon02520):
How is this team 1-4!?  Donovan McNabb has always been a fantasy stud, and same with Ladainian Tomlinson.  Unfortunately, offensive line troubles for the San Diego Chargers have hurt L.T. badly.  Although he has still ran for 4 TD's so far.  Two playmaking WR's in Santana Moss and Antwaan Randle El looks good, and Isaac Bruce has surprised me with his 4 TD catches (which equals Moss and Randle El total).  Steve Slaton has quickly turned into a stud with 285 rushing yards, 3 TD's (and 100 receiving yards, 1 TD).  His four total TD's makes up for LT's lack of usual success.  Eventually this team should start winning, it looks solid all-around.
I believe Falcon may have missed the draft because of his inactiveness here on AGM.  But, he has two star QB's in Aaron Rodgers and Ben Roethlisberger, who have really turned into solid picks.  His WR core may be the weakest of all ten teams in the league.  Vincent Jackson is your number one!?  That's rather sad.  He is also lacking wins because of the busts/disappointments so far this season (Brian Westbrook, Marques Colston, Calvin Johnson).  I'm sure that if he becomes active, he could easily turn this team around.
Did you enjoy??  If so, maybe I will do a second one sometime in the near future...I said MAYBE!
Ad blocker interference detected!
Wikia is a free-to-use site that makes money from advertising. We have a modified experience for viewers using ad blockers

Wikia is not accessible if you've made further modifications. Remove the custom ad blocker rule(s) and the page will load as expected.