Week 2 of the AFL season Jon Bon Jovi's Philadelphia Soul traveled to Chicago to take on Mike Ditka's Chicago Rush, which took place yesterday. Both teams went into the game with a 1-0 record, and are very optimistic about this season. The headline in this game was the Philadelphia Soul's veteran QB, Tony Graziani, who believes Philly will win the Arena Bowl this year (just like every other starting QB in the AFL). The game kicked off at 1 PM ET, on ESPN2.
The Soul were able to hold off Chicago in the last minute of the game by recovering a Rush onside kick after Chicago QB, Sherdrick Bonner threw a 7-yard TD pass to RB, Dan Alexander. The 4th and Goal TD pass from Bonner to Alexander, and Dan Frantz's XP pulled Chicago to within 8 points. But, Philadelphia crushed Chicago's hopes after kicker, Conner Hughes, booted a 22-yard kick through the skinny uprights for an 11-point lead with just :16 left in the game. Chicago's Bonner threw one last desperation pass to offseason acquisition wideout, Damian Harrell, the former Colorado Crush All-Pro. The pass went for 19 yards, but the time expired, as coach Bret Munsey, and the Soul left Chicago with a 2-0 record going into their week 3 matchup at home against the New York Dragons.
My Game Notes:
Chicago WR, Damian Harrell, is just 3 TD catches away from tying Eddie Brown atop the list for most career TD receptions in Arena League history (303). Harrell caught 3 TD's yesterday, the final one being number 300. Harrell caught 10 passes for 104 yards, and 3 TD's (15 Rec, 232 Yards, 5 TD in first 2 games). Harrell is, in my opinion, the best WR in AFL history. Hands down.
Chicago beat Philadelphia in nearly every category, other than Turnovers, and points. Chicago gained 303 total yards, committed just 4 penalties, and held the ball for 31:34, but turned the ball over 3 times, and only scored 49 points.
Chicago kept up with Philly in the first half, going into the locker room with a 2-point lead (28-26), but Sherdrick Bonner threw 2 straight INT's in the third QTR, which led to TD's for Philly. At one point, Philadelphia had 21 unanswered points in the 3rd QTR, and early 4th QTR.
Soul DB, Eddie Moten, dominated Rush WR's late in the game, knocking away passes all over the place. If we kept track of defense in the AFL, he would be one of the best DB's in the League, right next to Dallas' Will Pettis, who is a true Iron-Man.
The rushing game was pretty normal for an AFL game, 12 attempts, 24 yards, 3 TD (Graziani took one himself late in the 4th QTR), 2.0 YPC. Nothing special here, when it comes to the AFL, and running the ball.
Graziani threw for 5 TD's, and ZERO INT's in the game, adding 271 passing yards to that (126 to Chris Jackson, the former LA Avengers wideout, who also caught 3 of Tony's 5 TD passes). Tony, like Harrell, could be considered one of the best at his position (in AFL history), right next to former ALFer, and current NFLer, Kurt Warner.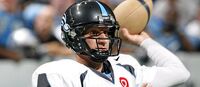 Philadelphia will play the NY Dragons at home next week, like I said earlier, while the 1-1 Chicago Rush will face off with the Grand Rapids Rampage on the road.
Next week, I will do my best to find time to write an article on the Game of the Week, when the Colorado Crush will play the Dallas Desperados on ESPN2 at 8 PM ET (on St. Patrick's Day!!! So don't forget your green).
Here's an amazing Damian Harrell Vid:
http://youtube.com/watch?v=6QKrSu8pbZs
Ad blocker interference detected!
Wikia is a free-to-use site that makes money from advertising. We have a modified experience for viewers using ad blockers

Wikia is not accessible if you've made further modifications. Remove the custom ad blocker rule(s) and the page will load as expected.