Pittsburgh 2-0
Baltimore 1-0
Cincinnati 0-2
Cleveland 0-2
Week 2 Recap:
After defeating one of their three division rivals on Sunday night, 10-6, the Pittsburgh Steelers revealed good news.  The so-called 'separated shoulder' of Ben Roethlisberger's is actually just a sprained shoulder, and he is expected to start against the Philadelphia Eagles on Sunday.
Now, about that game?  The primetime game, which was supposed to be a shootout between Big Ben, and Derek Anderson turned out to be a defensive game.  Anderson has disappointed in the first two Cleveland games, throwing 2 interceptions, one of which Troy Polamalu caught, ending the Browns' threat to score one last time before the half.  It was a showing of horrible clock management by Anderson, and head coach Romeo Crennel.  Instead of sending Phil Dawson in for an attempt at a chip-shot field goal, the Browns elected to move the ball a little closer.  The attempt failed, and Da 'Burgh went into the locker room with a 7-0 lead, which came on an 11-yard pass from Big Ben to veteran wideout Hines Ward.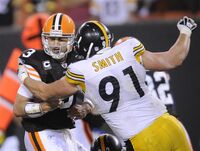 Despite controlling the clock for 31 of the 60 minutes of play, Cleveland struggled to move the ball all night, and was penalized 10 times.  After the final whistle sounded, the Browns had gained just 53 yards on the ground (2.1 YPC), and 155 through the air.  Phil Dawson got the most action for Cleveland, making two second-half field goals from 31, and 38 yards out.
Willie Parker ran for 100+ yards for the second straight week (105 on 28 carries), and Roethlisberger completed 12 of his 19 passes for 186 yards, and the only touchdown of the game.
As we are all well aware of by now, the Baltimore Ravens/Houston Texans game, originally scheduled for this past Sunday, was postponed due to a damaged Reliant Stadium after Hurricane Ike hit the Houston area.  The game will be played on Baltimore's bye week, November 9 th.
The scum of the North, Cincinnati, lost again on Sunday to fall to 0-2, joining the Browns.  The Tennessee Titans offense held the usually high-powered Bengal offense to just one touchdown which came on the ground.  The first quarter was scoreless for both teams, but Cincinnati tied the game at 7 late in the second quarter thanks to a Chris Perry 13-yard TD run.  Though the lead didn't last.  With under a minute left to go in quarter number two, Vince Young's replacement, Kerry Collins, threw an 11-yard strike to wideout Justin Gage.  Tennessee led 14-7 at the half, and never looked back.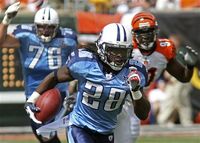 Rookie RB Chris Johnson ran for 109 yards for the Titans, and Collins went mistake-free as Carson Palmer threw 2 costly INT's for the Bengals.
Keith Bulluck's recovered punt block in the end zone was the icing on the cake for the 2-0 Titans, who sailed to an easy 24-7 victory in the "jungle".
Week 3 Preview:
Cincinnati @ New York Giants (1 P.M. ET)
Eli Manning has been on fire, and the poor Bengals D will struggle to keep Manning, and Plaxico Burress under control.  NYG win 35-10.
Pittsburgh @ Philadelphia Eagles (4:15 P.M. ET)
Ok, maybe I'm being a homer, but yes I'm going with my Steelers.  Big Ben doesn't have a separated shoulder, good news, and I am very confident that this defense can help prevent Donovan McNabb from going haywire.  PIT wins 38-35.
Cleveland @ Baltimore (4:15 P.M. ET)
We really don't know what to expect from Joe Flacco.  Was week 1 a fluke?  I am not confident that he can produce consistently just yet.  I'll take the veteran Cleveland Browns in this one.  CLE wins 27-17.
Ad blocker interference detected!
Wikia is a free-to-use site that makes money from advertising. We have a modified experience for viewers using ad blockers

Wikia is not accessible if you've made further modifications. Remove the custom ad blocker rule(s) and the page will load as expected.