One more day until the NFL Conference Championships, which means just two short weeks away from SB XLII in Glendale, ARI.  Brett Favre, and Tom Brady: The NFL's best QB's will both be going up against two of the younger, emerging QB's, Eli Manning (yes, I said Eli, and NOT Peyton), and Phillip Rivers, both of which were drafted #1, and #4 in the 2004 NFL Draft, and were traded for eachother later on.  Both games should be very exciting, so, without further delay, here's my picks for tomorrow's games.
AFC Championship (Sunday January 20, 3 PM ET- CBS):
1 New England Patriots over 3 San Diego Chargers
As of right now, Phillip Rivers is optimistic he'll play, despite him practicing for the first time yesterday.  Rivers, a very big trash-talker, has a sprained knee, and is listed as doubtful right now.  Rivers' teammate, LaDainian Tomlinson is banged up as well, but also says he should play.  LT hyper-extended his left knee in last week's win over the Indianapolis Colts.  TE Antonio Gates, dislocated toe, is also doubtful.
After seeing that injury report, I really don't see how the Chargers even have a shot.  I think that the Patriots would run away with this game even if the Chargers had a healthy team, but with their top three offensive weapons banged up, it's not even going to be a game.  New England is home, which means cold weather, and SD isn't so great in cold weather, especially with an inexperienced, and banged up QB.  Lucky for SD, there isn't supposed to be snow, but if Norv Turner doesn't get the running game going tomorrow, this game could get ugly.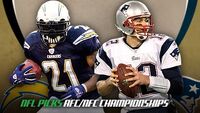 NFC Championship (Sunday January 20, 6:30 PM ET- FOX):
2 Green Bay Packers over 5 New York Giants
I think I've figured out why the number 1 seeded Dallas Cowboys lost.  The football gods wanted a cold weather game in Green Bay, what's a playoff game without freezing temperatures, snow, wind, rain, etc, etc, etc.  The weather report for tomorrow's game in Green Bay is THREE DEGREES at around game time, I just looked it up for today, and it currently -12 degrees, that's crazy.  We never get that kinda temperature here in Maryland.  Well, anyway, there's 30% chance for snow, and they're supposed to just get flurries (damnit, I wanted a full blown snow storm), the wind is supposed to be around 7 MPH.  Sounds like this is Brett Favre's kind of weather.  Favre is the best QB in the game right now when it comes to cold weather.  I am counting on Ryan Grant for this game, I want a repeat of last week's 201 yards on the ground in the snow against Seattle.  If Grant has a big day, Favre has a big day, and the Pack wins this, ending the Giants cinderella run (sorry Eli).
Ad blocker interference detected!
Wikia is a free-to-use site that makes money from advertising. We have a modified experience for viewers using ad blockers

Wikia is not accessible if you've made further modifications. Remove the custom ad blocker rule(s) and the page will load as expected.