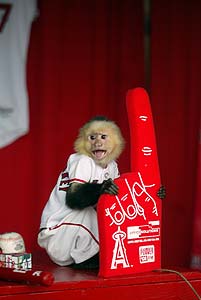 7. Rex Hudler and FSN West While Vin Scully and the crew at FSN Prime Ticket get all the love from Los Angeles baseball fans, the folks at Fox Sports West, Billy McDonald, Steve Physioc, and Rex Hudler, do a fantastic job of making all the Angels exciting to watch. However, nobody is as exciting as the "Wonder Dog," known as Rex Hudler. Hudler draws the ire of the local Dodger fans due to his strong bias toward the Angels, as he appears to be more of a cheerleader at times. While this may irritate the opposing fans, he is a pretty entertaining guy to listen to due to his well known Rexisms that include: "Kingfish Salmon went upstream, "He's Getting Figgy with it," and my personal favorite "Mike [Scioscia] likes to turn Benjie loose so he doesn't get on base and clog the bases."  
6. No Barry Bonds Since Barry Bonds was playing in the National League, he really had no affect on the Angels, except in regards to media coverage. During ESPN's Baseball Tonight, there would be updates during the late West Coast games, but all the attention seemed to be on the latest Barry Bonds at bat. Now with Bonds out of the league, there is a greater possibility that there will be more updates of A.L. West action during ESPN's Baseball Tonight. It will give Angel fans a better chance at seeing their division rivals, Oakland, Texas, and Seattle, on television.
5. The Kids: Brandon Wood and Nick Adenhart If you have been following the Angels this spring, then you are likely aware of the fact that notable prospects Brandon Wood and Nick Adenhart were getting an opportunity to challenge for a spot on the big league roster. While both of them were eventually sent to AAA Salt Lake, it is likely that both of these two talented prospects will get an opportunity to play for the big club this year. Wood is expected to eventually become a big time power hitter and it will be interesting to see if he'll be able to showcase some pop at the major league level. At 6′3″, Adenhart is also a big-time prospect who is hailed as an eventual 20 game winner. With injuries to John Lackey and Kelvim Escobar, it is more than likely that he will see some action in Anaheim this year.
4. Tim Kurkjian and the doubters Due to the injuries of John Lackey and Kelvim Escobar, many prognosticators are picking the Seattle Mariners, not the Angels, to win the A.L. West. In fact, many of these so-called experts are also leaving the Angels out of the playoff race entirely. These doubters, like Kurkjian have now given the Halos something to prove this year. Over the past few seasons, it was expected that the Angels would capture the A.L. West crown but now that is no longer a slam dunk. Playing with something to prove should make for an interesting Summer.  
3. Torii Hunter + Gary Matthews Jr. = Spidermen Over this past offseason the Angels signed former Minnesota Twins center fielder Torii Hunter to a five year $90 million dollar deal. Hunter had a huge 2007 season in which he collected 107 RBIs, 94 runs, and 29 home runs. However, Hunter's offensive stats pale in comparison to his defensive abilities. Since joining the Twins as a rookie in 1994, Hunter has been making Spiderman-like wall climbs in center fields across the country. With Hunter and Gary Matthews Jr. starting in the outfield this season, the two of them could have one of the best highlight tapes in all of baseball. Watching their spectacular diving catches and will climbs will be as good as ever.
2. Seattle Mariners Over this past offseason, the Mariners acquired Baltimore Orioles ace and Cy Young candidate Erik Bedard and the reliable Carlos Silva from Minnesota. With the return of King Felix and several other notable players, including Adrian Beltre, Ichiro Suzuki, Richie Sexson, Kenji Johjima, and Yuniesky Betancourt. With a formidable lineup, the Mariners impose a serious threat to the Angels, which should make for a fun pennant race all Summer long. When teams simply dominate their division foes it can get a little boring at times but with the Mariners now a top team in the A.L. the race in the West should be long and entertaining.
1. Last Year The first round playoff series against the Boston Red Sox left a bitter taste in my mouth after they were swept in three games by the future World Series champions. It would have been okay to lose in four or five games to the eventual champions but being outscored 18-6 was quite an embarrassment. Games 1 and 3 were not even close as the Angels scored a combined one run in that series. Certainly, the Angels are not satisfied with just divisional titles and first round exits, and they should certainly look to prove to all of baseball that last season's loss to Boston was simply a fluke.
Ad blocker interference detected!
Wikia is a free-to-use site that makes money from advertising. We have a modified experience for viewers using ad blockers

Wikia is not accessible if you've made further modifications. Remove the custom ad blocker rule(s) and the page will load as expected.