The second-ever World Baseball Classic starts in less than two days when the defending champion Japan International team, led by MLB All-star Ichiro Suzuki and Daisuke Matsuzaka, takes on China (4:30 ET).  With that in mind, I think it's time we took a look at all 16 teams competing in this year's classic.
Pool A
The Teams: China, Chinese Taipei, Japan, Korea
China:
China, going 0-3 in round one of the '06 games, is an unlikely winner of the pool this year as well.  China will have to face the world's powerhouse of baseball--Japan--in their first game, and will likely go winless again this year.  Again, in the '06 games China's offense struggled to score runs, accumulating just six in their three games played.  Guys like Fei Feng and Hao Chen are going to have to step it up if they want to win a game.
Chinese Taipei:
Taipei's only '06 victory came against the scum of Pool A, China, in a 12-3 blowout.  In Taipei's other two games of the first round they were outscored 16-3, which included a devastating 14-3 slaughter against Japan.  Pitching will need to be better, obviously, and a little run support would not hurt, either.
Japan:
The defending WBC champions, Ichiro and current Chicago Cubs OF Kosuke Fukudome are just two of the team's current MLB players.  The team's pitching staff includes Boston Red Sox starter Daisuke Matsuzaka who was awarded a major league contract because of his performance in the '06 WBC.  The question is not whether another Japanese player will be awarded a major league contract or not, it's which Japanese player will be awarded a contract by an MLB team.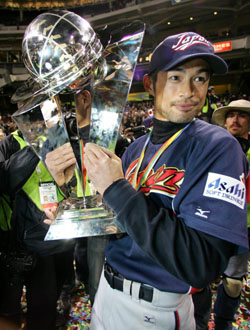 Korea:
The Korea international team has a round 2 berth pretty much wrapped up before the games even begin.  There's no question that this Korea team, which includes just one MLB player (Shin-Soo Choo, Cleveland Indians OF), will manage to knock off the lowly China and Chinese Taipei teams.  The real question is can this team contend with the likes of Japan, the Dominican and the U.S.?
Likely Winner(s): Japan, Korea
Pool B
The Teams: Australia, Cuba, Mexico, South Africa
Australia:
Australia's offense, much like China's, is very weak.  They lack that big power bat that the Domincan and U.S. have, and scored just four runs with zero HR's in 2006.  The team was shut-out twice (10-0 v.s. Italy, 2-0 v.s. Venezuela), and managed just four runs against the Domincan team in their final appearance.  There's no way this powerless team can hang with teams like Cuba and Mexico.
Cuba:
The 2006 WBC runner-up is once again going to be a tough team to beat, in their respective pool at least.  Overall, Cuba went 5-3 in the '06 WBC and was able to hang with Japan for most of the championship game played in San Diego.  Cuba has a mix of good hitting and pitching, and I expect this Cuba team to go 3-0 in the rather weak B pool.
Mexico:
Mexico managed to beat out teams like the U.S. and Canada to take first in their Pool in last year's round one, going 2-1 which included a victory over the U.S.  Mexico's Roster includes 20+ current and former major league ballplayers, including San Diego's power-hitting first baseman Adrian Gonzalez and Florida's Jorge Cantu.  I don't see any reason why this stacked team won't take second-place, and a second round berth.
South Africa:
This team was one of the four teams to go 0-3 in the first round in '06, and I don't see anything new happening here.  Truth is, teams with poor pitching are going to struggle, especially against teams with power (i.e. USA, Dominican, Cuba).  In '06 SA's pitching managed to surrender 10+ runs in each of their three games (11 against Canada, 10 against Mexico, 17 against USA in a five inning game).  South Africa's pitching staff hasn't improved much over the last few years, and this team is one of the few without a single current major leaguer.
Likely Winner(s): Cuba, Mexico
Pool C
The Teams: Canada, Italy, United States, Venezuela
Canada:
Despite a 2-1 record, which included an 8-6 victory over the U.S., Canda failed to reach round two of the games in '06.  This team clearly has the potential to do that this year, but they will need to beat a few tough teams to do so.  Canada certainly has the power and starting pitching to do so with Minnesota Twins first baseman and Boston Red Sox OF Jason Bay leading the way.  The problem?  They happen to be in the same pool as the U.S. and Venezuela.  Sorry to say, but Canada will once again fall short of round two.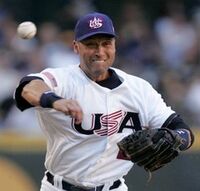 Italy:
This team has some solid players on their roster, but they face the same problem as Canada.  The result of a tough pool will lead Italy to drop to the bottom of the standings and may not even win a single game.  Their lone win in '06 was a 10-0 shut-out of the 0-3 Austrailia international team.  Italy will lose all three games this year and get stuck at the very bottom of the pool.
United States:
One win (4-3 victory over Japan) was not enough to get out of round two in '06, but this team is new and improved this year, and will go 3-0 in their respective pool to advance.  The U.S. has one of the best rosters, led by New York Yankees shortstop Derek Jeter and Brewers LF Ryan Braun.  A very good balance of starting pitching and offense will allow the U.S. international team to sweep, and possibly even advance into the semi's.
Venezuela:
One loss to the Americans will most likely be the only trouble this team runs into in the first round of play this year.  Speed is this team's biggest strength this year (Endy Chavez, Cesar Izturis, Bobby Abreu) along with a bit of power here and there (Magglio Ordonez, Miguel Cabrera, Melvin Mora).  A thin pitching rotation may hurt this Venezuela team when it comes to round two, though.
Likely Winner(s): United States, Venezuela
Pool D
The Teams: Dominican Republic, Kingdom of Netherlands, Panama, Puerto Rico
Dominican Republic:
Apart from Japan, the U.S. and Cuba, this team is one of the most dangerous in this year's games.  This year the team has a big addition in Alex Rodriguez despite the steroids talk (A-Rod played for Team USA in the '06 games).  Rodriguez will accompany Albert Pujols, David Ortiz, Jose Reyes and Hanley Ramirez on arguably the most powerful lineup in the '09 WBC.  Even if the pitching struggles a bit, Domincan Republic can still play with anyone in the WBC, which includes Japan.
Kingdom of Netherlands:
The Netherlands only win three years ago came against the 0-3 Panama international team (10-0 in seven innings).  Minus that game, the Netherlands scored just a combined five runs against Puerto Rico and Cuba.  This team lacks offense (0 HR's, 0 SB's, 22 K's in three games played).  They will even be playing without star player Andruw Jones this year, who, by the way, went 0 for 6 with two K's in his two games with the team in '06.
Panama:
Panama, 0-3 in '06, doesn't really have a chance against teams like the Domincan and Puerto Rico this year. Yes, they did manage to stick it with Cuba in 11 innings (only to lose 8-6), but lack of offense against the other teams in this pool will only lead to nasty blowouts. Another 0-3 for Panama this year.
Puerto Rico:
I happen to like Puerto Rico's team this year, especially with the return of former Yankees outfielder Bernie Williams. It will be interesting to see how he fares in his return to baseball. The name of the game for 'Rico is power, speed and solid pitching. One loss is all Puerto Rico will suffer in round one.
Likely Winner(s): Dominican Republic, Puerto Rico
Note: Pool setup has changed around a little bit compared to the 2006 pool's.
Round Two Predictions
Pool 1 (order of finish):
Japan* 3-0
Cuba* 2-1
Mexico 1-2
Korea 0-3
*advances

Pool 2:
USA* 2-1
Dominican Republic* 2-1
Puerto Rico 1-2
Venezuela 1-2
*advances

Semifinals:
USA over Cuba
The U.S. is just too dominant right now. Cuba is a strong team, but the Americans have the advantage both pitching-wise and hitting-wise. The '06 runner-ups will fall in the semi-finals this year.
Japan over Dominican Republic
The Dominicans are a great team, but they are not as balanced as the Japanese, who are the best baseball players in the world (hence the '06 WBC championship).
Finals:
Japan over USA
Sorry to say this, but the Japanese team will, in fact, manage to defend and recapture the title this year, IMO. Ichiro takes home the MVP.
JAPAN RECAPTURES THE TITLE
...Let the games begin!
Ad blocker interference detected!
Wikia is a free-to-use site that makes money from advertising. We have a modified experience for viewers using ad blockers

Wikia is not accessible if you've made further modifications. Remove the custom ad blocker rule(s) and the page will load as expected.