The National League East is going to be one of the best divisions in baseball in 2009, much like their American League counterpart. There is a ton of talent in the division, including the reigning world champs, so whoever comes out of the NL East, will likely be the team to beat in NL playoffs.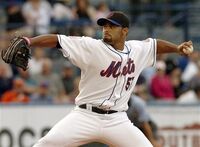 Lineup:
Pitching:
LHP Johan Santana
RHP Mike Pelfrey
LHP Oliver Perez
RHP John Maine
RHP Livan Hernandez
SU: J.J. Putz
CL: Francisco Rodriguez
The Mets are bringing back the exact same lineup that ended the season for them last year and are hoping they all can stay healthy. If they do so, they should have one of the better offenses in the league. I'm still waiting for David Wright to become a worthy MVP candidate after predicting him as the NL's MVP last season. He and Jose Reyes are still going to get even better. The only thing I worry about offensive wise with them is that they are pretty stacked with left-handed hitters and could be exposed against some of the better left-handed pitching in the NL. Johan Santana leads an above average starting rotation followed by youngsters Mike Pelfrey and Oliver Perez. The real strength of the team this season though lies in the bullpen. The Mets have two closers to shorten games and their ninth inning guy could be the best in the business. They'll play solid defense as well.
Lineup:
Pitching:
LHP Cole Hamels
RHP Brett Myers
LHP Jamie Moyer
RHP Joe Blanton
RHP Chan Ho Park
SU: Ryan Madson
CL: Brad Lidge
*Hamels will miss start of season and possibly more.

The Phillies are once again going to be an offensive juggernaut, as their 1-4 hitters are probably the best in baseball. Ryan Howard is a perennial MVP candidate and Chase Utley has become the left-handed version of Jeff Kent when Kent was in his prime with San Francisco. They are a pretty sound defensive ball club as well, especially adding Ibanez and losing Burrell. The pitching has a lot of question marks though, and that's whats going to hold this team back in my mind. Their ace and the key to their success, Cole Hamels, is having issues with his elbow and if he goes down for any long period of time, their playoff hopes will likely go with him. Also, I respect the heck out of Jamie Moyer and call me cynical, but I just can't see him repeating what he did last season. The Phils still have plenty of talent up and down the roster though and a solid add to the starting rotation (Roy Oswalt and Erik Bedard are two guys who could be available mid-season) could push them over the top, but I like New York at this point for the division.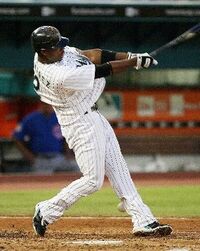 Lineup:
Pitching:
RHP Ricky Nolasco
RHP Josh Johnson
RHP Chris Volstad
RHP Anibal Sanchez
LHP Andrew Miller
SU: Leo Nunez
CL: Matt Lindstrom
The Marlins have a load of talent on their roster and if they gel, they can certainly make some noise this season. Hanley Ramirez is one of the best young players in baseball. In fact, if I had to select one position player to start building a franchise around right now, it would be HanRam. Cameron Maybin is as elite as they come as far as prospect wise and the Marlins are hoping for a huge rookie season from the 22 year-old. I also really like the prospects of their starting rotation. None of their starters is older than 26 years of age and all of them have huge upside. Nolasco, Johnson and Sanchez have already proven what they can do if healthy and Volstad had a terrific rookie season last year compiling a 2.88 era in 14 starts over the second half of the year. The big question with the Marlins outside of the lack of experience, is their bullpen. Lindstrom should be a fine closer, but he's had some arm issues this spring and he isn't exactly surrounded by the best bunch of relievers. Still, the Marlins have talent and a lucky break here or there mixed with some bad luck for either the Phils or Mets could put the Marlins right into the thick of things.
Lineup:

Pitching:
RHP Derek Lowe
RHP Jair Jurrjens
RHP Javier Vazquez
LHP Tom Glavine
RHP Kenshin Kawakami
SU: Rafael Soriano
CL: Mike Gonzalez
The Braves are in partial rebuilding mode. They still have their centerpiece in Chipper Jones, but the only other 30-something year-old player in the everyday lineup is the newly-acquired Garret Anderson. I am expecting a rebound season out of Francoeur, who struggled mightily last season. I also like McCann, Johnson, Escobar, and Kotchman as a nice core of position players that they're building around, but they need some more pop in the lineup. The rotation is so-so, not great, but good enough to keep them in games on most nights. Lowe and Vazquez were nice additions, but they don't really have a clear-cut ace. The bullpen should be pretty solid if they're healthy. They could have a two-headed monster at closer with Soriano and Gonzalez and solid set-up man in Manny Acosta. The Braves are a nice team, but this division isn't an easy one and they don't quite have enough all-around talent as the three teams I have ahead of them.
Lineup:

Pitching:
LHP John Lannan
RHP Daniel Cabrera
LHP Scott Olsen
RHP Jordan Zimmerman
RHP Shairon Martis
SU: Joe Beimel
CL: Joel Hanrahan
The Nationals are kind of like the Marlins, except they haven't developed the pitching that the Marlins have yet. However, they may have something in the works. John Lannan had a nice rookie campaign (9 wins, 3.91 era, 117 K's in 182 IP's) last season and the Nats are handing him the ball opening day. They also have the young phenom, Jordan Zimmermann, set to make his major league debut in a few weeks and some people feel he has a great shot at taking home the NL Rookie of the Year award this season. Cabrera and Olson also still have some upside, although both need to gain more consistency to the strike zone. Their lineup is a pretty exciting one and should put up some fireworks this summer. Elijah Dukes and Lastings Milledge are building blocks in the outfield and Ryan Zimmerman looks like the franchise third basemen for years to come. They also added 40 home run/100 RBI machine Adam Dunn at a bargain basement price (2 years, $20 million). The bullpen is thin though, and they don't have nearly enough starting pitching yet to start competing with the Mets and Phillies. They are getting close though.
Giants Notes:
In Scottsdalle,
Bruce Bochy
started the
Giants
' projected opening day lineup on Thursday nights game vs. the
Cubs
(who also had most of their regulars in the lineup) and the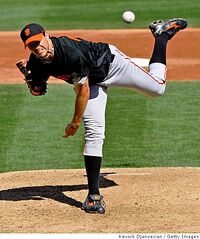 first unit impressed.
Barry Zito
got the start and had a strong outing, going 5 innings, allowing 3 runs on 7 hits while striking out 7 batters. It was Zito's second positive start in a row as he looks like he's buckling down with the regular season about a week away. The offensive charge was led by
Fred Lewis
(2-2, RBI, 2 runs) and
Pablo Sandoval
(2-4, 2 RBI, 2 runs).
Edgar Renteria
got on base twice, and
Travis Ishikawa
and
Aaron Rowand
each had RBI's in the 5-3 victory as well.
Emmanuel Burriss
got the start in the game at second base and hit 8th in the lineup, which is where he'll probably be on April 7th vs. the
Brewers
. The win improved the Giants spring record to 16-14, but they're also laying a beating on
Indians
as I type, as
Jonathan Sanchez
got the start in the game and has gone 5 strong, allowing 1 run while striking out 5. The reason why I mention the record is because over the last few springs, the Giants have had pathetic Cactus League records and they've ended up having rough seasons. Not saying a winning spring will mean a winning regular season for the Giants, but the fact that they are winning games period is a step in the right direction. Spring training or not, this team is learning what it takes to win ballgames.
Trevor Cole The San Francisco Giants Blog
Ad blocker interference detected!
Wikia is a free-to-use site that makes money from advertising. We have a modified experience for viewers using ad blockers

Wikia is not accessible if you've made further modifications. Remove the custom ad blocker rule(s) and the page will load as expected.