The L.A. Sports Blog Presents: 2009 NBA Playoffs Free Agent Value Column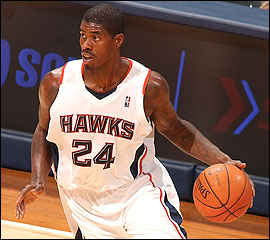 We've all seen it. A player on our favorite team, or a top rival who usually produces the minimum to stay on the roster (or under-performs to the point that you expect little to nothing) breaks out in the playoffs during his "contract year" (the final year of his contract) and earns himself a contract far exceeding his value from a lottery team who thinks he's the "missing link" or his own team. Or in rare cases (see Posey, James) does enough as a vet in limited minutes to make another playoff team believe (Hey! He can do THIS for us 82 games a year as a major role player!!!)
I call this type of player a "Mikki Moore" or this group of players the "Mikki Moore All-Stars" in honor of Mikki Moore's performance in the 2006 playoffs (or '05? Help) with the Nets that earned him a ridiculous $30+ million contract from the Cow Town Kings. Previous members include: Ronny Turiaf, James Posey, Luke Walton, Samuel Dalembert, Erik Dampier (he got a contract extension to be the "Shaq-Stopper", Cuban and his loosey-goosey stats...) and Rashard Lewis (and his Max Contract).
So without further delay, I present you the Mikki Moore All-Stars 2009 finalist. Each player is listed by team and includes his stats for this season, career stats, and the contract I expect them to get if they breakout this playoffs (Mikki Moore) or seriously disappoints ("T-Mac'd It") (I'll have both figures.) I'll start off with the Eastern Conference today and we'll move to the West tomorrow.
Eastern Conference:
2009 Stats: 34.7 MPG, .435 FG%, .390 3P%, 3.5 RPG, 5.0 APG, 14.9 PPG
Career Stats: 36.1 MPG, .439 FG%, .374 3P%, 3.3 RPG, 6.1 APG, 16.4 PPG
This is the PERFECT postseason for Bibby to return to his career form, or even exceed his career numbers slightly. At age 30 Bibby may have 3 more productive seasons left in the tank with another 1-2 seasons as an on-bench mentor and role player. If Bibby can get Atlanta to the second round with 4-5 solid performances in the first round he'll be paid like the starting PG by Atlanta, or a late lottery team. If he flops like "Duplicity" then he'll be backing up Andre Miller in Philly or Gilbert Arenas in Washington or someplace like that.
Mikki Moore: 3 Years, $27-30 Million
T-Mac'd It: 1 Year, $3 Million, maybe 2 years $5 Million.
2009 Stats: 19.1 MPG, .500 FG%, 5.6 RPG, 0.8 APG, 6.3 PPG
Career Stats: 21.2 MPG, .457 FG%, 5.6 RPG, 1.0 APG, 7.7 PPG
Zaza would be wise to mimic the bump in numbers Ronny Turiaf had during the end of last season and postseason. It could turn into a lucrative mid-level contract (I would reference Adonal Foyle and his outer-space contract but teams aren't THAT foolish anymore.) Zaza is 25 and with one strong playoff performance will have 10 GMs in the league saying, "He could be OUR Drew Gooden!" On second thought....
Mikki Moore: 5 Years, $25-30 Million
T-Mac'd It: 2-3 years, $7-10 Million
2009 Stats: 34.3 MPG, .458 FG%, .355 3P%, 6.3 RPG, 2.08 Foul, 13.9 PPG
Career Stats: 31.7 MPG, .450 FG%, .304 3P%, 5.5 RPG, 2.71 Foul, 12.5 PPG
Speaking of PERFECT seasons for a player to breakout in the playoffs, Marvin Williams could earn himself a boat-load of money this off season. He's already posting career highs in every major category and has played with more maturity and consistency (proven in his lower foul and turnover numbers as well as his increased MPG stat.) Even a disappointing playoffs for Williams would result in a nice contract based on his very solid regular season. However, I'm projecting Williams being the second star in Atlanta this postseason next to Joe Johnson and propelling this team into the second round.
Mikki Moore: 6 years $55-60 Million
T-Mac'd It: 3-4 Years 20-26 Million
2009 Stats: 18.1 MPG, .442 FG%, .438 3P%, 2 RPG, 8.5 PPG
Career Stats: 17.2 MPG, .413 FG%, .395 3P%, 1.7 RPG, 7.6 PPG
Eddie won't command the type of contract that Bibby or Williams will because he's not a starter, and frankly even a great playoffs wouldn't make him one. However he's a very solid offense contributor who can score in bunches, sadly he defends like a matador. I think he'll be looking for a healthy contract to be a role player for another contender, just in a larger role (closer to 22-25 minutes a night) then he's played in Boston, or in his career. Best case he gets a chunk of someones mid-level, worse case he's on a 1 year deal looking to have a good year and move elsewhere. At age 30 his career reminds me in a way of Jeff Foxworthy, highly regarded as a younger player, then kinda fell off and was obscure except to his hardcore fans, and in Boston (or in the Blue Collar Comedy Tour) he's revitalized his career and is back in the spotlight... as much as a 6'0" shooting guard can ever be in said spotlight.
Mikki Moore: 3 years, $15 million
T-Mac'd It: 1 Year, $3 Million
I've excluded his numbers because for him they are meaningless in this context. It's all about reputation and perception. We loved Mike Tyson until he started acting weird, beating Robin, and being charged and convicted of rape, then we treated him like scum. However, when he came back, beat up a few no names and earned a PPV match up with Evander Holyfield, we lined up to back him again. Because he had used a few good outings to change his reputation and the perception of him back to his pre-rape status. We all know how he squandered that opportunity and the rest of his life. Steph has made a similar transformation in Boston. He was regarded as a "team cancer" and all around bad and obnoxious teammate and person after failed stops in Phoenix and New York. However he's been a model citizen and team player off the bench for the Celtics, giving them all they need. However I'm waiting for him to bait another NBA franchise into giving him a chance so he can go back to his old ways, just like Tyson did after his second chance. Therefore, I hope he goes overseas and is the Bizzaro Beckham, if he doesn't, I hope he goes to Toronto (Sorry Raptors fans, I just don't want to deal with him anymore.)
No contract status, it's a big ????. Suggestions Welcome.
2009 Stats: 36.6 MPG, .456 FG%, .412 3P%, 3.5 RPG, 3.4 APG, 20.7 PPG
Career Stats: 31.3 MPG, .437 FG%, .415 3P%, 3.0 RPG, 3.0 APG, 18.5 PPG
Ben's stubbornness when it has come to contract extensions and contract negotiations has seemed to pay off as he's produced his best season yet under rookie coach Vinnie Del Negro. I believe Derek Rose has also done a lot to help Ben's game. The good news for Chicago is Ben has helped them return to the playoffs after a 1 season sabbatical. The bad news is that there is no chance in hell that Chicago can afford to keep Ben past this season. He could help quite a few teams that need a consistent scoring 2 guard, although his defense isn't something he's known for his ability to shoot, and shoot from long range should earn him a contract worthy of his ego.
Mikki Moore: 5 years, $55 million
T-Mac'd It: 3 Years, $25 Million
Like Steph, stats don't really matter with him. We're just going to hope he calls Nutri-system and hires a personal trainer. I also hope he's close friends with Eddie Curry and Brian Cook and he's a large (no pun intended) influence on them. Let's move around this (3 hours later... sorry last fat joke)
2009 Stats: 16.8 MPG, .538 FG%, 4.9 RPG, 0.5 APG, 4.0 PPG
Career Stats: 22.8 MPG, .487 FG%, 5.6 RPG, 1.0 APG, 7.0 PPG
Joe Dumars has gotten about exactly what he expected out of Kwame and his 1 year, $4 Million contract. Which of course, isn't very much at all. However, he's provided good defense and a positive attitude in limited minutes. Plus, he's be the most confident and consistent I've seen in a long time. I'd expect the Pistons or another playoff contender will take another 1-2 year chance on Brown at about the same price, no more, no less. His situation sort of reminds me of Kevin Bacon in "Hollow Man", he really doesn't have more to gain this postseason, but does have plenty to lose if he's invisible in his time on the floor.
Mikki Moore: 2 Years, $8 Million
T-Mac'd It: Europe...
Another player where the stats don't matter. He's not budging on the belief that he's still the same player he was even 2 years ago, but few in the league would give such a "me-first" personality type whose pushing 33 and can't play point guard $10+ Million a year. He's a total anomaly, both in his career and in his current situation and I don't know where to place him on the scale. He won't play this postseason, which will actually help his value because playing has only decreased his value this season. I'm certain that another team will try to make him their veteran presence, and I'm certain it will blow up in their face.
Contract Suggestions Welcome
2009 Stats: 32.5 MPG, .419 FG%, .352 3P%, 7.5 RPG, 1.4 APG, 12.2 PPG
Career Stats: 33.9 MPG, .471 FG%, .342 3P%, 6.9 RPG, 1.9 APG, 15.0 PPG
Sheed's inconsistent dips and rises in his numbers are typical for a 34 year old player whose been both a banger and a shooter in his career. His points, field goal % and minutes have gone down, his rebounds and 3 point % has gone up. I think he still has 2 more seasons left in him before he starts to make the transition into coaching (you heard it here first) which like playing, he'll excel at. Sheed has one of the highest basketball IQs in the league, is highly emotionally involved in the game and has a high mutual respect with the refs (half of his Technical Fouls are acquired because he's "too comfortable" with the refs and therefore expresses himself too freely.) I look forward to seeing him patrol the sidelines.
Mikki Moore: 3 Years, $20 Million
T-Mac'd It: 1 Year, $6 Million
2009 Stats: 25.9 MPG, .468 FG%, .355 3P%, 4.6 RPG, 1.2 APG, 7.2 PPG
Career Stats: 26.8 MPG, .478 FG%, .344 3P%, 5.4 RPG, 1.2 APG, 7.8 PPG
Jamario is in a very precarious position this postseason. His numbers have dropped slightly this season and while the mid-season trade from Toronto to Miami could be a factor, it will be irrelevant in the off season. So it is most important for young Jamario to put up numbers worthy of the contract he'll desire in the off season, and finally get his salary into 7 figures.
Mikki Moore: 6 Years, $18 Million
T-Mac'd It: 3 Years, $6 Million
2009 Stats: 28.7 MPG, .536 FG%, 7.2 RPG, 1.0 APG, 8.6 PPG
Career Stats: 23.1 MPG, .502 FG%, 6.5 RPG, 0.8 APG, 6.6 PPG
Anderson is in a similar position to Marvin Williams, he has everything to gain and nothing to lose. He brings intangibles to the Cleveland line up that include but are not limited to: Energy, toughness, and doing anything and everything LeBron tells him to, legal or not. He's in the middle of a career year and will more then likely be grossly overpaid (especially if the Cavs win the Title), because he is currently very appropriately paid. I only see Anderson having a very good post season and it resulting in a contract worth about double yearly compared to his current one. If he is underwhelming or just average, he still likely won't be paid less, a better then good situation to be in.
Mikki Moore: 5 Years, $50 Million
T-Mac'd It: 5 Years, $30 Million
2009 Stats: 36.2 MPG, .471 FG%, .275 3P%, 4.5 RPG, 6.5 APG, 16.1 PPG
Career Stats: 34.9 MPG, .460 FG%, .209 3P%, 4.2 RPG, 7.4 APG, 14.6 PPG
I'm so consistently conflicted on Andre Miller it's silly. I see so much more production and potential in him then he's ever produced. In the past he didn't score enough, now he's scoring more but distributing less. He's always been a horrid 3 point shooter and only the past two years has shown a decent mid range shooting game. His AST/TO ratio is 7.5:2.7 career and 6.5:2.4 this year. I always feel like he's been paid for his potential and not his production and while being touted as a good PG the last two years in Philly I've only been able to think "Finally he's giving a team most of what he's capable of. I'd always rather have Bibby then Miller and I find Miller to be more talented then Bibby. However, at 33, he can squeeze 1 more contract at around $10 Million a year if he puts up a good postseason and keeps the good vibes about Andre Miller going. If he can't get the big contract he should go to a championship contender and come off the bench providing solid veteran leadership and consistent ball handling.
Mikki Moore: 3 Years, $27-30 Million
T-Mac'd It: 2 years $7 Million.
So out of our 12 finalist, only 3 can be Mikki Moore All-Stars, 1 guard, 1 big and 1 wild card. Our picks from this group are:
All 3 of these players will have good postseasons that will set them up for highly overvalued contracts. Why? Because NBA GMs and Coaches are by nature, impractical and lack common sense. That's why there is a VP of Common Sense! Even in an economic downturn the Mikki Moore's of the world will get theirs. The question is: Will your team over pay for one of these "Rising Stars"?
Ad blocker interference detected!
Wikia is a free-to-use site that makes money from advertising. We have a modified experience for viewers using ad blockers

Wikia is not accessible if you've made further modifications. Remove the custom ad blocker rule(s) and the page will load as expected.