Intro:
Welcome to Manny Stiles ' Daily Column:
"Sportune Cookie" - operating every day since Monday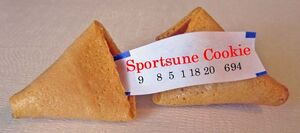 Sportune Cookie
You never know what you got until the doctor bills you for it
People. People. Ken Griffey Jr. stands before you. He wonders why you won't let him carry you and baseball into the promised land??
Recall 1995. Go to Baltimore, Maryland. A guy who personified "the greatest work ethic" was thrust upon a stage built with labor quarrels. Cal Ripken Jr. (also a "Junior") carried the game on his back PAST the past of labor issues by simply "doing work".
Now we have "The Kid" - a player who if ANYONE is completely clean and devoid of enhancing drugs - it's gotta be Junior! And just beyond "amidst all this steroid mess" is this generation's Mickey Mantle. The wunderkind. The Natural.
Sure he's had a few years dampered by injury, but look a little closer and the dude is still a top tier athlete. He's still in the bigs, he's still an amazing player and HE DESERVES YOUR ATTENTION!
One of the greatest athletes of all time is getting the shaft - and YOU are helping it happen. When I tell my grandkids all about him, you better make sure YOUR grandkids already know what the hell my grandkids are talking about!

Show the man some respect and the rest will follow. I promise!

Don't let a legend pass you by.
Hmmm...
If Kobe Bryant would adjust his manjunk and smell his fingers afterwards more often, I'd swear he's the new Derek Jeter...
Pre-emptive Maneuvers
Come on... like I'm the only person who figured Flip Saunders' inability to get his team to be successful in the playoffs who carry over to the Pistons...

Come on... like I'm the only person who figured Doc Rivers would get outcoached in the playoffs... let's start the countdown together... 10... 9.... 8...

These 2008 Yankees are starting to remind me of the '89 - '92 Yankees. Yep, they're that good!!!

I couldn't be happier for Josh Hamilton. And I don't hold any grudges against the Rays for letting him go. They did the right thing. And while religion and faith has worked wonders for him, I'm FAR more glad that he's letting his actions do more of the preaching... I wonder if Jesus was a five tool player?

I remember Ozzie Guillen once saying "If I ever win a World Series as a manager, I'll retire then" - BEFORE he was a manager!!!

The Olympics are coming soon... Do you care?

I wonder what Dumont is thinking about Joba...
Media Rant
Don't get me wrong, Big Media. You're not all bad. But you need some serious disclaimers for the people that get ALL of their information from you!

We need to see more of the athletic endeavors of the professional sports media members/ Perhaps a celebrity softball game or basketball? Maybe a "Sportcaster's Olympics"?
I know you'd have a MUCH different opinion of these bozos' opinions if you understood their level of unathleticism...
WTMF Sports
Channel Manny Presents:
W.T.M.F. Sports with your host, Manny Stiles!
Brought to you by the fine crafters of "Tampongrenades"!
"Now with cardboard applicator and larger pin"

Reporting on Wednesday, June 4th... Manny Stiles:
MS - "There's not a single Britney Spears joke worthy enough for me to make... but first, our top story today..."

Today's top headlines for WTMF sports:
My balls always work better when you warm them up for me.
Ever wonder?
What if gravity changed like the weather?
"Honey, wear your comfortable boots, it's gonna be heavy out today!"
The Adventures of ManRays
Ray of the Day: Carlos Pena
A blast and a double at Fenway, but not enough. Oh, well... now the Red Sox can feel like they're in it. Go get 'em today

Go Rays!
10
1 - Gary Collins
2 - Joe Frazier
3 - Jim Abbott
4 - Jim Zorn
5 - Steve Largent
6 - Bubby Brister
7 - Jack Clark
8 - Will Clark
9 - Fred McGriff
10 - Mark Grace

A Picture is worth 1000 extra lunch breaks
No doubt he played for the name on the back, not the front...
1986 Topps Traded - what a set!
This was the junk rookie card in that set!

http://us3.pixagogo.com/S5okF!FU3LjfHo-Q63M9ykX1!xcjmVWDv-vK2wNZPfYQYoM7HTWaQ0jFcUHvHmH2kpJJBFzuqc5-Bik7DhfgzojQ8evEf7pRIneRoMPFw3cpOyxX5M60dWUA__/1986_topps_traded_john_kruk.jpg
Dr. Commento Answers the Questions
ATQ - from Falcon: "Do we still get to ask questions?"
Yes, yes you do.
Yesterday's 10 was - Ten pieces I had intended to have on an ongoing basis which will now be incorporated randomly - or more definitively, when I feel like it - into the Sportsune Cookie.
Strike a Prose
"Keeping it simple"
Roses are magenta
Violets are lavendar
The Yankees suck
and the Red Sox do too!


Carnations are fuschia
Peonies are mauve
The Lakers suck
and the Celtics do too!

Ad blocker interference detected!
Wikia is a free-to-use site that makes money from advertising. We have a modified experience for viewers using ad blockers

Wikia is not accessible if you've made further modifications. Remove the custom ad blocker rule(s) and the page will load as expected.