Intro:

Welcome to Manny Stiles ' New Daily Column:
"Sportune Cookie" is a look at the events of the Sports World through the glass of a Captain's deck of a spacecraft that hurtles about powerlessly in the inner space of insanity. Or... just a "different", "interesting" and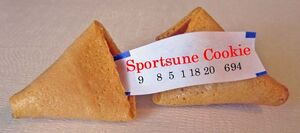 You can call it erratic. I call it eratica. We'll see how it goes:
Sportune Cookie
You will start a new venture and we'll see how long it lasts, punk
You gotta read it just like the "in bed" fortune cookie game but instead use "in sports" instead.
"You will start a new venture and we'll see how long it lasts, punk in sports"
Oooooh! It's Ominous. Like I'm scared of Ominous.

Is this "stupid", "retarded" or "gay"? Not totally. Speaking of stupid - where are the activists standing up for the rights of the stupid, anyway? Oh... there you are. But is it fun? We'll see... today is just the launch/excuse to drink champagne with clothed people of the concept. Mazel Tov!
Hmmm...
What's the over/under of Sportune Cookie? 2 days? If I make it a week, I'll make it a week and a half. The plan is to slowly add features to it until it's fun. Either way, I talk a whole bunch of other people into doing things I should be showing them how it's done... blah blah blah.
Pre-emptive Maneuvers
Yes, LA (and others) I know I have a hat to eat.

I mentioned you right here, Original DDub.
Meg, since you beat me to the punch by a day, I challenge you to see who's column runs longer!!!
NiteOwl and KD, I'm gonna pick a player from the past to highlight once a week -but they'll be players even before YOUR time (I suppose it's possible?), so relax.
Media Rant
Unlike many "bloggers" I appreciate the mainstream media and the severe majority of "professional journalists" for their shared ability to sufficiently butcher events and call it "news". I get a better idea of what really happened this way.
WTMF Sports
Channel Manny Presents:
W.T.M.F. Sports with your host, Manny Stiles!
Brought to you by the fine crafters of Manny Stiles!
Celebrity endorser Stan E. Miles agrees: "I would never risk the integrity of my longstanding career as a celebrity endorser if I didn't really believe I was getting paid enough."
Reporting on Monday, June 2nd... Manny Stiles:
MS - Good Monday morning (and good afternoon to our very import East Coast friends). Hello, Pnatt. Good Wednesday to you as well!
Today's top headlines for WTMF sports:
I JUST found out there was an indoor soccer league today. But I didn't make a joke about car insurance.
Note to the community:
No offense to the author of the piece I'm gonna criticize, but the picture of the sleepy Zzzzz's guy made me tired when I logged on, so I didn't read the article.
When it was on the top page, I felt rather sleepy and did something else.
The Adventures of ManRays
Ray of the Day: Gabe Gross, Bastion of the Bay
Yeah. It feels REAL good.
Go Rays!
10
1 - Sid Monge
2 - Porfi Altamirano
3 - Jim Essian
4 - Atlee Hammaker
5 - Jim Kern
6 - Jack Lazorko
7 - Tim Laudner
8 - Alvaro Espinoza
9 - Daryl Sconiers
10 - John Wockenfuss

A Picture is worth 1000 spams
I grew up with 1980's baseball. http://images.halosheaven.com/images/admin/wally_joyner.jpg
Dr. Commento Answers the Questions
ATQ - tomorrow - This is the section where I put the answer to the best comment made on the previous day's post. Part Dear Abby, Part WTMF.
Strike a Prose
"What's the variation in my attentiveness, Stat boy"
Parts of sums and factors of nothing
angles of consequence, tremors of happenstance
piles of luckiness,

OH! I Have the Answer!
Fawning over purposes and applications
counting methods and devising methodologies
piles of numbers,

OH!! I Have a Stat!
Garnering usable quantities of bragadoccio
Showing all your friends how much uselessness you can portray
piles of boooooring...

OH!!! Sorry, I didn't hear what you said I was too busing having fun watching the game.
Ad blocker interference detected!
Wikia is a free-to-use site that makes money from advertising. We have a modified experience for viewers using ad blockers

Wikia is not accessible if you've made further modifications. Remove the custom ad blocker rule(s) and the page will load as expected.