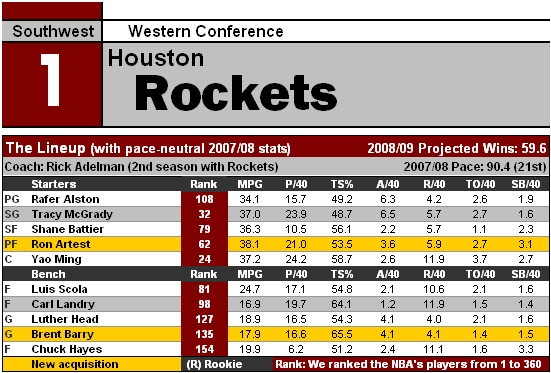 Burning Question: Does Ron Artest put them over the top, or obliterate the franchise?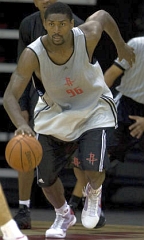 Point Guard: Rafer Alston didn't even enter training camp as Houston's clear-cut #1 PG (remember Mike James?), but when the dust settled on the 2007-08 season, he had stepped forward as a team leader for the Rockets and was one of the keys to their 2nd-ranked performance on defense. Alston has great quickness and can stay in front of just about any opposing point guard; when he's on the court with fellow defensive standouts Ron Artest, Shane Battier, and/or Chuck Hayes, the Rockets can make life a living hell for even the most potent offenses. Offensively, Alston upped his scoring by a full P/40, but he's still pretty inefficient; his only value at that end comes from managing the offense (Houston's ORtg was 2.5 Pts/100 better when he was in the game) and knocking down open 3-pointers at an average clip. Backup Aaron Brooks was a pleasant surprise as a rookie, posting a 106.9/22.0/105.5 line. He's no rubber-stamp pass-first point, though -- he ranked 44th out of 78 PGs in assist rate and 50th in turnover rate as a rookie. Since he's an undersized liability on D, he'll need to correct the holes in his offensive game to earn more playing time. Meanwhile, veteran Steve Francis wants to prove that you can go home again, but injuries have derailed his career for perhaps the last time. He'll have to fight hard for every minute he sees from here on out.
Grade: C
Shooting Guard: Another year, another 1st-round exit for Tracy McGrady, right? Well, not exactly. Last year, T-Mac still missed his customary 16 games, but in the second half of the season he sat out only a single game; in addition, he put the Rockets on his back when Yao was injured, continuing their epic 22-game winning streak even without the big guy around to divert the defense's attention. No, McGrady is not the high-efficiency scorer he was during his Orlando heyday (his ORtg hasn't topped 106 in 3 years), but he's absolutely invaluable to the Rockets -- it's hard to imagine them extending that streak if the roles had been reversed, and T-Mac was the one injured. Aside from defense and shooting efficiency, two areas where his supporting cast happen to pick up the slack (thanks, GM Daryl Morey!), McGrady gives Houston everything they could ask for and then some. However, McGrady is legendarily injury-prone, so backups Brent Barry and Luther Head need to be ready to step in at a moment's notice. Signed away from San Antonio this summer, Barry is a consummate role player who knows his job (take care of the ball, knock down open threes) and executes it with relentless efficiency. He's not around for his defense, but that's where Head comes in. Though he's just 6'3", Head is great at defending 1s and 2s on the perimeter because of his excellent athleticism, and he can also hit open treys. As long as they can keep bigger players from backing him down on the block, Head will definitely be a valuable contributor for the Rockets. Von Wafer made the final cut for Houston, but it's going to be hard for him to see the floor in a crowded backcourt.
Grade: A
Small Forward: Although this is Artest's natural position, the Rockets can't resist trying him out at the 4 alongside Shane Battier to give Houston what should be the NBA's most formidable defense. Battier is the classic low-usage, high-efficiency role player, having used fewer than 12% of their possessions when on the court in both of his Houston seasons. Battier clearly isn't here for his offense (although he is a good shooter); rather, he has a place in this starting lineup because he's a tenacious defender who works as hard at his craft as any player in the league. He also brings a tremendous amount of leadership and character to the Rockets, which will come in particularly handy with the addition of the combustible Artest. In short, Battier's raw numbers are far from impressive, but he makes a big impact on the game. Even though he will start at PF, Artest will certainly see his share of minutes at the 3 as well, because he's a matchup nightmare due to his size and strength. Barry can also play the 3 in a small lineup, stretching defenses to their limit with his dead-eye shooting stroke.
Grade: B+
Power Forward: Ron Artest is clearly the biggest gamble of Daryl Morey's tenure as Houston's GM. Known for his expertise with statistics, Morey knows exactly how big Artest's impact is (his APM scores the past 3 years: +11.83, +6.25, +4.84), but he can't predict how the mercurial forward will affect team chemistry -- and whether or not he will explode again. When he's on his game, though, Artest is perhaps the most brilliant 2-way player in the league, a downright scary mix of strength and athleticism who lives and breathes for mismatches. He can suffocate you on defense, and then turn around and knock down a three in your eye, or physically overpower you in the post. The key is simply to keep Artest happy, or at least sane. And that's easier said than done. When Artest takes a breather or plays SF, Luis Scola will get the call at the 4. Scola had a nice rookie season and was above-average in just about every category; the downside to that, though, is that he didn't really stand out in any area, either. He should be better in his second year, however, and that makes him a really nice option to have around, whether starting or coming off of the bench. The Rockets' embarrassment of PF riches continues with Carl Landry, who had a monstrously efficient rookie season in '08 (129.9/18.9/102.1). A lot of Landry's production was a small sample size fluke against bench players, so we can't get carried away here, but he's still a quality player who can rebound, defend, and finish inside. Rookie Joey Dorsey from Memphis is another similar player: he doesn't have much offensive game to speak of, but he's a capable defender and glass-cleaner.
Grade: A-
Center: When healthy, Yao Ming is perhaps the game's top center, a devastatingly efficient (and consistent) low-post scorer who opens up offensive chances for everyone around him. Trouble is, Yao (like McGrady) is rarely healthy; after suiting up for at least 80 games in each of his first 3 NBA seasons, he has missed 29 games on average in every season since. Lower-body injuries have claimed many a super-tall center, and Yao has the added burden of playing for the Chinese National Team every offseason, so his durability is a major question mark. Yes, they won plenty of regular-season games without him, but they also flamed out in the playoffs, so it's safe to say he's fairly vital to their championship aspirations. One encouraging sign was his play in the Olympics -- he scored 25.6 P/40 on a 59.8 TS% -- which suggests that he's finally over his injury. Still, I wouldn't go betting the farm on a totally injury-free season from "Ming the Merciless" in '09... Coming off the bench, statistical favorite Chuck Hayes will shift between the backup spot here and at the 4. Like Landry, Hayes' numbers benefit from playing fellow bench players, but he's still the real deal as a defender and rebounder despite being severely undersized (6'6"). Offensively, Hayes is reasonably efficient but his repertoire is limited to putbacks and other garbage baskets. Old man Dikembe Mutombo is still on the roster for now, and if he doesn't end up retiring, he'll do his shot-blocking thing in limited minutes.
Grade: A-
Outlook: This is the year for Houston, right? I mean, they're totally stacked defensively, what with Artest, Battier, Hayes, Alston, etc., and between a healthy Yao and a healthy McGrady, the offense is covered... Oh, wait -- a healthy Yao/McGrady season has happened just once since the pair got together in 2004-05. So, Artest addition or not, we'll just go with the same thing we write every year regarding the Rockets: "If Tracy McGrady and Yao Ming each avoid the injury bug, the Rockets will be a championship-caliber ballclub. If not, they will be no better than the 5th seed in the West and will probably lose in the first round." That sound about right to you? Okay, so maybe the new faces (Artest & Barry) propel them to the 4th seed, and maybe they win one round without their Big Two at full strength. But that's not what this team is built for -- make no mistake, Morey put together this roster with nothing less than a championship in mind. And for better or for worse, that outcome will largely hinge on the durability of McGrady and Yao for the 5th straight season. The more things change in Houston, the more they stay the same.
Burning Question: Do these old Spurs have one last (odd-year) playoff run in them?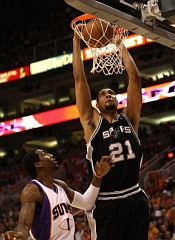 Point Guard: The following is a list of point guards who we're sure are better than Tony Parker going into 2008-09: Chris Paul, Deron Williams, Chauncey Billups. Seriously, that's it. Parker has joined that elite group by refining his defense and midrange shooting, two areas in which critics had dogged him in the past. Last year, Parker ranked in the top third of PGs in DAPM and he stopped gambling for steals so much, which actually made him a better defender within the Spurs' team concept. He also shot an above-average .422 on long 2-pointers, which, when combined with his .640 FG% on inside shots and his improved ability to draw fouls, made him one of the most effective scoring guards in the NBA. Better yet, Parker's playmaking was better than it's ever been -- he ranked 13th among PGs in assist rate, 20th in turnover rate, and set a career high in pure point rating. In other words, when talking about all-around performers at the 1, it's hard to get much better than Parker. The Spurs' backup PG corps have gotten better as well: in addition to old standby Jacque Vaughn, they drafted George Hill out of IUPUI, and free agent Roger Mason can also play here in a pinch. Vaughn is entering his 3rd season as San Antonio's primary PG reserve, and his main skills are getting the team into the offense and playing solid D. Hill is more of a combo guard than a pure point, but he had amazing stats in college (albeit at a small school). If he develops as a distributor, he could be another Spurs late-1st-round gem -- and remember, we were saying the same things about Parker back in 2001.
Grade: A-
Shooting Guard: When healthy, few SGs are as dominant at both ends as Manu Ginobili. The slashing Argentine combines great usage and efficiency on offense (28.7 %Poss, 115.7 ORtg), and he's also maybe the best defensive 2-guard in basketball in terms of quick hands, great footwork, and smart positioning on the wing. The problem is that Ginobili's wild, swashbuckling tendencies lend themselves to injuries, like the sprained ankle he suffered in the Olympics (a malady that will keep him out for the 08-09 season's first two months). The wear and tear that Ginobili's playing style creates has always compelled Gregg Popovich to limit his playing time; in fact, Ginobili won the Sixth Man Award last season because his explosive play is best suited for sparking the team off the bench in a carefully managed number of minutes. This is what makes Ginobili a double-edged sword -- his penchant for reckless play is his greatest asset, allowing him to be one of the NBA's best players on a per-minute basis... but it's also his biggest weakness, because it will always limit his minutes and ultimately result in injuries. While Ginobili is injured, Michael Finley could start in his stead, though he's more of a SF at this point. Meanwhile, newcomer Roger Mason, who signed a 2-year, $7.5 million deal with the Spurs this offseason, was acquired to spell Ginobili, occasionally play the 1, and soften the blow of losing Brent Barry to the division-rival Rockets. Mason's NBA career was on life support prior to last season, but he finally found his game in his second year with the Wizards, posting a 114.3 ORtg on 17.9 %Poss. Mason's strengths are simple: he has decent size (6'5"), he can defend, and he'll knock down open jumpers. He won't drive the lane or create chances in the style of Parker, but he's sort of like a younger, poor man's version of Finley in terms of spot-up shooting and defense. Former USC Trojan Desmon Farmer made the roster out of camp and he's been a pretty good offensive player in 3 D-League seasons (career marks of 23.3 P/40 and 58.8 TS%), but at 6'2" his size on defense is always a concern.
Grade: B+
Small Forward: For what seems like the hundredth straight year, Bruce Bowen will be San Antonio's starting SF, although the question of how much he has left in the tank becomes more and more pressing with each passing season. Maybe it was the fact that he was 36, but last year Bowen's trademark defense was not quite as dominant as it has been in the past (he ranked just 24th among qualified SFs in DAPM, his steals were down, and the Spurs were actually worse on D when he was on the court). That's a bad sign, because if Bowen isn't shutting down the opponent's top scorer, he doesn't have a lot of value as a player. Yes, he can stand around in the corner and hit threes (.419 3P% last year), but the fact that he's so passive on offense (he took only 10.7% of San Antonio's shots when in the game) really puts a lot of pressure on his teammates, who are essentially playing 4-on-5 unless Bowen is wide open for a corner 3-ball. If Bowen's D continues to slip, backup Ime Udoka could usurp some of his minutes. While he's no offensive juggernaut himself, Udoka took 17.5% of the Spurs shots when on the floor and he has a more diverse offensive game than Bowen. Given that he isn't too much inferior to Bowen as a wing defender at this point in their careers, you may see Udoka get a larger part in San Antonio's rotation this season. And then there's Michael Finley, who signed for two more years at $2.5 per and continues to hold on to a key role on the Spurs despite rapidly-declining skills (he may even start this season at SG while Ginobili recovers from his injury). Finley is a mere shell of the player he used to be, though -- he rarely attacks the basket anymore, relying instead on a jumper that comes and goes, and his defensive abilities are in freefall. He can still score and has periods where he's the Spurs' top perimeter shooter, but Finley's best days are very much in the rear-view mirror.
Grade: B-
Power Forward: Although he was probably outpaced by Kevin Garnett as the game's best PF last year, Tim Duncan is still the greatest ever at the position, and he appears to be aging gracefully as he enters his thirties. First and foremost, he's a dominant defensive big man who can single-handedly change the complexion of a game at that end. He's no one-way wonder, either: he takes on nearly 30% of San Antonio's possessions when on the floor, averaging an Offensive Rating of 109 over the course of his career. That said, Duncan's offensive numbers did decline slightly last season (from 24.0 P/40, 57.9 TS%, & .502 FTA/FGA to 23.7, 54.6, & .393), and aside from that memorable shot against Phoenix, he had a rough postseason (48.8 TS% and a playoff career-worst Win Shares/MP rate). Still, somehow I don't think a major decline is in the cards for the Big Fundamental, especially if his shooting bounces back and the Spurs don't ride him too hard in the regular season. Shooting specialist Matt Bonner will come off the bench at PF after a down year (103.6 ORtg). Bonner started strong with a .375 3P% before the All-Star break, but he had an abysmal 2nd half and largely fell out of Popovich's rotation by the playoffs. Rookie Anthony Tolliver played reasonably well in the D-League, so he could also earn some minutes as another reserve outside shooter.
Grade: A
Center: It's not a flashy pairing, but the duo of Fabricio Oberto and Kurt Thomas get the job done for San Antonio. Oberto is a fair rebounder and a very efficient finisher inside (125.5 ORtg last year), plus he doesn't command the ball a lot, which makes him an ideal role player for a team with offensive weapons like Duncan, Ginobili, and Parker. The same goes for the aging Thomas, although unlike Oberto, his main contributions come on the defensive side of the ball. Thomas doesn't have prototypical size, but he's a physical player who can rebound and limit the production of opposing bigs. That said, both players have their weaknesses -- Thomas is not much of an offensive player & his efficiency really died upon arriving in San Antonio last year, while Oberto's defense is surprisingly bad for a big man on a Popovich-coached team. French import Ian Mahinmi had a nice season in the D-League last year, but it remains to be seen if he can be productive at the NBA level.
Grade: C
Outlook: Yes, yes, it's an odd-numbered year, and we know what that means, right? Um, maybe not this year, though. The Spurs are still elite, that's going to be true as long as they boast the Duncan/Ginobili/Parker trio, but the plain fact is that this team is literally on the verge of becoming the oldest team of all time. At a minute-weighted average of 31.4 years of age, the 2007-08 Spurs trailed only the '98 Rockets, '00 & '01 Jazz, and '98 Bulls in terms of the oldest NBA teams since 1962-63. And if you compare San Antonio's age to the league average, they are #1 on the list -- their average player was more than 4.6 years older than the league-average age of 26.8. In fact, with Ginobili injured to start the season, the regular season could be downright un-Spurs-like (<50 wins? Heresy!). Now, don't get me wrong, I'd hate to have to face them in the playoffs... but the Hornets and Lakers showed last season that these old Spurs can't simply waltz into the postseason and cruise to a championship like they did in 2007. Odd-year or not, the West is deeper than ever, and this team is suddenly starting to show its age in a big way.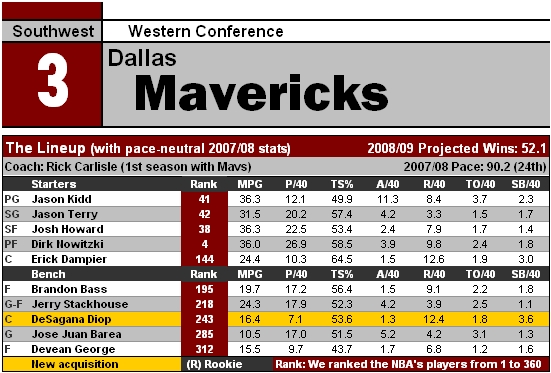 Burning Question: Will they flourish with a full season of Jason Kidd?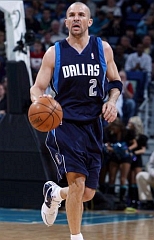 Point Guard: So, Devin Harris is definitely the Mavericks' PG of the future, and -- whaa? Trading Harris for Jason Kidd? Yep, it actually happened last year, and (predictably) the Mavs didn't quite make the playoff splash they were hoping for with their legendary new point guard. Why? Well, simply put, this Kidd isn't exactly a kid anymore. He's still a great passer, a strong defender, a terrific rebounder for a guard, a nightly triple-double threat... but by the same token, he still can't shoot, he turns the rock over at a massive rate, and he finishes very poorly in traffic nowadays. Plus, he's set to rake in more than $21 million in '09, making him the 4th-highest-paid player in the game. Luckily, his fat contract comes off the books after this season, but after that Dallas is going to have to hunt for a PG -- ironic, since they already had a bright young prospect in Harris before the trade. Oh, but there's always the chance Jose Juan Barea is the Mavs' long-term answer, right? Er, not so much. Offensively, Barea's a career .402 shooter from the floor and he's not real big on passing the ball, plus at 6'0" he's a defensive liability. In other words, he'll have to work on those offensive flaws to become a passable backup at the NBA level, much less a starter. Terry can be worked in at the 1 in a pinch, but they've been down that road before and it wasn't really a solution by any means.
Grade: B
Shooting Guard: Going into his 5th season in Dallas, the Mavs are counting on Jason Terry to be essentially the same as he's always been: an undersized tweener of a 2 who scores often and with fantastic efficiency, but who doesn't add much when he's not lighting up the scoreboard. Defensively, he can still pressure the ball well, and with Kidd around its easier to hide his shortcomings in the half-court, but Terry's main job is on offense, where he can create as well as anyone off the bounce and excels at pull-up jump-shooting. That said, he's 31 and both his ORtg and %Poss declined last year, so it wouldn't be a shock if he began to show his age in '09. Dallas can't really afford that, because backup Jerry Stackhouse is really starting to get old; in '08 his usage rate was the lowest of his career, and his efficiency dropped as well, a sure sign of slippage. Stack can still give you scoring for short stretches, but his utter lack of efficiency and non-scoring skills (especially defense) may force a reduced role this year. Antoine Wright, picked up in the Harris trade, finally started to play with some efficiency last year after joining the Mavs, but he's got a long way to go before he's a viable NBA player.
Grade: B-
Small Forward: Seriously, just shut up and play, Josh Howard... Howard, whose penchant for inserting Nike in mouth has become more notable than his basketball skills at this point, was enjoying his finest season last year until the Kidd trade, at which point his numbers fell off of a cliff. Howard has always made his money off of half-court isolations, but Dallas ran less of those with Kidd in the fold, eschewing the slow-it-down offense in favor of a more wide-open attack. Dirk Nowitzki may have thrived in this scheme, but Howard's game was poorly suited to it and he struggled. Now, it remains to be seen if Howard can adapt and develop synergy with Kidd, but the preseason and early regular-season returns cast that into doubt, especially with Rick Carlisle playing the team at an extremely fast pace. At least Howard is a useful, versatile defender, though, and he ranked 14th among SFs in rebound rate in '08. Backup Devean George is also more notable recently for an off-court decision -- he was the guy who almost blocked the Kidd deal with his no-trade clause (as it turns out, he'd have been doing Dallas a favor!)... On the court, George is a defense-minded wingman who's allegedly a 3-point specialist on offense (though he can't actually, you know, shoot threes very well). After the Kidd near-fiasco, I'm shocked that Dallas actually re-signed him to a 2-year, $3.2 million contract this offseason, but they did and he'll be their primary backup here. Gerald Green and Shawne Williams will vie for 3rd-string duty; Green is a high-flyer but he's not an NBA-caliber basketball player yet, and you can read about Williams under Indiana's scouting report, since he was dealt for Eddie Jones in early October.
Grade: B-
Power Forward: Many people wrote off Dirk Nowitzki as a true superstar after what some felt was a sham MVP award in 2006-07 (sentiment fueled by Dallas' historic playoff flameout against Golden State), but Dirk continued to be a stud in '08, whether NBA fans stopped caring or not. Nowitzki's offensive rating dropped from 122.8 to 118.1 (both on roughly 27.8 %Poss), mainly because his 3P% was his lowest since his rookie year, but the rest of his jumpshot-centric game was largely intact -- including that sweet unblockable midrange fadeaway, an impressive lack of turnovers, and a surprising ability to get to the charity stripe. He has also improved greatly on defense since the days when he was called "Irk Nowitzki", working on his D to the point that he's basically average when not called upon to guard quicker foes. He may not win another MVP (or win back the respect of fans who thought he was going to join The Pantheon with 6 minutes left in Game 3 of the '06 Finals), but Dirk is still a legit superstar in his prime. Meanwhile, backup Brandon Bass turned heads last season with his mix of scoring ability and efficiency, posting a 112.1 ORtg on 19.6 %Poss. Bass is a defensive liability because he's undersized (6'8"), and his rebounding has been overstated (he ranked 42nd out of 61 PFs in rebound rate), but he's a quality backup who can give you more at the offensive end than the typical "short-but-strong" PF. 3rd-stringer James Singleton hasn't played since '07 (and wasn't impressive when he did play), but he has the length and athleticism to defend in short bursts.
Grade: A-
Center: Just like the good old days, Erick Dampier and DeSagana Diop will be reunited in their offense/defense platoon at the 5 this season. Diop was traded to New Jersey in the Kidd swap, but Dallas' post D underwhelmed in his absence and the Mavs recognized their error, bringing the big guy back this summer with a 5-year contract. He's basically a non-factor on offense (though he is fairly efficient with his chances), but he's one of the best defensive centers in basketball, ranking 4th in DAPM last season, and in that capacity he'll be worth it to Dallas, who lack any other low-post defensive options. And that includes Dampier, who's becoming one of the league's worst defensive centers as he gets older. Offensively, Dampier is extremely efficient because of his great offensive rebounding (he grabbed 14% of available offensive boards when on the court), but he's becoming less and less of a factor in the offense itself -- he's gone from taking 16-17% of the Warriors' shots when on the floor in the early 2000s to taking fewer than 10% of Dallas' FGAs today. The Mavs' offense was good enough to overcome playing 4-on-5 like this in the past, but nowadays I'm not so sure.
Grade: C
Outlook: This isn't the same Dallas team that very nearly beat Miami for the NBA Championship in 2006 and won a league-best 67 games in 2007 -- not by a long shot. Those teams were outstanding offensive clubs that played at a slow, deliberate pace and killed you in half-court sets and on the offensive glass. With Kidd leading the current incarnation of the Mavs, they're suddenly a faster team, but they don't hit the offensive boards as hard or attack the basket as aggressively, and they've gone from being "deep" to being just plain "old". It's still a nice core, between Kidd, Terry, Howard, & Nowitzki, but things don't feel the same in Big D, not since the Warriors ousted them in the '07 postseason and they made a panic move for Kidd after the Lakers snagged Pau Gasol. Everything is geared at winning in the present, but have they looked at the rest of this conference? Did they notice that the Hornets exposed their collective age in a relatively easy 5-game series win during last year's playoffs? Dallas is still a playoff team, but they're no longer elite, and the Kidd trade just accentuated that... Like Kidd, casual fans look at the Mavericks and think of greatness, but that was a long time ago; nowadays, they'll be lucky if they merely stay afloat in their dotage.
Burning Question: Can they follow-up on last year's breakout performance?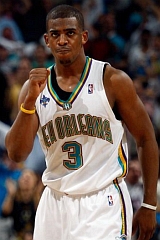 Point Guard: Hmm, who's this Chris Paul guy again? Oh, right, he's the game's best point guard, a player who maybe should have won the MVP last year, had the voters not decided to make it Kobe Bryant's Lifetime Achievement Award... So, really, what else can I say about Paul that hasn't already been written a thousand times over by writers far better than myself? He's only 23, he's proven capable of carrying an entire franchise (nay, an entire beleaguered city) on his back, and he's just going to get better from here. LeBron may be the current player most likely to surpass Michael Jordan as the GOAT, but CP3 is far more likely to go down as the best point guard of all time when it's all said and done. Magic Johnson was an incredibly unique talent, a 6'9" PG who was arguably the game's best player in the pre-Jordan half of the 80s, but it's no less remarkable that Paul -- at a mere 6'0" -- could very well pass James and Bryant as the NBA's top dog in 2008-09... and beyond. Oh, and to all of those people who criticize Paul's D, I'm afraid I'm going to have to side with Bob Chaikin here: his steals (#1 in the league) and Nawlins' defensive rating speak for themselves. Paul's backup will be Mike James, whose game has really fallen on hard times since an epic 2005-06 outburst with the Raptors. James is allegedly a scorer, but he hasn't really been doing much of that recently, at least not with any efficiency. And he doesn't really add anything on defense, either, at this point. At 33 years of age, it looks like James may be toast as a useful contributor, which means that Paul is going to have to play more minutes than ever. That's not an entirely bad thing, but it would be nice if he was fresher for another playoff run come May.
Grade: A-
Shooting Guard: The much-heralded James Posey, role player to the stars, was the headline acquisition of New Orleans' offseason. What? Posey, the key offseason pick for a team that won 56 games and visited the Western Conference Finals a year ago? Who could have seen that coming 4 years ago? And yet, here he is, a proven veteran "winner". Now, winning 2 rings in 3 years will do that for you (just ask Robert Horry), but there's a reason Posey has been the glue guy on two championship teams: he doesn't command the ball too much, makes the most of his offensive opportunities, stretches the floor with his 3-point accuracy, rebounds hard, and hustles his butt off on defense (where his versatility is also a huge asset). Still, to hear some people talk, you'd think Kevin Garnett, Paul Pierce, Ray Allen, and Posey were the "Big Four" for the Celtics last year... He's a very good role player, but let's not get carried away here. In fact, the Hornets have a similar player in backup Morris Peterson, although Mo Pete isn't as good at the role as he used to be. Theoretically, Peterson's specialty is knocking down jumpers and defending -- but while he can still do the former (.394 3P% in '08), his D is eroding very quickly, to the point that he ranked among the league's worst SGs by DAPM. And let's be frank, any time Jannero Pargo steals minutes away from you, taking on a more limited role is probably the best thing for everyone. Devin Brown is also on the roster, back with the Hornets after spending 2007-08 in Cleveland; Brown is a low-efficiency-scorer type who's best suited to be the designated creator with the reserves (a job he'll do for New Orleans again in '09).
Grade: C+
Small Forward: No, Peja Stojakovic is not the 2nd-best player in the league (jeez, where did that result come from?), but he is still one of the NBA's most accurate long-distance bombers -- his .441 3P% last season was actually the best mark of his career (and this is a guy who won the 3-point shootout twice in the early 2000s). Unfortunately for New Orleans, that sweet outside stroke is just about the only similarity between the Peja they have and the 3-time All-Star that once teamed with Chris Webber in Sacramento. Stojakovic almost never attacks the basket anymore -- and he can't finish on the rare occasion he does drive -- so he's basically a glorified 3-point specialist at this point. Stojakovic has improved his defensive reads since his younger days, but with his athleticism on the wane he's still a pretty big liability at that end. The backup slot will be fought for by Julian Wright and Rasual Butler. Wright is still a work in progress, but he can defend, rebound, and was efficient (58.1 TS%) last year when he went hard to the basket. Shooting remains his weakness, however, and that's where Butler contributes... Theoretically, that is. In reality, Butler took more than half of his FGAs from 3-point land, but he shot only .331 from deep and doesn't have much else to offer on offense. Like Wright, he can defend really well, but he'll have to shoot better if he wants to permanently reclaim the backup job.
Grade: B-
Power Forward: Maybe it was a byproduct of New Orleans' breakthrough campaign, but people finally started noticing David West's play last season, and he made his first All-Star team. In truth, West had been tearing it up for a while, having notched at least 20 P/40 in each of the last 3 seasons, though he did take things to a new level in 2007-08. In addition to increased scoring, West greatly improved his defense and set a career-high in win shares, thrusting himself into the discussion of the game's top power forwards. He's been injury-prone in the past, but he stayed relatively healthy last season and will definitely be a force for the Hornets if he can keep himself in the lineup on a nightly basis. They'd better hope that happens, because the backup corps are pretty shaky. Melvin Ely is a stout defender, but he was a total, unmitigated disaster on offense last year, posting an ORtg of 91.3 on only 18.2 %Poss. Ryan Bowen is a hustling energy type who's efficient and works hard, but he's really not a solution, even as a backup. Sean Marks is also on the roster, but he's never played more than 319 minutes in a season during his 8-year NBA career. In other words, Hilton Armstrong will definitely be called into action here in addition to his duty at the 5, because this is a paper-thin position once you get beyond West.
Grade: B-
Center: Once a disappointing prep-to-pros pick with the Bulls, Tyson Chandler has found his niche in New Orleans and delivered what was easily his best NBA season in 2007-08. As usual, Chandler excelled on defense, ranking well in B/40, defensive rebound rate, and DAPM, but his offense also came of age last year. Yes, Chandler scored only 13.7 P/40, but he did it on a 63.2 TS% and an offensive rating of 121.5, thanks largely to his offensive rebounding and great pick-n-roll synergy with Chris Paul in half-court sets. He's never going to light up the scoreboard, but as long as he's an efficient offensive player, his defense makes him a very valuable commodity to the Hornets. Meanwhile, backup Hilton Armstrong wasn't exactly what you'd call "valuable" last season, compiling a terrible 91.7 ORtg thanks to an epic 26.6% turnover rate and a .498 TS%. Armstrong was better as a rookie, though, so there's a good chance he bounces back this season -- and instantly becomes the Hornets' top post option off the bench (which is still kind of sad). He needs to get stronger on defense, though, because even if his offense returns to his rookie levels, it won't be enough to sustain a long-term NBA career.
Grade: C+
Outlook: I like the Hornets plenty after last season's surprise run to the elite of the Western Conference... but I'm still reserving judgment on them. Paul will only get better, and you have to like the signing of a big-time glue guy in Posey (although the price seems a bit steep), but I think they'll take a step backwards this year -- and, yes, I know they're a combined 10-1 in the preseason and regular season as of this writing. The dreaded Plexiglas Principle can be a powerful thing, and there's a good chance that neither Stojakovic nor Chandler are as good this season as they were a year ago. That said, I'm not entirely sold on my mathematical projection that places them 4th in this division behind aging Dallas and San Antonio squads, but I can say that there will probably be a slight decline in New Orleans before they win big. But with Chris Paul leading the way, they will win big eventually. It's just a question of when, not if.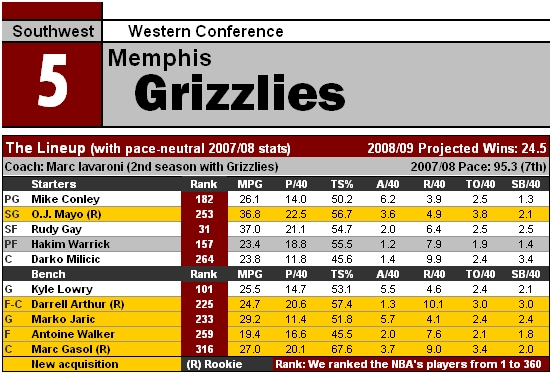 Burning Question: What positives can this young team glean from what will likely be a rough season?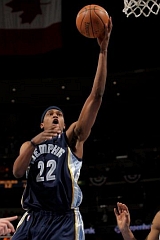 Point Guard: Mike Conley was injured and inconsistent as an NBA rookie in 2007-08, but the early returns still weren't too disappointing. Conley didn't really excel in any category -- his assist rate was low for a PG and he didn't defend well at all (two areas where he was supposed to make a difference right off the bat) -- but he was only 20 years old, and showed the quickness and athleticism you want out of a prospect. Looking at his college numbers, he's not going to be a big-time scorer or 3-point shooter, but his midrange game should come along with experience, as should his ability to penetrate and dish the rock effectively. Defensively, he's smallish but his quickness should cover a lot of flaws when he gets more adept at reading the play. Should Conley not make strides in Year 2, either Kyle Lowry or fellow NBA soph Javaris Crittenton will get the call to lead the Grizz offense. Lowry is a tough-minded combo guard who can score and defend well, but his jumper is lacking and he doesn't have the playmaking potential of Conley. Still, Lowry was the Grizzlies' top PG last season, putting together a respectable 107.6/19.4/111.1 line while suiting up for all 82 games. Crittenton had a rough rookie campaign and was dealt from the Lakers to Memphis in the Pau Gasol deal, but he's got nice size and quickness, and could be an effective scoring 1 if he slices his insanely high turnover ratio. Whatever happens, Memphis has a lot of young potential stockpiled here, so you have to think somebody is going to step up and take charge this season.
Grade: C-
Shooting Guard: Here's what O.J. Mayo can do for you: Score. A lot. He put up 22.5 P/40 in his lone season at USC, and notched 21.1 during the preseason, taking 34.4% and 27.6% of his teams' FGAs, respectively, when on the court. Unfortunately, they're not always the best shots in the world, and that leaves Mayo with underwhelming offensive efficiency numbers. Add that to his middling non-scoring stats, and you've got the recipe for one overrated player... The good news, though, is that he's young -- he turns 21 this season -- and that high-volume/low-efficiency ballers have definite real-world value (as opposed to their value in Win Score fantasyland) because they can create shots. Mayo can do that, and for that reason he will definitely have a chance to be a valuable NBA player someday. Mayo's backup is Marko Jaric, last seen bagging Adriana Lima! playing guard for the Minnesota Timberwolves. Like his fiancée, Jaric certainly has his assets -- he can play both guard positions, has great size, he's a strong defender, and he can pass the rock well. Unfortunately (and unlike his fiancée), Jaric has plenty of flaws: he can't really shoot that well, he's a true turnover machine, and his athleticism is on the wane, meaning he calls his own number less and less often. Seeing as how he's always been a low-efficiency player, this loss in usage rate could be very damaging to his offensive effectiveness. Third in the pecking order is former Clippers defensive specialist Quinton Ross; Ross is a fine wing stopper, but his surprising offensive season in '07 (109.5 ORtg) was a big fluke, as his shooting returned to its previously subterranean levels in '08. You can expect more of the same all-glove, no-hit performance from Ross this season.
Grade: C-
Small Forward: Rick Majerus may not be a big Gay guy, but Memphis fans certainly are after Rudy Gay's breakout sophomore campaign in 2007-08. Finishing second in Most Improved Player balloting, Gay established himself as the Grizzlies' top scoring threat, playing 3000 minutes in 81 games and putting up 21.1 P/40, all of which led the team. Gay's high levels of skill and athleticism make him a versatile scorer who can beat you from the outside (54.7 TS%) and off the dribble. He must get better on defense and the glass to become a true, complete superstar, but he's just 22 and should only get better as time goes by. Greg Buckner will come off the bench behind Gay; his offensive efficiency slipped at age 31 in '08, and his defense was uncharacteristically poor (especially for a guy who makes his living as a stopper), so I'm really wondering how much he has left in the tank at this point. Luckily, Jaric (whose fiancée is really hot -- or did I already mention that?) can step in and play the 3 as well, which is always nice when the alternative is Buckner.
Grade: B-
Power Forward: After a shaky rookie campaign in '06, Hakim Warrick has quietly put together a couple of solid seasons for the Grizz. Last year, he ranked in the top half of forwards in P/40, TS%, turnover rate, and rebound rate, leading to an overall solid 110.0/21.1/112.3 line. He must be better on defense and improve his court vision, however, as ranked among the worst forwards in DAPM and assist rate. Adding some bulk to his thin frame will do a world of good for his D, and you'd like to see him block more shots, but he should be entering his prime in '09 as an underrated PF. The backups here are at distinctly different points in their careers: Darrell Arthur is a rookie out of Kansas whose star is on the rise, while Antoine Walker is a creaky vet whose best days are long, long gone. Still, between the two the Grizz should be able to squeeze some kind of production out of their PF reserves -- Arthur has the offensive chops to eventually become a regular in somebody's rotation, and say what you want about ol' 'Toine, but he can still heat up on the occasion (increasingly rare as it is).
Grade: C-
Center: Now, this is going to get interesting. On the one hand, you have Darko Milicic -- everybody's favorite draft bust, but a guy whose abysmal production (90.9/17.8/108.1? Really?) supposedly still belies a great deal of talent... To which I say: I'll believe it when I see it. Then, you've got Marc Gasol, the lesser Gasol brother (heck, he's not even the best Gasol to play for Memphis in the past 10 months), who's a reasonably decent inside scorer and rebounder, but had epic turnover issues in the preseason. He has to be considered the favorite to be Memphis' starter at the 5 this season, if not simply by default. And finally there's 7'2" Hamed Haddadi from Iran, a big ol' project center who averaged 18.2 P/40 (albeit on a 46.2 TS%) in the Olympics. He's going to get some much-needed NBDL seasoning, but with Milicic likely stinking up the joint, anything can -- and will -- happen.
Grade: D
Outlook: I don't need to tell you that Memphis is in full-on rebuilding mode in 2008-09, but the potential pieces of the next Grizzlies playoff team are already in place -- Gay, Mayo, Conley, Gasol, Arthur, Warrick, etc. No, it's not going to be a pretty sight in the short-term. This young team lacks scoring and badly needs both experience and defensive discipline, which only come with age. They also lost key shooters this offseason in Mike Miller and Juan Carlos Navarro. However, they will excite the crowd at the FedEx Forum and they will showcase some serious young talent. It won't come together into a cohesive group this year, or next year, but eventually this core will emerge to at least become a solid team.
Note: Player Rankings are based on projected productivity this season. This not only takes into account a player's talent level, but also his durability, his expected playing time, and his role on the team.
2008-09 NBA Scouting Reports Series
Ad blocker interference detected!
Wikia is a free-to-use site that makes money from advertising. We have a modified experience for viewers using ad blockers

Wikia is not accessible if you've made further modifications. Remove the custom ad blocker rule(s) and the page will load as expected.