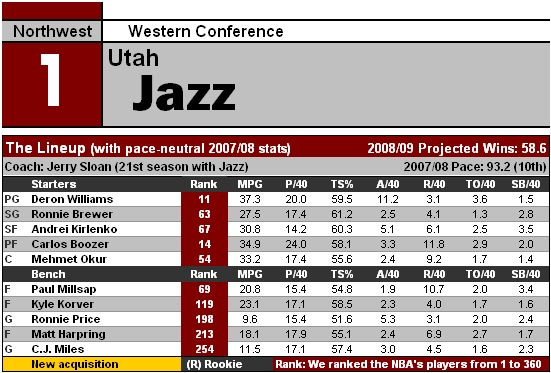 Burning Question: Is 2008-09 Utah's last hurrah with this core?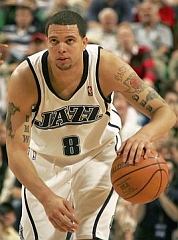 Point Guard: In the summer of 2006, the gap between Chris Paul and Deron Williams, taken 4th & 3rd in the 2005 NBA Draft respectively, was relatively wide -- Paul was coming off of a historically-great Rookie of the Year campaign, while Williams had struggled for most of his first season. Two years later, as the 2008-09 season is about to kick off, Paul is coming off an MVP-type season with the Hornets... and yet the gap between Paul and Williams is smaller than ever. That's a pretty good testament to the development of Williams, who has become one of the best PGs in the entire NBA by virtue of improved court vision & more effective forays to the basket. Along with great passing skills, Williams has good size and strength for a 1, so he's a deadly weapon when he penetrates the lane; his midrange game has come along really nicely as well, which makes him essentially unstoppable on the pick-n-roll. Williams could stand to cut down on his turnovers, but you have to think he'll improve in that area with time. Defensively, Williams is also well above average because of his size and willingness to take a charge. The total package should net Williams All-NBA honors again; he and Paul will likely battle over that coveted 1st team spot for many years to come. Youngster Ronnie Price and veteran Brevin Knight will duke it out for the backup spot behind Williams. Price took the job away from Jason Hart last season, but Knight is the more seasoned PG and a much better distributor, so Sloan could very well distribute playing time equally between the two in '09.
Grade: A
Shooting Guard: Following an underrated rookie campaign in which he shot 53% from the floor, Ronnie Brewer got even better in his 2nd season, putting up a super-efficient 124.2/16.8/106.5 line in '08. Brewer's huge ORtg is made even more amazing by the fact that the 3-pointer isn't really part of his game -- only 8% of his FGAs came from downtown and he only made 22% of them. Instead, Brewer is great in the open court and creates opportunities at the basket (whether it be dunking or drawing fouls) without turning the ball over. For the year, he shot .587 on 2-pointers and had a .405 FTA/FGA ratio, while committing TOs on only 10.1% of his possessions. He's also a very good defender, ranking 5th among qualified SGs in DAPM by virtue of his length and athleticism. His jumper could be better, but Brewer should only improve as an all-around player in the coming years. The backup is Kyle Korver, who played much better last season after a midseason trade brought him to Utah. With the 76ers, Korver was forced to create a lot of offense for a guy who's a glorified 3-point specialist; he was taking upwards of 20% of Philadelphia's shots when on the floor, which was really hurting his efficiency (he shot .396 from the field and rarely got to the line). After joining the Jazz, Korver had to create less for himself (his share of the offensive responsibility decreased & he was assisted on a higher rate of his FGs), and the difference was huge: Korver's ORtg jumped from 104.9 to 120.0 as his TS% ballooned from 51.5 (51st out of 68 SFs) to 62.9 (3rd). Having found his niche in Utah's offense, I expect Korver's play in '09 to resemble that which he showed after last season's trade. 3rd-stringer Morris Almond barely played at the NBA level as a rookie, but he was pretty good scorer (108 ORtg on 31.2 %Poss) in the D-League last year.
Grade: B
Small Forward: After a summer spent demanding -- and not getting -- a trade out of Utah, Andrei Kirilenko proceeded to have a much better (offensive) season in 2007-08. Kirilenko's share of the offense had inexplicably declined to role player-esque levels in '07, so one of the keys to AK-47's resurgence was a more aggressive approach with the ball (though it wasn't close to his 2003-2006 standard, he used more than 17% of Utah's possessions when on the floor, a big increase from 2007). Perhaps because he was more involved in the rhythm of the game, Kirilenko's shooting accuracy went up (his 60.3 TS% was a career high) and he hit the offensive glass harder while continuing to draw fouls at a high rate. Defensively, Kirilenko still has that great length, but his athleticism is starting to wane: he was below-average in DAPM for the first time, his defensive rebound rate was lower than ever, and his SB/40 of 3.5 capped a four-year decline & was the worst mark of his career. Now, he's definitely still a valuable player (especially if he keeps shooting like he did last year), but at age 27 we're seeing a bizarrely different Kirilenko than the breakout APBRmetric darling of a few years back. Veteran Matt Harpring is once again the Jazz's top forward option off the bench. A longtime favorite of Jerry Sloan, Harpring is tough and versatile; he shot exactly 50% from the floor last year (the 2nd-best mark of his career) and ranked among the top half of SFs in P/40, TS%, usage rate, assist rate, FTA/FGA ratio, and rebound rate. However, Harpring's age & physical style appeared to be wearing on him in '08, as his turnover rate exploded and he played his fewest MPG since his Orlando days. Don't be shocked, then, if C.J. Miles usurps Harpring's backup minutes sooner rather than later. After playing badly in limited PT during his first 2 seasons, Miles was a pleasant surprise last year, posting a 114.8/17.4/106.7 line in 689 minutes. The big strides came because Miles, who takes roughly 1/3 of his shots from beyond the arc, finally found his 3-point touch (.390 3P%) while maintaining his rookie-season turnover rate of 11%.
Grade: B
Power Forward: Everyone knew Carlos Boozer could play, but the question was always whether he could stay healthy long enough for it to matter. Well, after playing 155 out of a possible 164 games over the past two years, it's safe to say that Boozer has put to rest the doubts surrounding his durability once and for all. That's good news for Utah, because a healthy Boozer is one of the game's best scoring PFs, an ultra-efficient offensive player who rebounds hard and is a skilled passer as well. What kind of company is Boozer in offensively? Here is a list of the only big men (6'8" or taller) since 1970-71 to post multiple seasons with an ORtg of 112 or greater on 25+ %Poss:



Defensively, though, Boozer is awful; he was the 4th-worst PF in basketball by DAPM, and the Jazz D was a staggering 6.2 efficiency points worse with him on the floor last season. Another complaint about Boozer is the way he vanished in the playoffs last season (97 ORtg), and the fact that his own college coach, Mike Krzyzewski, kept him largely glued to the bench in Beijing didn't exactly dispel the notion that he's not a big-game player. Still, he's sure to be extra-motivated this season, because he can opt out of his contract next summer and become an unrestricted free agent. The backup here is hard-working Paul Millsap, whose 2nd NBA season was virtually a carbon copy of his 1st. Though undersized, Millsap's job is to grab as many rebounds as possible and do the proverbial "dirty work" under the basket. As such, he's no scoring machine, but he's efficient and he brings energy to the team when he's on the floor, making him a fine role player on a championship-caliber team (which, not coincidentally, is what the Jazz are).
Grade: A-
Center: Mehmet Okur isn't a conventional center by any means, but he's become a vital part of Utah's league-best offense. Instead of using his 6'11" frame to mix it up inside, Okur prefers to hang around the perimeter and spot up for jump shots, which is definitely a formula that works for him -- he knocked down nearly 39% of his threes and had a .518 eFG% on jumpers en route to a 113.6 ORtg last season (production that Okur even maintained during the playoffs despite tougher competition). The downside to Okur's style of play is that he doesn't draw fouls, rebound, or defend anywhere near as well as a center should, but his overall offensive impact is worth his shortcomings... for now. Rookie Kosta Koufos will fight Jarron Collins for the minutes as Okur's primary backup. Although he's a bit of a project right now, Koufos scored well as a freshman at Ohio State, and he improved his efficiency as the season went on. As a big guy who likes to shoot jumpers, he could eventually turn into Okur, Jr. The veteran Collins is a classic defense-first center who can't score, but you'd ideally like to see him rebound more than he did last year. Rebounding machine Kyrylo Fesenko could also see time here, though he was brutally inefficient on offense last year in the NBA and the NBDL.
Grade: C+
Outlook: After amassing 105 wins over the past two seasons, the Jazz are ready to take their place among the truly elite teams in the West. Surprisingly, they actually boasted the NBA's top offense a year ago -- checking in with an offensive rating of 113.8 -- and in Williams they possess one of the game's best young PGs, a true shining star who should only burn brighter as his game matures. But as is usually the case with Utah, the real question mark is their defense, a group which fouled much too frequently and too often allowed opponents easy shot attempts. If Andrei Kirilenko returns to his old form, it would go a long way towards improving Utah's standing on D, but they still employ too many undersized (Boozer) or unwilling (Okur) big men to make major defensive strides this season. The result should still be one of the top seeds in the conference, but grabbing home-court advantage in the playoffs is high on their list of priorities. With both Boozer & Okur both scheduled to become UFAs next summer, this may be Utah's best chance at a championship since the John Stockton/Karl Malone era ended.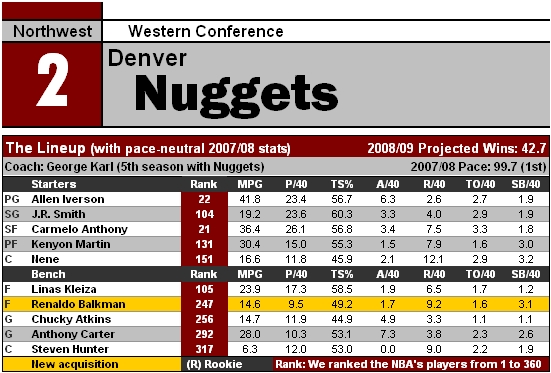 Burning Question: How badly did they damage their defense when they dumped Marcus Camby?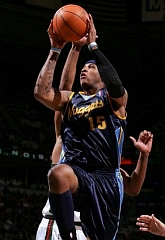 Point Guard: The Nuggets thought they were making a big upgrade at the 1 when they dealt Andre Miller to the 76ers for Allen Iverson in December 2006, but Iverson still calls his number too often to be a pure point guard, and as a result he has played just as much SG as PG. In turn, George Karl has been forced to use the likes of Anthony Carter & Chucky Atkins alongside The Answer in a diminutive backcourt which not only holds Denver back defensively, but also costs J.R. Smith playing time. It's not like AI has lost his superstar-caliber offensive abilities, though: freed up by playing a full season with fellow scorer Carmelo Anthony, Iverson picked his spots more often (his 26.6 %Poss was a career-low) and put up his best offensive efficiency mark ever (115.1). Iverson's defense was also passable, but his steals are down and his lack of height still hurts him against bigger guards, especially when he plays the 2. Carter was given the keys to Denver's 11th-ranked offense when Karl wanted a distributor, but his total lack of scoring ability (his 10.3 P/40 was 5th-worst among qualified PGs) often hampered the Nuggets efforts at that end, and his defense wasn't exactly impressive, either. A fine outside shooter, Atkins is a better offensive player than Carter (witness his 116.7 ORtg on 21.8 %Poss for Memphis in '07), but he was hurt for much of last year and will be 34 years old this season. Also, Denver will at least audition Smush Parker in camp, although was an absolute disaster with the Clippers and Heat in '08.
Grade: C+
Shooting Guard: Although he figures to spend plenty of time at the point, Iverson will certainly see his share of minutes here as well. In fact, Karl would prefer to use Iverson exclusively at SG, but playing him with Carter/Atkins only compounds the Nuggets' defensive problems. It also robs minutes from J.R. Smith, a high-caliber scorer who needs to see more playing time in 08-09. Smith is an outstanding 3-point shooter who knocked down 40.3% of his shots from deep despite taking almost two-thirds of his FGAs from out there. That means he doesn't go inside as often as a guy with his physical tools should, but he's a good finisher when he does attack the rim, and it's the threat of those drives that opens space for his long-range bombs. Smith is really bad defensively despite good size & athleticism, but it's undeniable that the Iverson-Smith backcourt pairing made for one of Denver's most successful lineups last year. Former Duke Blue Devil Dahntay Jones will get the minutes that aren't taken by either Iverson or Smith; he is a capable wing defender, but he doesn't really have much in the way of an offensive game. Former Arkansas swingman Sonny Weems could also get a look, though he's old for a prospect and wasn't overly impressive in his senior year at college.
Grade: A-
Small Forward: After starting his career with 2 relatively overrated campaigns, Carmelo Anthony is coming off what was a third consecutive dominant offensive season (109.4 ORtg/29.2 %Poss) in 2007-08. In the company of Iverson for a full season, Anthony didn't have to carry the Nuggets' full scoring load for the first time -- he went from taking 35% of Denver's shots when on the floor to a "mere" 30% -- and his shooting efficiency flourished (career-high 56.8 TS%), especially from downtown. In the past, Anthony was more of a midrange jump-shooter than a long-range bomber, but last year he shot a career-best .354 from deep while taking 11% of his FGAs from behind the line. 'Melo also took the lessened offensive workload as an opportunity to focus on rebounding; consequently, his 7.5 R/40 was easily the best of his career. Defensively, Anthony is still awful (he was the league's 3rd-worst SF by DAPM), but the Nuggets are willing to live with his lapses in exchange for his dynamic offensive abilities. Linas Kleiza will be Anthony's backup again after enjoying a bit of a breakout season in 07-08. Kleiza still settles for too many jumpers, but last year he made enough of them to rank 10th among qualified PFs in TS%. The rest of his game is fairly weak -- he doesn't rebound or defend at all -- but he's not a bad scorer to have off the bench. Ruben Patterson is also on the depth chart, and he can definitely still defend, but he was limited to 20 games with the Clippers last season and was brutal offensively when he did play, so it's questionable how much he has left in the tank at this point.
Grade: A-
Power Forward: At this time last year, there were serious doubts as to whether or not Kenyon Martin could be his old self after undergoing double microfracture surgery in 2006, but in '08 Martin seemed to have recovered as well as could be expected, and his trademark athleticism remained reasonably intact. Unsurprisingly, Martin wasn't able to rebound or create shots as well after the surgeries as before, which in turn affected his scoring (18.0 P/40 in '06 vs. 15.0 last year), but his offensive efficiency actually improved from 2006 (and it would have been even better if he hadn't forgotten how to shoot free throws during the layoff). He's also still a staunch defender whose SB/40 and DAPM numbers didn't really decline much from his pre-injury form. With lessened rebounding and scoring he may be "Kenyon Martin Lite" now, but coming off of 2 major knee surgeries, on the wrong side of 30, & with 3 years remaining on his outsized contract, Denver should be happy that Martin has even recovered enough to give them that much. Just about anybody could grab the backup spot: Renaldo Balkman, acquired from New York in a salary dump, is a classic undersized, defense-and-rebounding 4 who struggled in his 2nd NBA season; Chris Andersen, reinstated by the NBA last year after a year-long drug suspension, is theoretically an athletic energy guy, but he showed little of that in 5 games last season; journeyman Juwan Howard was profoundly bad with Dallas in '08, but he has ample experience and will get another chance; and Nick Fazekas was a college star at Nevada who showed flashes as a rookie with the Mavs & Clips last season.
Grade: C-
Center: By trading Marcus Camby to the Clippers for a $10 million trade exception, the Nuggets signaled that they were ready to take the club in a new direction that would hopefully lead to more than just another first-round exit. Trouble is, Camby's departure leaves a gaping hole in the middle of Denver's lineup -- he had been the team's lone defensive anchor for years, so it will be interesting to see how the Denver D fares in his absence. Camby's replacements have the potential to mitigate his loss, but for now it's just that: potential. None of the centers on Denver's roster have proven themselves to be the kind of game-changing defender that Camby was. Nenê will be the team's new starter, and while he's an active defender in terms of steals, blocks, & rebounds, he's foul-prone and a bit undersized for a center. On the plus side, he has consistently posted good DAPM numbers and he's added enough strength to play solid post defense against 5s, so he could potentially pick up the slack with Camby gone. He still doesn't have any offensive game away from the basket, and he's not durable at all (last year he missed all but 16 games after a scary brush with testicular cancer), but right now he's the best option Denver has in the middle. The backup will be Steven Hunter, a true 7-footer who missed most of last season with an injury as well. Hunter has a nice mix of size and athleticism, and can finish a play inside off of putbacks (.565 career FG%), but he's rail-thin and doesn't offer much defensive resistance to centers in the post. If necessary, Andersen could see time at center as well, though he's undersized and doesn't have the strength to do anything but swoop in for blocks on the help side.
Grade: D+
Outlook: The cliché surrounding Denver all of last season involved their perceived lack of defensive ability, and how that weakness was holding them back from reaching their true potential as a team. Of course, that was largely a falsehood that stemmed from the illusions of Denver's top-ranked pace factor -- in fact, on a per-possession basis, the Nuggets actually ranked 10th in defensive efficiency, and their 1.063 points allowed per opponent possession was well below the league average of 1.075. Then again, if you get the wrong impression about a team one year, maybe all you have to do is wait for the team to trade away Marcus Camby, and your originally-baseless aphorism might be true after all. Without their perpetual DPOY candidate, there's no telling how much the Nuggets' defense will decline in 2008-09... And that essentially sums up Denver's prospects for this year: if they can find a suitable replacement for Camby's defensive presence inside, they could stay afloat at .500 or slightly better; if not, things could get really ugly, really quickly for the Nuggets. They still have plenty of scoring firepower in Anthony, Iverson, Smith, etc., but those nagging defensive questions that kept cropping up last season are probably going to be more than just thoughtless clichés in 2008-09.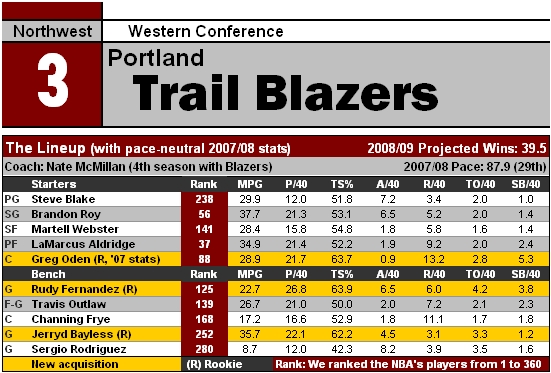 Burning Question: How quickly can the Blazers convert "potential" into "results"?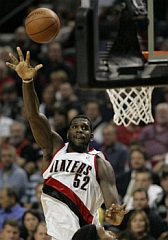 Point Guard: Steve Blake will enter the season as Portland's starting PG, but it will only be a matter of time before rookie Jerryd Bayless is given the keys to the Blazers' offense. Blake is a suitable placeholder for the time being, though, because he can distribute the ball and initiate the offense without committing a lot of turnovers. When his shooting touch from downtown is on, as it was last season, then that's just gravy for Portland -- they know that he's just as likely to shoot 28% from deep as he is to shoot 40%. Defensively, Blake is merely average because even though he hustles and has good size (6'3"), he's thin and can be manhandled by stronger guards on post-ups. Bayless will begin the year as Blake's backup, although it's a question of when, not if, the reigning summer league MVP takes over. Bayless is a combo-guard type who had an impressive freshman season at Arizona, scoring 22.8 P/40 with nice efficiency (112.5 ORtg), in addition to posting pretty solid ballhandling numbers (4.7 A/40, 1.4 assist-to-turnover ratio). The only red flag on Bayless' résumé is his weak non-scoring performance -- as Ed Weiland of HoopsAnalyst points out, the fact that Bayless averaged less than 5.0 RSB/40 (rebounds + steals + blocks per 40 minutes) as a freshman puts him in a subpar group whose best players include Mark Jackson, Kenny Smith, Travis Best, Scott Skiles, and Allan Houston. Still, his combination of scoring ability and offensive efficiency should carry him above that group, defensive shortcomings or not. Sergio Rodriguez will man the 3rd-string PG role, and after an awful 2007-08 (90.3/21.6/109.7) he's hoping to recapture the potential he showed as a successful Spanish league player at age 19.
Grade: C-
Shooting Guard: Can Brandon Roy stay healthy? That's the question that will likely define Portland's 2008-09 season, as Roy has displayed a disturbing lack of durability so far in his young career -- he's missed 33 games in two NBA seasons, plus he underwent knee surgery over the offseason -- so it's a good bet that Roy doesn't suit up for all 82 this year. When he does manage to play, though, Roy is a devastatingly versatile offensive player with great ballhandling and passing skills, in addition to his obvious flair for scoring (21.3 P/40) and decent rebounding ability for a SG. The only area in which Roy still needs work is his 3-point stroke, which is average at best and doesn't make up a big part of his game, but all in all there's not a lot to complain about when it come's to Roy's offense. On defense, Roy is fairly average; he has the tools to be better, but his SB/40 and DAPM are quite ordinary for a SG. 2007 1st-rounder Rudy Fernandez will join the Blazers as Roy's backup, and he was incredibly impressive during his final Euroleague season, scoring 26.8 P/40 on a 63.9 TS%. Regarded as a Manu Ginobili clone, the only offensive weakness in Fernandez's game is rampant turnovers, but those should go down with age and experience. The more pressing concern is how the rookie will perform on defense, since he's a slight 6'6", 185 lbs. and will likely be challenged at that end right away. Still, he has the potential to improve there, too: his 7.26 RSB/40 in Euroleague wasn't too shabby, especially for a guard.
Grade: A-
Small Forward: Once again this position is up for grabs, mainly because no one has stepped forward and claimed it as their own. Martell Webster started last year, but he continued to be little more than a glorified shooting specialist; the 21-year-old knocked down 39% of his 3-pointers (which yet again accounted for half of his FGAs), but he didn't put much pressure on the defense as a scorer and was worthless on defense. Portland is expecting a lot more out of Webster this season, since he theoretically has the physical abilities to be a versatile shooter/defender type in the mold of a James Posey or Morris Peterson. Travis Outlaw is also vying for the Blazers' starting SF slot, which by now it seems like he's been doing forever. Outlaw has the scoring chops that Webster lacks, but while that comes in handy during late-game situations where you need to create a shot, he's very inefficient and doesn't stretch the floor the same way Webster does. He's also only marginally better on defense than Webster, who has the potential to surpass Outlaw at that end this year. So in the end, it's a toss-up -- do you go with the "upside" guy (who doesn't score enough yet) in Webster, or the more proven (but dreadfully inefficient) scorer in Outlaw? The spoiler in Portland's SF situation could eventually be rookie Nicolas Batum, a rich man's Boris Diaw type, but it won't be this year: Batum seems destined for more NBDL action than NBA at this point in his development.
Grade: C
Power Forward: The past 2 seasons, LaMarcus Aldridge has found himself either playing out of position at center or suiting up at the 4 alongside lesser talents like Przybilla & Frye. But with the addition of Oden this year, Aldridge finally has a legitimate frontcourt mate who should command attention in the low-post and give him more open jump-shooting opportunities. This will only serve to make Aldridge a scarier offensive player, as the 6'11" 23-year-old emerged to become a strong scoring threat last season (21.4 P/40) and should be even more efficient in his 3rd year. Aldridge needs to get tougher inside, though -- he doesn't have much in the way of a low-post game, he's a mediocre defender, and he's a poor rebounder for his height and length. Portland is hoping that Aldridge can break out in those areas this year, similar to the way he broke out on offense in '08. Competing for the backup slot behind Aldridge will be a pair of one-hit wonders from the 2005-06 season, Channing Frye and Ike Diogu. In Portland last year, Frye bounced back somewhat from a brutal sophomore season with the Knicks, but he's essentially the poor man's Aldridge: an offensively talented jump-shooting big man who can't really be bothered with defense or rebounding. Diogu is an even more extreme case than Aldridge or Frye -- he's a terrific interior scorer who can even rebound a little, but he lacks size & athleticism, and as a result he's a ridiculously bad defensive player. If Diogu stays healthy, he could beat out Frye as the Blazers' top PF reserve, but either way you'll be getting decent offense and no defense. Since my Atlantic Preview came out, Shavlik Randolph left Philly for Portland, so I'll just refer you to the Sixers' PF section for the lowdown on his game.
Grade: B-
Center: Well, Greg Oden has finally arrived in the NBA... Now we get to see if all the hype was justified, or if his penchant for injuries will ultimately make him more like Sam Bowie than Hakeem Olajuwon. If Oden stays healthy, there's little doubt that he's going to be a high-impact player -- especially on defense -- even as a rookie. The man averaged 4.6 B/40 as a freshman at Ohio State in 2007, and was largely responsible for the Buckeyes' D leaping from 46th in the nation in '06 to 25th in '07 (they dropped back to 38th without Oden last year). His offensive skills are quite a bit less refined, and that was before he had to shake off a year's worth of rust, but his freshman scoring and efficiency numbers actually compare quite favorably to those of legendary big men like Patrick Ewing, Shaquille O'Neal, Tim Duncan, Alonzo Mourning, and Olajuwon. All of this goes to say that if he has a relatively injury-free career, there's a very good chance that Oden joins that elite group and becomes the dominant post man of his era. Oden's backup will be last year's starter, Joel Przybilla. Przybilla is a turnover machine with no offensive game whatsoever, but he's also a good role player who rebounds like a maniac, plays strong post defense, and swats away shots with abandon. While having him start was a stretch, he will be a very valuable reserve for Portland in '08, assuming Oden can stay in the lineup all year. Raef LaFrentz is still on the Blazers' roster, but he's a walking contract at this point, useful only for matching the salaries in a trade.
Grade: B-
Outlook: After a surprising 41-41 season in '08, the Blazers add Greg Oden, Jerryd Bayless, and Rudy Fernandez to an already young, developing group of talented ballplayers... So they have to be near 50 wins, right? Well, maybe. As I noted here, Portland is one of the hardest teams to get a handle on this year because there are so many wild cards in play. Roy and Oden are very obvious health risks, and they happen to be the Blazers' two most important players. Bayless is talented and could be the answer at PG, but rookies at that position usually flounder before they succeed. The situation at SF is similarly fraught with unknowns -- will Webster reach his potential, or will Outlaw seize the starting job? Meanwhile, the PF contingent has major questions regarding its toughness and defensive abilities. All told, there's plenty of talent on Portland's roster right now, but there are also just as many obstacles to converting that talent into wins. Given that they also played over their heads last year, I'd say that if you ignore the preseason hype, it would actually be a success story if the Blazers can equal their '08 record this season.
Burning Question: Are they really this much better than people think?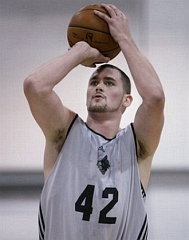 Point Guard: Anytime you start Sebastian Telfair more than 50 times in a season, you know it was probably an unsuccessful campaign, and that's the position Minnesota was in last year when Randy Foye missed 43 games at the beginning of the season, saddling the T-Wolves with one of their worst starts (8-35) ever. However, after Foye joined the lineup, Minny played much better, and they're hoping to extract a full season out of the 2006 draft's 7th overall pick in 08-09. When he's healthy, Foye is your typical combo guard, creating a lot of shots but posting mediocre assist rates. The real trouble with Foye, though, is that he adds so little beyond his scoring ability: his rebound rate, SB/40, and DAPM were all below average for the position. That means he's going to have to score a lot more than 16.3 P/40 (and be a lot more efficient than a 52.0 TS%) to be a star NBA player. The bad news? His college track record suggests that while he may eventually score more, he probably won't improve much on his current level of efficiency. The good news? Hey, at least he's better than Telfair. Of course, Telfair is still the backup here, so the T-Wolves aren't out of the woods yet. One good thing I can say is that 'Bassy's a fair passer. Too bad that's the only good thing I can say, because he basically brings nothing else to the table. Journeyman Kevin Ollie will round out the depth chart, and he can defend and run an offense.
Grade: D+
Shooting Guard: Last year Minnesota used Marko Jaric extensively at SG, but Jaric is now a member of the Memphis Grizzlies, so the job will fall to either Mike Miller or Rashad McCants, depending on how much progress SF Corey Brewer has made since '08. Miller's main strength is his shooting ability; he ranked 2nd among SGs in TS% last year and drained over 40% of his 3-pointers for the 4th straight season, which allowed Miller to score decently despite taking less than 20% of the shots when he was on the floor. Miller isn't big on attacking the basket, though, and last year he proved why -- when he did drive more, his turnover rate went through the roof (which is a shame; imagine how nice his ORtg could have been without all those zero-point possessions). Defensively, Miller is not good and he struggles particularly when forced to play SG, but he did rebound very well last year, as he seems to do in all even-numbered years. Meanwhile, McCants emerged from his knee surgery as a big-time scorer last year, putting up 22.2 P/40 (11th among SGs) on a 55.0 TS% (22nd). And yet his ORtg was still an extremely mediocre 101.9. Why? McCants turned the ball over on 17.5% of his possessions, rarely passed the ball (assist rate of 14.1), and never got to the line (a shamefully low 16.4 FTA/FGA ratio). More of a willingness to share the ball would certainly cut into his usage rate (he took a monstrous 27.1% of Minnesota's shots when on the floor), but that might not be such a bad thing, as it would reduce his turnovers, boost his assists, get other players involved, and ultimately help the team offensively. Since he's also slightly above-average on defense, McCants could really get the T-Wolves winning games (and maybe even push Miller to SF) if he would just play with a little less selfishness. Ex-76er Rodney Carney is also on the roster, and he really needs to learn to shoot and defend if he wants to carve out a long-term NBA career.
Grade: B+
Small Forward: As was mentioned above, the T-Wolves would love for Corey Brewer to make a big leap in his 2nd NBA campaign. If he doesn't, it will mean that Miller has to move over and assume the role of starting SF -- which might not be an entirely bad thing -- but it might also mean that the team wasted the 7th overall pick in the 2007 draft. Brewer was absolutely horrendous as a rookie, posting a ghastly 90.6/15.8/110.4 line which definitely casts into doubt whether he'll eventually become a good player. Brewer can certainly defend and he isn't the worst rebounding SF in the world, but practically every facet of his offensive game was bad last year: he couldn't shoot (42.9 TS%), didn't score (10.2 P/40), turned it over a bunch (on 16.4% of his possessions), rarely got to the line (22.6 FTA/FGA), and wasn't much of a passer, either (9.1 assist ratio). So let's just say that Brewer needs a ton of offensive improvement and leave it at that. Others who could figure into the mix at SF include oft-injured hustler Brian Cardinal, Ryan Gomes, Rodney Carney, or even Kevin Love (though it's doubtful). Needless to say, this position isn't exactly an area of strength for Minensota.
Grade: D-
Power Forward: Rookie Kevin Love will tentatively be the T-Wolves' starter here as long as Jefferson is pressed into duty at the 5. Love is coming off one of the top individual seasons in the NCAA last year, ranking behind only Michael Beasley in terms of dominance at PF. His lack of NBA-caliber athleticism was badly exposed against Memphis in the National Semifinal, but he has the top-flight skillset to overcome that on offense, and he was never going to be counted on to be a great defensive player anyway. If Love can be remotely NBA-ready in his first season, it would make Minnesota much more competitive than people are expecting -- and in that sense, Love is perhaps Minnesota's most important player (along with Brewer, last year's disappointing high draft pick). In short, as Love's development goes, so go the Timberwolves. Ryan Gomes and Craig Smith will be the backups at PF. Gomes, who is nothing if not steady & reliable, continued his improvement in 07-08 by posting a 111.9 ORtg on 19.2 %Poss. He's not of much use defensively, but his game is well-rounded enough to play the 3 or the 4, and he can score equally well inside and on jumpers. Smith is another undersized overachiever who's essentially a more hard-nosed but less versatile version of Gomes; at 6'7"/250+, he literally throws his weight around under the boards and even played some center last year. Longtime vet Mark Madsen will once again do his cheerleader act on the bench, and will also see very limited minutes here and at the 5.
Grade: B
Center: It's not hard to imagine Al Jefferson being one of the most dominant offensive power forwards in the NBA. He has all of the tools: great size, soft hands, a good motor, strong post moves, and a nose for loose rebounds... Trouble is, Jefferson isn't a PF -- or at least he hasn't been used as one in a while. With Boston and Minnesota lacking an inside presence in recent years, Jefferson has been forced to play undersized at center, a role he neither relishes nor performs at his best in. Primarily it hurts Jefferson on defense, where he blocks shots well but is often lost and gets easily overpowered by bigger Cs. The results weren't pretty: the T-Wolves were a staggering 12.1 points of DRtg worse when Jefferson was on the floor last year, and he ranked as the NBA's 2nd-worst defensive player by DAPM (only L.A.'s Sasha Vujacic was worse). By putting him in such a difficult defensive position, Minny has effectively canceled out Jefferson's fantastic offensive contributions (of which there are many) and set themselves back as a franchise in the process. Now, the T-Wolves know that their ideal lineup would send Jefferson to his natural 4, but then where does Love go? He's just as undersized for the center position as Jefferson, and there's no way Love can adequately defend at the 3, given his athletic limitations. So they're pretty much stuck with what they have: a logjam at forward, no true centers to be found, and Jefferson playing very much out of position at the 5. Actually, that's not entirely true: Jason Collins is a true center, but he's injured to start the year, and besides, he's far removed from the terrific defensive role player that he was on New Jersey from 2001-2005. 2nd-year man Chris Richard will fill Collins' role until he returns; in 555 minutes last year, he provided hustle and rebounding. Shot-blocking specialist Calvin Booth is also on the roster, though his contract is actually more important than he is at this point.
Grade: C+
Outlook: The Timberwolves are coming off of a brutal 22-60 season in coach Randy Wittman's second season, and they have really vexed their fanbase in recent seasons (seeing Kevin Garnett cop a ring in Celtics green must have been particularly fun for Minnesotans). However, there is cause to think that Minnesota can improve (perhaps significantly) on that mark in 08-09... First, they essentially added a lot of talent to last year's roster: Foye is back for a full season (less Telfair = more wins), plus Love and Miller are joining the fold, which should represent a big upgrade over last season's Antoine Walker/Marko Jaric pairing. And Brewer can't possibly be as bad as he was last year, right? Meanwhile, Jefferson should continue to improve (offensively, at least), so you know their offense will be better than 27th. Now, defensively, it doesn't look like the 'Wolves have much reason for optimism, but the revamped offense should be good enough to bump Minnesota's win total upwards toward 30, which should give long-suffering Timberwolves fans at least some excuse to cheer.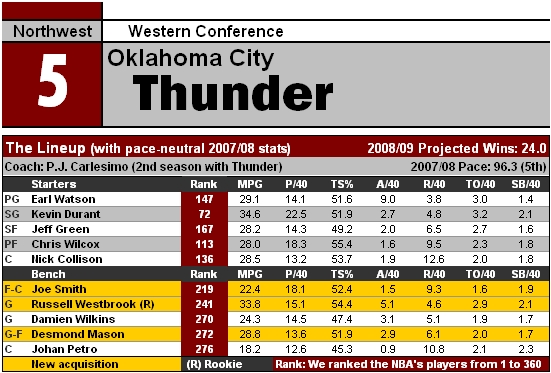 Burning Question: Will a new city, a new name, and a new look lead to a less embarrassing on-court product?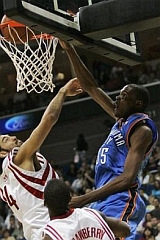 Point Guard: Earl Watson is the old hand that will guide the Thunder at first, but he will give way to fellow UCLA alum Russell Westbrook soon enough. Watson is an excellent defensive PG, though you wouldn't know it from some of the Sonics teams he played on -- Watson is one of those "Dumars-like" players whose Dean Oliver defensive rating doesn't really capture his impact on D. No matter, though -- Seattle's DRtg was 10.5 points better with Watson in '06 and Memphis' was 6.1 points better in '05. Offensively, Watson isn't anywhere near as good; he can pass the ball and is a streak shooter capable of heating up, but he also turns the ball over at an epic rate, and as a result he can be a really inefficient player when he doesn't shoot a high percentage. At 6'3" with good quickness, athleticism, and a tough-minded approach to the game, Westbrook is going to be a similarly great defender someday. Unfortunately, he also shares some of Watson's offensive shortcomings, namely substandard scoring and efficiency numbers. He's bigger and has far more upside than Watson ever did, but it's easy to see Westbrook essentially turning into a younger version of his new mentor. Not that that would necessarily be a terrible thing, but it's probably not everything you want from the 4th overall pick. Defense-first rookie Kyle Weaver and former Oklahoma State star John Lucas III round out the PG picture; Weaver needs some developmental time before being NBA-ready, while Lucas is hoping to take advantage of what's likely his final chance to secure an NBA roster spot.
Grade: C-
Shooting Guard: If you peel away the layer of media-driven hype, you'll notice that Kevin Durant's rookie season wasn't everything it was made out to be. Oh, sure, Durant scored his points (22.5 P/40, to be exact), but he was also highly inefficient in doing so (a 51.9 TS% & a 15.6 turnover rate added up to a weak 99.7 ORtg), didn't rebound a lick, and was the 3rd-worst wing defender in basketball by DAPM. The good news, though, is that Durant was only 19 years old, and that plenty of future stars struggle with their efficiency during their formative years. He showed he could create shots in a variety of ways, from a variety of locations on the court, and that's important for a young player who shoulders the burden of an entire franchise. Carmelo Anthony, as an example, was similarly inefficient during his first season, but he showed he had the tools to become a great scorer (just like Durant), and he eventually turned the corner and became one of the league's best offensive players. I have no doubt that Durant will experience a similar maturation process over the next few seasons, and that he'll eventually join Anthony as a top-flight offensive star. Damien Wilkins, on the other hand, is just a plain old inefficient player, having posted a 98.2/19.0/110.8 line last season. Billed as a tough defender who can also score, it turns out that Wilkins really can't do either very well: his 14.5 P/40 ranked 44th among qualified SGs, and he was the 4th-worst defensive SG in the NBA by DAPM.
Grade: C+
Small Forward: Like Durant, Jeff Green also suffered through a rough rookie season. Unfortunately, Green's efficiency was far worse than Durant's, and he showed nowhere near as much scoring ability as his infinitely more talented teammate. In other words, there is little that can mitigate the disaster that was Jeff Green's initial NBA campaign... Guys billed as passers coming out should have a better assist ratio than 8.2. Guys billed as ballhandlers shouldn't have 18.3 turnover rates. Guys billed as all-around prospects should have a DAPM better than -4.3. Simply put, Green was so bad as a rookie that I seriously doubt he'll ever amount to anything at the NBA level. The only saving grace was that he played better as the season went on... but that just meant he was scoring 15.6 P/40 with .424 shooting instead of 11.4 with .393. Meanwhile, former Seattle SuperSonic and Oklahoma City Hornet Desmond Mason was brought back over the offseason in a bizarre and unprecedented double-homecoming. Mason must have discovered last season that his offensive woes in 2006 & 2007 were the product of forcing too many shots, because he sliced his usage rate to 16.5% and his ORtg rose 10 points as a result. That ever-fluctuating offensive efficiency level essentially determines Mason's value as a player, because he's still a solid wing defender with good athleticism. Basically, if Mason's ORtg stays where it was during his Sonics & Bucks days, he's a good piece to have around, and if it dips to the levels of his Hornets seasons, he's one of the least valuable players in all of basketball. Obviously the Thunder are hoping for the former scenario in 2008-09, and with other offensive options on the floor, it seems like Mason should be able to stay clear of those ugly jumpers and stick to the higher-percentage looks he needs to thrive on offense.
Grade: D+
Power Forward: Chris Wilcox was a solid starter for the Sonics last year before a finger injury shut down his season in March, and now that he's healthy again, he should return to that form in 08-09 -- at least until someone calls Sam Presti regarding a trade, in which case Wilcox and his expiring contract are out the door. Wilcox keeps getting traded, but it's not that he's a particularly bad player; like I mentioned with regard to Drew Gooden, Wilcox is simply in that "trade zone" where you're good but not great, and certainly not irreplaceable. Wilcox is athletic, he can score in transition, and he can rebound, but he doesn't defend well (+/- last year be damned) and can't create in the half-court, so when his team wants to change direction, he's always one of the first to go. Sooner or later, it'll happen again this season. Joe Smith, another "trade zone" veteran, is new to the roster and will be plying his trade (a steady diet of midrange jumpers, average defense, etc.) for OKC until they deal him, too, for he also has an expiring contract. Yes, the Thunder are in full-on rebuilding mode. One player who won't be traded is rookie D.J. White from Indiana; White really stepped up as a senior after 3 disappointing seasons, posting a nice 120.3 ORtg last year. He can score and his rebounding numbers were decent, but he'll struggle on defense at this level.
Grade: C
Center: Nick Collison came off the bench in all but 35 games last year, but he'll get the first crack at the starting gig here in 08-09. Collison is undersized and doesn't do a whole lot of offensive damage, but he's reasonably efficient, and he's pretty good at doing the dirty work inside (like rebounding and defending) despite his 6'9" frame. His high-energy brand of basketball would be best suited for a 6th-man PF role, but the Sonics Thunder still have no real NBA-ready options at center, and Collison is just about the best stopgap they've got at the 5. Of course, it'd be nice if Robert Swift, Saer Sene, Johan Petro, or any of the countless other project centers on this roster ever pan out, but that's looking more and more like wishful thinking at this point... Swift still can't stay healthy, Sene is little more than the rail-thin shot-blocker he was when they drafted him in 2006, and Petro was so dreadful last year that the Sonics would have been better off giving his minutes to a replacement-level player. Seattle Oklahoma City drafted 6'11" Serge Ibaka 24th overall this summer, so expect the cycle to keep repeating even though the franchise has a new name/logo/hometown.
Grade: C-
Outlook: It finally happened. After a seemingly-endless legal entanglement between Clay Bennett and the City of Seattle, the Sonics skipped town with two years left on their KeyArena lease and landed in Oklahoma City (whom you had last seen trying to use the tragedy of Hurricane Katrina as an opportunity to steal the Hornets away from New Orleans). Now, it's official -- after 41 years of Seattle SuperSonics basketball (including a championship in 1979), the franchise is now reborn as the "Oklahoma City Thunder," complete with the world's most generic-looking logo & uniforms And, yes, they're going to struggle this year. Durant will doubtless shine brighter in his 2nd NBA season, but this is a roster that will be significantly altered for the younger, cheaper, and crappier by the time the trade deadline rolls around. GM Sam Presti has a vision for the future, of course, but things will have to get worse before they get better as he molds the franchise in his image. Defense seems to be the order of the day, and Presti has done decent job of hoarding young talent as well, but realistically the Thunder won't see the returns on those investments for several seasons. At least they'll be greeted by an enthusiastic crowd in their new home, though: it took just 5 days for the Thunder to sell out all of their season tickets for their first year in Oklahoma City. And if all goes according to Presti's plan, they'll have something on the court to cheer about in no time flat.
Note: Player Rankings are based on projected productivity this season. This not only takes into account a player's talent level, but also his durability, his expected playing time, and his role on the team.
2008-09 NBA Scouting Reports Series
Ad blocker interference detected!
Wikia is a free-to-use site that makes money from advertising. We have a modified experience for viewers using ad blockers

Wikia is not accessible if you've made further modifications. Remove the custom ad blocker rule(s) and the page will load as expected.