Burning Question: Will Detroit see more playoff success under Michael Curry than they did under Flip Saunders?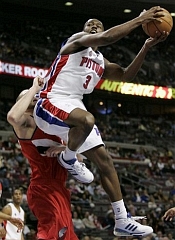 Point Guard: Detroit has the luxury of one of the best point guard situations in the Eastern Conference, just as long as Joe Dumars doesn't trade from that strength to bolster the Pistons' frontcourt. It all starts with Chauncey Billups, still one of the premier PGs in basketball for his unique combination of size, strength, shooting, passing, and general offensive efficiency (witness his sky-high 126.7 ORtg, amassed while taking on 24% of Detroit's possessions). His scoring ability (especially late in games) is unquestioned, and his capacity to break down defenses and create chances without turning the ball over is one of the main reasons that Detroit has ranked in the Top 6 offensively in each of the last 3 seasons. That said, Billups' defense slipped last season, and during the playoffs there were even whispers that perhaps he was expendable -- when Billups was injured vs. Orlando in the 2nd round, rookie backup Rodney Stuckey stepped in and the team hardly missed a beat. In reality, Stuckey is nowhere near Billups' level of efficiency yet (his ORtg was only 101.4 on 24 %Poss), but it's clear that he's going to be a very good player once he adds a consistent jumper and improves his finishing ability on drives. He already showed that he can create shots off the bounce, his passing improved as the season went on, and in terms of intangibles, Billups' big-game poise already seems to have rubbed off on the youngster. 3rd in the Pistons' PG pecking order is my former Georgia Tech classmate Will Bynum, who grabbed Curry's attention in summer league action after spending the previous 2 seasons with Maccabi Tel Aviv. Bynum washed out of Golden State in 2006 after a horrid shooting performance (45.7 TS%); he seems to have corrected that flaw in Euroleague, but he still has serious turnover issues.
Grade: A
Shooting Guard: Some people will try to tell you that Rip Hamilton had a down season in 2007-08. Don't believe them. While it's true that Hamilton's per-game scoring average dipped to 17.3, its lowest since he averaged 9.0 PPG as a rookie in 2000, that was mainly the residue of a reduction in minutes per game -- one which kept Hamilton fresh for a strong playoff campaign. On a per-minute and per-possession basis, though, Hamilton had one of his best years, setting a career high in offensive rating while shooting (55.2 TS%), passing (5.2 A/40), and handling the ball (12.5% turnover ratio) as well as ever. Hamilton's greatest asset remains his boundless energy and perpetual motion away from the ball, however -- like Reggie Miller in his prime, Rip is a master of moving without the rock, curling off screens and uncorking quick jumpers while his man is still reeling from the wearying task of chasing him all over the floor. Defensively, Hamilton was less effective last season than in years past (Detroit was actually 3.4 efficiency points better when he rode the pine, the first time in years that he's had a negative effect on their D), but he still managed to rank a respectable 22nd in defensive APM, and his quickness allowed him to handle some tough assignments in the postseason. 2nd-year man Arron Afflalo will be Hamilton's backup. Afflalo definitely exceeded expectations on defense as a rookie; looking at his college rebounding, shot-blocking, & stealing rates, you wouldn't have thought he had the strength/athleticism to be an effective NBA defender. You'd have been wrong, though, as Afflalo turned out to be one of the best defensive SGs in basketball, in addition to a strong rebounder for a guard. Predraft questions about his shooting marksmanship, on the other hand, were justified: Afflalo shot just .208 on threes and posted an ugly 49.4 TS%. Still, Afflalo is a smart player, so if he improves his stroke and continues to play tough D, he should be a solid reserve for the Pistons for years to come. Speaking of SG reserves, 38-year-old Lindsey Hunter was still not on Detroit's roster as of press time -- but it's certainly possible that he could be convinced to come back for another year as a perimeter defensive whiz.
Grade: B+
Small Forward: Fresh off a summer spent helping Team USA redeem themselves at the Beijing Olympics, Tayshaun Prince is ready to resume his role with the Pistons as one of the game's most invaluable all-around wingmen. How important has Prince been to Detroit's impressive run of 6 straight Conference Finals berths? First of all, you can count on Prince's production like a Swiss watch: between 2005 and 2008, Prince's ORtg has never fluctuated below 110 (usually using precisely 18-19 %Poss), and in the sometimes-volatile statistical +/- metric, Prince has been a negative (below-average) performer just twice in his career -- 2006 (-0.53) & his rookie season of 2003. Secondly, that mechanical consistency extends to Prince's efforts at the defensive end as well, where year in and year out he ranks among the finest defensive forwards in basketball. Over the years, it's become a bit of a cliche to show highlights of Prince's out-of-nowhere blocks -- but his real impact comes in denying shot opportunities in the first place through a mixture of quickness, smart positioning, and those famously long arms. Not that he can't reject you mercilessly if need be... Backing up Prince at the 3 is Walter Herrmann, who was acquired from the Bobcats in December as part of the Nazr Mohammed trade. Herrmann wasn't as efficient a shooter as he had been in Charlotte the year before (face it, .461 from downtown is pretty hard to repeat), but he improved his rebounding and was more active on offense than ever before once he arrived in Detroit. With a career ORtg of 114, he's definitely a valuable reserve forward to have around. Also on the roster is UAB rookie Walter Sharpe, an explosive athlete with an, um, interesting background who's probably headed to the D-League for some seasoning before seeing significant PT in the NBA. Additionally, it's not out of the question that Amir Johnson sees time at SF, if not simply as a way Curry can get him into the lineup without taking minutes away from McDyess and Maxiell.
Grade: B
Power Forward: Curry has an enviable dilemma on his hands at the 4, in terms of divvying up playing time. On the one hand, incumbent Antonio McDyess continues to give the team production as well as a strong veteran presence up front. At age 34, his offensive game is quickly slipping away (12.7 P/40 and 15.7 %Poss were his lowest marks since coming off his injury in 2004) and his defense was questionable at times last year (Detroit was 4 points of DRtg worse when he was on the floor, plus he was 14th-worst among qualified PFs in DAPM), but he is still a fine rebounder who works hard night in and night out. Because of McDyess' advanced age, though, Jason Maxiell -- who's had his MPG steadily rise in each of his 3 NBA seasons -- should see even more action under Curry this year. Maxiell isn't quite the rebounder McDyess is, but he's a more efficient scorer at this point, and he plays with a lot of energy, athleticism, and passion. He has plenty of flaws (he struggles to create shots, he's a poor passer, his D is lacking despite great shot-blocking skills, etc.), and as a 25-year-old they probably aren't going away... But even so, you can't complain about a big man who can give you a 117.5 ORtg. Speaking of high-efficiency big men, APBRmetrics favorite Amir Johnson should finally get more burn this year as well. In limited action (12.3 MPG) last season, Johnson only confirmed what those who saw him in the D-League had suspected a year earlier: the dude can play. He's similar to Maxiell in the respect that he can change a game with his athleticism, but he's younger, taller, and has more potential. Saunders kept him glued to the bench for much of last year, but after posting a 58.4 TS%, 13.0 R/40, and 5.9 SB/40 as a 20-year-old, it may be hard for Curry to resist giving the talented Johnson a chance in 2009.
Grade: B
Center: 14 years into his NBA career, Rasheed Wallace is still as tough to figure out as ever. Along with Billups, Hamilton, and Prince, 'Sheed is a major cornerstone of Detroit's recent success, a great two-way presence who brings intensity and versatility to the Pistons' frontcourt. Then again, he's also a frequent whiner whose narcissistic on-court behavior (and, increasingly, off-court behavior: rumor had it over the summer that he wanted out of Detroit) hurts his team -- plus, you get the feeling that he doesn't bring everything he can to the table every night. But it was also no secret that Wallace never got along with Flip Saunders, and he seems happy with the hiring of Curry. If it does turn out that 'Sheed is satisfied, he'll stay productive in the role he's settled into (great interior D, slightly-above-average offensive efficiency on 18-20 %Poss) and be an asset to Detroit yet again. And if not? Well, the Pistons would rather not consider that possibility... Coming off the bench will be the much-maligned Kwame Brown, recently picked up for the not-so-bargain price of $8 million over 2 years. A former #1 overall pick, Brown has tantalized but ultimately infuriated the Wizards, Lakers, and Grizzlies, so it was a bit of a head-scratcher for Dumars to give him yet another chance for so much money and so many years (yes, 2 years for Brown is a long time). After a mildly encouraging 2006-07 season, Brown turned in another dud in '08, shooting poorly again (49.7 TS%) while frustrating with his lack of offensive skills and inconsistent efforts on the boards. At least Brown can defend, though: he was above-average in DAPM, and L.A. was 4.4 points of defensive efficiency better when he was on the court. But is a glorified defensive-specialist backup center really worth $4 million a year? Also in the middle will be Cheikh Samb, a 7-footer from Senegal who spent most of last year with Fort Wayne of the NBDL. Needless to say, Samb can certainly block some shots, but he's still very raw and needs to get stronger. He didn't play badly in the D-League, though, and could see some actual NBA action this year.
Grade: B
Outlook: Following the Pistons' loss to the Celtics in the Eastern Conference Finals (their 3rd straight defeat at the doorstep of the NBA Finals), Detroit GM Joe Dumars vowed to make big changes to an organization he felt had stagnated since back-to-back Finals berths in 2004 and 2005. So he fired Flip Saunders -- despite the fact that he delivered a division title in each of his 3 seasons as coach -- and hired former Piston player and assistant coach Michael Curry as his replacement -- despite the fact that Curry had no prior head coaching experience. Then he signed Brown, a failed prospect who had washed out with 3 other clubs, to be a backup for an above-market-value contract... So, uh, tell me again where the major shake-up is that will put them over the hump? Not that drastic changes were really necessary; this team has averaged 55 wins a season since 2001-02, and they've done it with 3 different coaches to boot. So even if Curry proves unprepared as a rookie head coach, Detroit is still loaded with talent (especially if Stuckey makes "The Leap") and there's little reason to expect them to decline significantly from last year's 59-win form. Will it be enough to get them back to the Finals, though?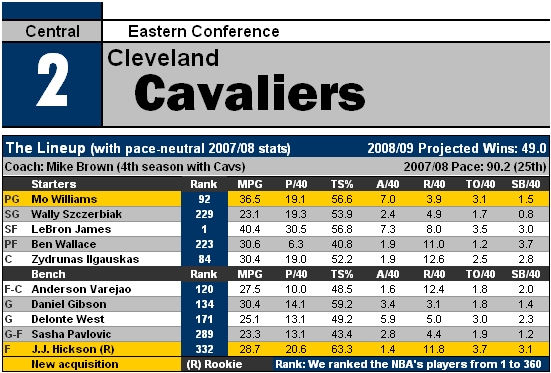 Burning Question: Is new PG Mo Williams the final piece that puts LeBron's kingdom over the top?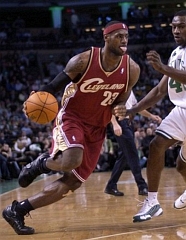 Point Guard: In the recently-acquired Mo Williams, the Cavs feel they finally have the perfect backcourt complement for LeBron James. Of course, they felt the same way about Larry Hughes, and we all know how that worked out... The major difference, though, is that Williams can knock down open jumpers (career .359 3P% and 52.1 TS%, vs. Hughes' .298 and 48.7 marks) and that he has shown himself to be a far more willing passer, in addition to the capable scorer he was (out of necessity) last year in Milwaukee. That means James will be free to play away from the ball more than ever, and it can only help Cleveland's offense, which at times devolved into "4 guys standing around and watching LeBron dribble" last season. Unfortunately, Williams is just about the only pass-first guard on the roster (other than the all-but-finished Eric Snow). Backup Daniel Gibson is fine as a pure shooter (.440 3P%, 116.3 ORtg), but he's not a playmaker by any means -- and neither is Delonte West, the Cavs' other reserve option at PG. So when either of them shares the floor with James, LBJ will once again have to play "point forward", a formula which can take Cleveland only so far. Snow is still technically on the roster, of course, but he's 35 and coming off a major knee injury which completely destroyed his already-meager offensive game.
Grade: B+
Shooting Guard: Just like the Cavs' backup point guard slot, this position is wide open. Wally Szczerbiak and Delonte West, the big pickups from Seattle in last year's 3-team trade, will compete for the starting slot, although mainstay Sasha Pavlovic should also figure into the rotation. Szczerbiak appears to have peaked early and is no longer the player he was in his Minnesota heyday, but he's a proven scorer whose deadly shooting (57.2 career TS%) is especially useful for spreading the floor & opening up room for James' drives. West, on the other hand, admirably played the point upon his arrival in Cleveland, but the addition of Williams tentatively pushes him over to shooting guard. He's a versatile player who can do a little bit of everything, but his skillset is mismatched with his 6'3" frame, making him a man without a natural position. Even though he's starting the season at SG, odds are that West will see more time off the bench at PG if Szczerbiak rediscovers his stroke. Then there's Pavlovic, who lost a significant portion of time to holdout & injury (and then shot a ridiculously low .362 from the field upon his return) a year ago. If he can shoot like he did during Cleveland's Finals run in '07 (.405 3P%), he provides another option to stretch the floor and give James space to operate... but with such a suddenly-crowded wing situation, he certainly won't be the starter by default anymore.
Grade: B-
Small Forward: While Cleveland failed to make a return trip to the Finals last year, LeBron James enjoyed arguably his finest season yet, capturing his first scoring crown while posting a positively Jordanesque 116.3/33.6/103.6 stat line. With the exception of perhaps Kobe Bryant, King James is the most unstoppable offensive player in the game, a freakish athletic specimen who combines the speed of a sprinter with the size & strength of a power forward and the court vision of a top PG. Not coincidentally, no single player can guard either James or Bryant... but in the playoffs, the dominant Boston Celtics defense collectively managed to slow down both superstars and defeat their respective teams en route to an NBA title. That, and the Spurs' similar tactics a year earlier, served to expose the one persistent flaw in LBJ's game: his lack of a reliable jump shot. James shot just .315 from downtown in '08 (with a .399 eFG% on jumpers), and Boston was determined to contain LeBron's driving, forcing him to shoot Js. Consequently, aside from his occasional disregard for human life, he shot just .355 from the floor and .231 from 3-point land in the series loss. But LeBron has made it a point to improve his game every offseason, and he did manage to knock down 46.4% of his treys (albeit from the short arc) in Beijing, so don't be surprised if he shows up with an improved long-range shot for 2009. The prospect of which should scare the living bejeezus out of every other team in the league... For the 7 or so minutes per game that LeBron needs a breather, either Pavlovic or Tarence Kinsey can handle backup SF duties. After a surprisingly solid rookie campaign for Memphis in '07, Kinsey was unceremoniously waived by the Grizzlies last December and eventually landed in Euroleague with Turkey's Fenerbahce Ulker. He's athletic and could someday become a good defensive stopper on the wing, but to do that he's going to need to put a lot more effort into rebounding and blocking shots.
Grade: A
Power Forward: Well, Cavs fans, at least you don't have Drew Gooden to kick around anymore. But after jettisoning the defensively-challenged Gooden at the trade deadline, the Cavs now have the opposite problem at PF: where's the offense going to come from? I mean, with James, Williams, & co. around its not like they need another player to command the ball on offense, but at the same time it'd be nice to have a big man other than Zydrunas Ilgauskas who can actually make a shot... right? Case in point: starter Ben Wallace has never been expected to be an offensive factor, but at least during his Detroit days he made the most of his chances (he shot .474 from the floor as a Piston); last year his FG% was just .392. Same with backup Lorenzen Wright: at his peak he could at least convert some possessions into points (through 2005-06 his career ORtg was 102 -- not great, but not awful for a journeyman big man), but in recent seasons his efficiency has slipped badly (93.5 ORtg in '07 + '08). And 3rd-string rookie J.J. Hickson posted an ORtg of 107.3 as a freshman in the ACC last year -- which bodes well if you're coming back for your sophomore year, but not so much if you're making the transition to the NBA. In other words, it's fine that the Cavs aren't expecting many offensive trips to end with their PFs shooting (in fact, that's a great strategy with LBJ, Williams, and Ilgauskas figuring to use nearly 80% of the possessions when they're on the floor). What's not fine is that their PF contingent can't be counted on to convert what few opportunities come their way. The good news is that they could offset their awful offense by playing tough D; Wallace, while aging rapidly, is still a force, and Wright can defend a little as well. But given what little they bring to the table at the other end of the floor, they're going to need every bit of defensive effort they can muster to be of use to LeBron and friends.
Grade: C
Center: Ol' steady, reliable Zydrunas Ilgauskas is back in Cleveland for his 11th year with the club, though at age 33 you have to wonder how much he has left in the tank. There's no complaining about Big Z's production (especially in a league so devoid of legit pivots), but aside from rebounding, his 2008 numbers were down across the board when compared to those of 2 years ago. Now, that's still a pretty good deal for $11 million/year, assuming he keeps it up -- plus, he's got a well-rounded overall skillset and he can score in the post, which is always nice for keeping defenses honest with regard to James. Given his injury history, though, he's a pretty old 33, so Cleveland would be well served to prepare for the day when Big Z can no longer bring 14 points and 9 boards a night. That's why Anderson Varejao is slotted to play more center this year after spending the majority of his time at PF in '08. Varejao is undersized at 6'10" but he still rebounds well and is incredibly active at both ends of the court. He's coming off a disappointing 2007-08 campaign (regular season and playoff), but the Cavs are willing to write that off to his preseason holdout. If "Sideshow Bob" can come up with one of his typical pre-2008 seasons (113-ish ORtg, 14 %Poss, plus solid interior defense and, um, great flopping skills), Cleveland will be happy and Varejao will see plenty of time at the 4 and the 5. Also on the depth chart at center is 6'11" Dwayne Jones, your typical offense-challenged big man (albeit one who did well in the non-scoring aspects of the game last year), plus Wright if Brown finds him in a favorable matchup.
Grade: B+
Outlook: So Cleveland finally has their point guard in Williams, a player worthy of patrolling the backcourt alongside James. And GM Danny Ferry seems to have finally built the team he wants around LeBron's transcendent talent. But will it be enough to take them to the next level? Full seasons worth of Wallace and Varejao can only make them better defensively, and there's no doubt their offense will improve with Williams' addition. But the key question is how much their scoring will improve in the playoffs, against a strong opponent hell-bent on stopping James. In each of the past 3 seasons, Cleveland has been eliminated by an elite defensive squad -- and in each series the Cavs have failed to prove that their one-man show routine can stand up against top competition. With Williams in the mix, LeBron will be able to operate more freely on offense, but whether or not Cleveland takes it to the next level largely hinges on the continued development of James' jumper. If he can consistently make teams like the Celtics and Spurs pay for sagging off and forcing him to shoot, it could be just what the Cavaliers need to finally capture their long-awaited championship. Remember, the Doomsday Clock is ticking...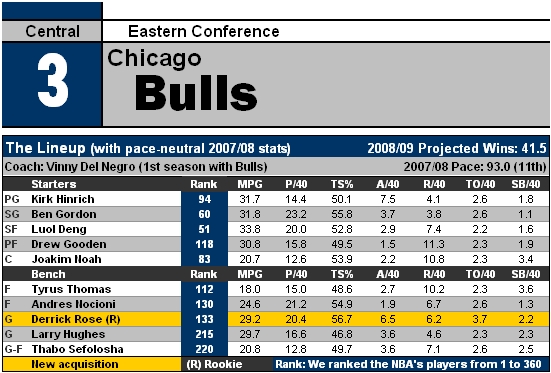 Burning Question: Can rookie Derrick Rose help Chicago return to their old form?
Point Guard: Like most of his fellow Bulls, Kirk Hinrich just wasn't feeling it last year. After four seasons of steady progress, going into 2007-08 it seemed like he was on the brink of joining the game's elite PGs -- but instead, his shooting touch evaporated, he turned the ball over more than he had since his rookie year, and he penetrated the lane less than ever. It was a mysterious decline for a player many were finally starting to appreciate, and at age 28, the fear is that you've already seen the best "Captain Kirk" has to offer. That was Chicago's fear, at least; otherwise they wouldn't have used their gift-from-the-basketball-gods #1 pick (the Bulls had a 50-to-1 shot at winning the lottery) on another point guard, Memphis' Derrick Rose. Rose showcased his immense abilities in the NCAA Tournament, leading the Tigers to the national title game and coming within a Mario Chalmers miracle of a 39-1 championship season. And I don't throw this around lightly, but Rose is a Deron Williams-esque talent, a game-changer who blends the best skills of both PGs and SGs with phenomenal athleticism and versatility. The question now becomes, what does Chicago do with their 2 point guards? While Hinrich's reputation was tarnished when he slipped last season, he's still a quality player; at the same time, you can't exactly justify leaving an NBA-ready talent like Rose on the bench (unless there's lingering concern about the tendonitis in his knee). One solution is to use a Hinrich/Ben Gordon backcourt early while Rose gets healthy and/or acclimated to the NBA; then, as the season goes on, you might see more and more of a Rose/Hinrich duo in the lineup when the size matchup isn't a huge factor. Larry Hughes also has experience at the point, so he could reluctantly play here if necessary.
Grade: B+
Shooting Guard: The big question facing the Bulls here was whether or not they would be able to hammer out some kind of contract agreement with Ben Gordon, who flatly turned down multiple offers over the summer. The good news for Chicago is that Gordon finally relented in early October and accepted the team's qualifying offer; the bad news is that it will likely keep him in a Bulls uniform for only one more year. When Gordon plays, he scores a lot of points relatively efficiently because he can beat you with his jumper from almost anywhere on the court; he knocked down 41% of his threes last year, and hit a respectable 44% of his long 2-point J's despite a down shooting year. Of course, that's essentially all Gordon can do -- he doesn't rebound and his defense is terrible -- so it takes a lot of hubris to turn down almost $10 million/year for 6 years because you think it's a low-ball offer for a player of your stature. Behind Gordon, Chicago will use the well-traveled Larry Hughes off the bench at the 2. Hughes began 07-08 in Cleveland, but was dealt at midseason in a move most insiders saw coming a mile away. Billed as the second scorer needed to complement LeBron James, Hughes' slashing style never meshed with the Cavs offense, and it was best for both parties that they part ways. Not that Hughes was any better once he arrived in Chicago; other than a slight increase in assists, his numbers stayed essentially the same after the trade. It's probably asking far too much for Hughes to rediscover the form he showed for the Wizards in 2005, but Chicago will be happy if he can replicate some of Gordon's scoring while the latter is on the bench, since the Bulls are theoretically a better fit for his game than the Cavaliers were. If Hughes fails to impress, Thabo Sefolosha could see his role expand. As an NBA sophomore, Sefolosha improved markedly from a horrid rookie season, but he still has a long way to go before he can be a viable starter in this league. Unlike some of Chicago's other guards, he has great size (6'7") and is a dynamic rebounder & defender, but once again he shot the ball poorly (.462 eFG%), was a turnover machine, and was maddeningly inconsistent. The bottom line: assuming Gordon stays for only one more season and Hughes continues to disappoint, the Bulls are going to need Sefolosha to make significant offensive strides if they expect to return to their 2006-07 form.
Grade: C-
Small Forward: You can't exactly blame Chicago for expecting an All-Star-type breakout season from Luol Deng last year. Merely 21 years old in 2006-07, Deng gave all the indications of future superstardom: he matured greatly on offense, increasing his efficiency despite an expanded role, and he continued to show up every night, playing solid D as well. Going into 2008, both Deng and the Bulls seemed primed for big campaigns... But needless to say, neither materialized. Instead of taking his place among the league's star forwards, Deng missed 19 games due to injuries and wasn't anywhere near as effective as he had been in '07 when he did suit up. While he finally added a decent 3-point shot to his game (.364 3P%, as opposed to .143 in '07), Deng's midrange shooting suffered with an increase in offensive responsibility, his ability to finish at the rim was greatly diminished (.606 eFG% on inside shots in '08, vs. .662 in '07), and his defensive effectiveness vanished into thin air. Yet even after such a disappointing season, the market dictated that Chicago give Deng a 6-year, $71 million contract over the summer, banking on the fact that he's still young (he'll be 23 in 2009) and that his 2007-08 wasn't awful so much as it was just a letdown. Still, it remains to be seen if Deng can bounce back from it and reclaim his All-Star career path, or if 2007 was about as good as you're going to get from him going forward. Chicago's sixth man is Andres Nocioni, one of those rare Bulls who didn't significantly decline last year. Of course, that's probably because he wasn't exactly great to begin with: other than a solid 3-point stroke (which he falls in love with too often) and a general willingness to play with crazed abandon (which leads to a massive amount of fouls), Nocioni is an ineffective defender (what's his natural position?) whose offensive game consists of little more than shooting a jumper the instant he receives the ball. Still, he's an energy guy who can give you minutes at both forward slots, which automatically separates him from Chicago's other energy guys (Tyrus Thomas, Joakim Noah) who can't play the 3. Demetris Nichols is on the roster as well; he showed some scoring ability in the D-League last season, but he was also very inefficient and his 3-point shooting was not what people thought it would be from watching his final year at Syracuse.
Grade: B
Power Forward: Drew Gooden has certainly bounced around the NBA since joining the league in 2002-03, as the Bulls are already the fourth team of his 6-year career. And it's easy to see why his name always surfaces in trade rumors: Gooden is a somewhat useful offensive player who can also rebound, but he's also a bad defender whose basketball I.Q. isn't very high. In other words, he pretty much epitomizes what one APBRmetrics poster calls "The Trade Zone", the group of NBA players who are slightly above-average but by no means untouchable. These guys are often viewed as replaceable by their own front offices, but at the same time they're just desirable enough to attract offers from other teams. The fact that Gooden possesses suspect intangibles -- and a manageable contract thus far -- has only served to make him more tradeable over the course of his career. Wherever he goes, though, Gooden will keep doing what he's always done: rebounding well, scoring some points on putbacks & midrange jumpers, and giving up just as much production to his man at the other end. At the same time, Chicago figures to run more once Rose gets settled in at the point, and that could mean an increase in playing time for Tyrus Thomas. Thomas is an explosive athlete and is already a staunch defender, but he's still struggling to find an offensive niche at the NBA level. Don't be surprised if a few open-court opportunities in transition every night are just what Thomas needs to kick-start his offensive game. Filling out the depth chart is Cedric Simmons, a defense-and-rebounding type who has been just about as bad an offensive player as possible so far in his short NBA career. Now, his D-League numbers were better... but then again, that was against D-League competition at age 22. So until Simmons proves he can do anything offensively in the NBA, he'll never even be able to stick around in a reserve role.
Grade: C
Center: The Bulls thought they had this position set for at least four years when they signed Ben Wallace in the summer of 2006, but Wallace couldn't even make it through half of that lucrative contract before being dealt to Cleveland at the deadline last season. Now the Bulls are left with second-year ex-Florida Gator Joakim Noah as their starting center, even though his skinny frame would probably be better suited to the 4 at this point. That said, Noah wasn't exactly a defensive liability as a rookie -- Chicago's D was 4.6 efficiency points better when he was on the floor, and he proved himself a capable shot-blocker and an active presence at that end all year long (3.4 SB/40). Offensively, Noah wasn't a factor except on the glass for putbacks, but he did manage a 53.9 TS% and showed some nice passing and ballhandling skills for a big guy. Look for him to improve as a player (and mature more as a person) in his second NBA campaign. The other center on Chicago's roster is Aaron Gray, another second-year player out of Pitt. Gray is sort of the anti-Noah: he doesn't have much athleticism and could stand to lose some weight, but he takes a much more active role in the offense because he has a post-up game and can score inside (17.0 P/40). Noah and Gray should each see a lot of improvement in their second NBA season together, but this figures to be one of the weakest group of centers in the league.
Grade: D+
Outlook: It's been a whirlwind year for basketball in the Windy City. Last season, the expectations were sky-high for Chicago, and they not only failed to meet them but were an absolute disaster, finishing 33-49 and 4th in the Central. Fortunes can change quickly in the NBA, though, and the Bulls were the beneficiaries of some unprecedented luck in the draft lottery, securing the #1 overall pick despite 50-to-1 odds against them. Of course, Chicago's selection of Rose over Michael Beasley with that pick will forever define the 2008 draft -- especially if one fails and the other flourishes. But forget about the long-term right now and think about the present for this franchise, because the addition of Rose puts the Bulls in an interesting place going into 2008-09. Now that Gordon finally re-signed, they have gone from this opening-night lineup (a team expected to contend for the Central crown, I might add) to one with Rose in the mix at PG, Noah upgrading over Wallace at C, Gooden upgrading over Thomas at PF, and Hughes coming off the bench to go with improving versions of Thomas, Sefolosha, and Gray. Yes, certain Bulls have lost a lot of shine since '07 (cough, Hinrich, Deng, etc.), and they could easily be a sub-.500 team again this year despite the improvements... But I'd be lying if I didn't see a scenario in which the Bulls bounce back in '08 with a serious vengeance. While it probably won't be enough to contend for the division, a return to the playoffs after a down year is absolutely possible for this group.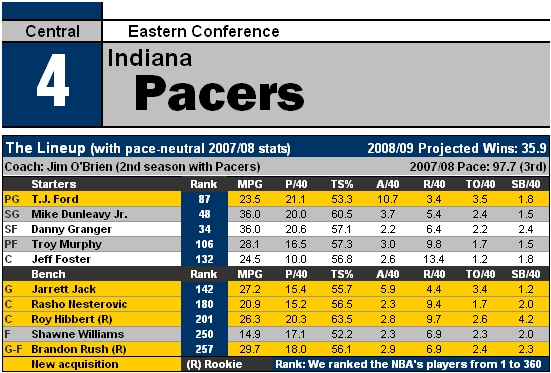 Burning Question: Are the Pacers a playoff team again?
Point Guard: For the first time since 2000-01, the Pacers are going into a season without injury-prone Jamaal Tinsley as their starting PG. Sure, Tinsley's still technically on the roster right now, but he'll either be traded or bought out before opening day -- leaving newcomer T.J. Ford, acquired from Toronto for injury-prone Jermaine O'Neal, as Indy's new floor general. Not that Ford isn't without his own lengthy history of injuries: he sat out 31 games last year after being clotheslined by Al Horford, and has missed extensive time in the past due to of a congenital neck condition called spinal stenosis. But hot damn, is he fast! And quick! And -- last year at least -- a pretty efficient offensive player, notching 21 P/40 on a 53.3 TS%. He still lacks 3-point range (.294 in '08) and his short stature can be exploited by bigger guards, but he should be a big upgrade for an Indiana team that struggled to find an answer at the point last year. Another upgrade is the addition of Jarrett Jack as Ford's backup. Jack shared PG duties with Steve Blake in Portland last year (maybe not the greatest thing to put on your resume), but he's a quality reserve who can shoot a little and whose size makes him a good defensive option off the bench. With the additions of Ford and Jack, holdover Travis Diener could be the odd man out. Being short and defensively challenged, Diener's main selling point is his pure shooting ability, but he slipped to a 49.4 TS% last year and will definitely see a reduction in playing time in 2008-09.
Grade: C+
Shooting Guard: It happened under the radar, but Mike Dunleavy Jr. finally developed into a very solid offensive player over the past few years. The Duke product especially blossomed during his first full year in Indiana, producing an offensive rating of 114.6 while shouldering 21% of the Pacers' offensive burden when on the floor. That's largely because his long-distance stroke finally arrived under new coach Jim O'Brien -- he shot .424 on threes, improved his FT%, and ended up with a TS% of 60.5, good for 6th among qualified SGs. With a nice combination of size (6'9"), scoring, shooting, and passing abilities, Dunleavy has become one of the league's tougher matchups at SG for opposing defenses. Unfortunately for Dunleavy, though, that mismatch runs both ways -- his height makes him a defensive liability when chasing around smaller guards on the perimeter. However, it's something the Pacers must live with: while the 3 is a more natural fit for Dunleavy, Granger has that position locked up and Dunleavy is too slight to play the 4. Meanwhile, after jettisoning his brother Kareem over the offseason, the Pacers drafted Brandon Rush to back up Dunleavy at shooting guard. Rush is a do-it-all type who should make his mark as a defender & 3-point marksman immediately, but his ceiling isn't very high (he's already 23) and I don't know if he has the scoring chops to be anything more than a role player at the NBA level. Battling Rush for minutes will be Marquis Daniels, who has largely confounded since breaking out as a rookie with Dallas in 2003-04. Sure, he can explode for the occasional 20-point night, but injuries and rapidly-declining offensive efficiency have stalled his development to the point that his best season (by far) came four years ago at age 23. At least Daniels improved on defense last year, though -- the Pacers were nearly 2 points of DRtg better when he was on the floor in 2008.
Grade: B+
Small Forward: Like Dunleavy, Danny Granger kept improving in 2007-08, to the point that he has become one of the top offensive forwards in all of basketball. After setting a career-high in TS% with 57.3 in '07, Granger maintained that level of efficiency in '08 while taking on a much larger role in the Pacers' offense (he took nearly 24% of the shots when on the floor). The result was a big uptick in scoring (from 16.3 P/40 to 20.6) that made he and Dunleavy one of the more underrated scoring duos in the league. Unfortunately, Granger doesn't contribute anywhere near as much in the non-scoring aspects of the game, as his rebounding is merely average and his defense is rather abysmal. Granger's backup is Shawne Williams, who might develop into a decent player if he could just stop running afoul of the law. When he's not harboring murder suspects, Williams is athletic, he's improving defensively, and he has some scoring instincts -- although it remains to be seen if his shooting stroke as a rookie (.365 3P%, .528 eFG%) was a fluke. Also in the mix here and at SG is Stephen Graham, brother of Raptors bust Joey. Graham hasn't ever seen major PT, and up until last season he had never given teams a reason to change that. In 2008, though, Williams made the absolute most of his 128 minutes, scoring 25.7 P/40 on a Hoiberg-esque 66.9 TS%. Naturally, the likelihood of Graham shooting 59% from the floor (including 50% on threes) again is rather low, and his body of work prior to '08 isn't even replacement-level fare. Still, he could work his way into the rotation if Daniels continues to disappoint and Williams' legal problems recur. Old favorite Austin Croshere rounds out the depth chart; his shooting ability is still intact and could earn him a roster spot.
Grade: B
Power Forward: Although GM Larry Bird spent the offseason looking for an upgrade here, Troy Murphy is still Indiana's starting PF. Not that Murphy is a bad player, mind you; there aren't too many skilled 6'11" guys out there who can rebound, shoot the rock, and play both the 4 & the 5 as well as Murphy can. Murphy has some major defensive drawbacks, though, and they can no longer be covered by the presence of Jermaine O'Neal on the help side. O'Brien loves Murphy's ability to knock down 3s, but he also preaches D and would ideally like to improve Indy's 15th-place finish in defensive efficiency -- a task made tougher without JO in the middle. The bench could provide more defensive resistance, though, and they might be able to do it without even having to move Jeff Foster over from center. Maceo Baston, re-acquired from Toronto in the O'Neal-Ford swap, is a strong shot-blocker and a solid defender at PF despite being undersized at 6'9". If he can maintain even a fraction of his impressive offensive efficiency (career ORtg of 116 in 614 minutes) over a full season's worth of work while still playing tough D, it would be a huge coup for O'Brien and the Pacers. Also on the roster is Josh McRoberts, who was acquired from Portland via trade this summer. McRoberts didn't play much NBA ball as a rookie, and he didn't exactly light the D-League on fire either, but he still possesses an intriguing blend of size and skill.
Grade: C+
Center: Even though they face life without O'Neal for the first time since 2000, the Pacers have some solid (if unspectacular) options here. Underrated 7-footer Rasho Nesterovic was acquired from Toronto as part of the O'Neal trade, and he gives the Pacers a decent (if somewhat soft) big man who can make midrange jumpers and defend inside. He won't help Indiana's rebounding problems, though -- in typical fashion, he ranked just 46th out of 58 qualified centers in rebound rate last year. Jeff Foster, on the other hand, is a rebounding machine, ranking 9th among centers by pulling down 19.3% of available misses when he was on the court. Before a shot goes up, Foster isn't an offensive factor by any means (he took just 11.2% of Indy's shots while on the floor, and that was his highest usage rate in 3 years). He's ferocious on the offensive glass, though, and the putbacks he generates translate to a high offensive efficiency when he does finish off a possession (his 125.6 ORtg in '08 is almost unheard of for a non-3-point-shooter). Plus, he's a sturdy interior defender who was above-average in DAPM a year ago. Rounding out the depth chart at center is Roy Hibbert, an imposing 7'2" rookie out of Georgetown who looks to have the necessary polish to contribute immediately despite his draft stock falling in 2007-08. Hibbert's reputation didn't drop just because the Hoyas failed to replicate their Final Four run of a year earlier; his individual numbers were down from his awesome '07 performance as well. But even though Hibbert didn't take his game to stratospheric levels as a senior, his stats were still impressive: 21.3 P/40 on .605 shooting, plus 10.2 R/40 and 3.5 B/40. Senioritis or not, you have to think that a guy with that much size and seasoning at the NCAA level will be of instant help to a team like the Pacers off of the bench.
Grade: B-
Outlook: It seems like an eternity ago, but going into the 2004-05 season the Pacers looked like a future fixture in the NBA Finals. They were coming off of a 61-win season under coach Rick Carlisle, they had one of the league's strongest defenses, and they boasted an impressive young core of 20-somethings who would only keep improving in the years that followed. Remember that? Yeah? Then this happened... Only now are the Pacers finally beginning to recover from the fallout. Everyone but Jeff Foster is gone from that team, replaced with lesser parts in the interim while Bird searches for a new formula to bring the Pacers success: Tinsley is out, Ford is in; O'Neal is history, while Hibbert is the future. Dunleavy and Granger carry what used to be a load shared by Artest and Al Harrington; Rush wants Reggie Miller's old role as clutch shooter nonpareil. The result is but a mere shadow of that dominant '05 Pacers team that never was -- but at least it's recognizable as such. With the East's playoff underbelly as soft as ever, there's no reason that the Pacers can't sneak into the mix and maybe even play Atlanta Hawks to someone's Boston Celtics. Nothing can make up for the franchise's colossal missed opportunity four years ago, but at least now the Pacers are finally moving in the right direction again.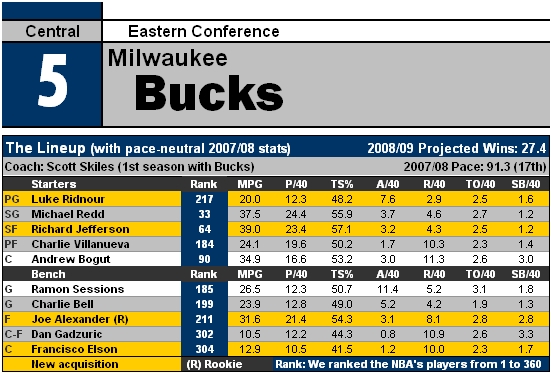 Burning Question: Will Scott Skiles bring some much-needed defense and toughness to Milwaukee?
Point Guard: There will be a changing of the (point) guard for Milwaukee in 2008-09, as Maurice Williams was dealt to Cleveland in a 3-team trade which also involved the Thunder. New to Milwaukee via that swap is Luke Ridnour, and he almost becomes the Bucks' opening-day starter at PG by default. New coach Scott Skiles won't make it easy on him, though, as Skiles is a defensive-minded coach and the 167-pound Ridnour is, um, not exactly known for his tough D. In fact, nowadays Ridnour isn't really known for his offense, either -- after two solid seasons in 2005 & 2006, Ridnour's turnovers have ballooned, his assists are down, and last year his FG% fell to an unacceptably low .399. But there is good news for Ridnour: it's entirely up to him whether or not he wants to reclaim his status as a starting-caliber point guard, because the Bucks' other options aren't going to set the world on fire. I mean, sure, Ramon Sessions was brilliant at times in 17 games down the stretch last year (he recorded double-digit assists in each of the season's final 5 games, including a stunning 24-assist outburst in the penultimate game of 2008), and he's got the size (6'3") Skiles may be looking for at PG, but his small-sample .429 3P% seems way over his head (he only shot .436 on twos in the NBA, .333 on 3s in the D-League, and aside from his junior year at Nevada he was a poor long-range shooter in college); besides, he spent most of last year in the NBDL for a reason. He'll certainly challenge Ridnour for the job over the course of the season, but I can't imagine the Bucks breaking camp with Sessions as their starting PG. Also in the mix is Tyronn Lue, who split 2008 between the Hawks, Kings, and Mavericks. Lue can really shoot the rock (.453 3P% last year), but he's not a distributor and his lack of height hurts him on defense. Veteran PG Damon Jones signed on as well, and he should be able to carve out some kind of role after making 115 threes (on a sizzling .417 3P%) last season.
Grade: C+
Shooting Guard: Even after a down season (by his standards), Olympian Michael Redd remains the Bucks' marquee player, a deadly quick-trigger shooter without a conscience who can rain down shots from all over the court. But Redd's production did drop last year, partly because he was slowed by the same nagging left knee injury he's battled since January 2007, and you could see it in his ability to finish inside -- while Redd's banner 2006-07 (115.1 ORtg/27.3 %Poss) was fueled by 63% shooting on close shots, he shot only 56% from close-range in '08 and got to the rim less often as well. Meanwhile, during the Olympics Redd's signature 3-point stroke was nowhere to be found, as Team USA's designated shooting specialist went 5/18 from the shorter arc and actually finished last on the team in 3P%. So should Bucks fans be worried? Eh... not exactly. At 29, Redd's not likely to repeat his 2005-2007 peak, but his offense shouldn't get much worse than it was last year (which, make no mistake, was still quite good) because great pure shooters tend to deal with injuries and aging better than guards who rely purely on quickness and driving ability. And Redd can definitely still shoot -- his poor Olympic showing was just an outlier, as he posted a 55.9 TS% against NBA competition last year, including a sixth consecutive season with a FT% of at least 80%. Redd is still a poor defender -- that's no surprise -- but a continued slide in offensive production is not something to worry about, at least not in 2008-09. Charlie Bell will be Redd's backup again, and he's coming off of a down season of his own, having shot just .381 from the field in 07-08. Bell's slump came because he suddenly couldn't finish a drive to save his life; his FG% on threes and long 2-pointers stayed relatively constant from '07, but his shooting percentage on inside shots fell from .624 to .476. If he regains his finishing ability inside, it should mean a return to respectable production; if anything, the rest of his game actually improved last year. Also on the roster is Awvee Storey, a well-traveled swingman whose game literally relies on athleticism alone -- he's a horrid shooter who posted a .216 eFG% on jumpers and shot (no joke) .483 from the free throw line.
Grade: B
Small Forward: Acquired in the trade that sent Yi Jianlian to the Nets after just one NBA season, Richard Jefferson is looking for a fresh start with the Bucks. Though he bounced back nicely from an injury-marred down year in 2006-07, the writing was on the wall when the Nets traded Jason Kidd to Dallas -- Jefferson was clearly not going to fit in with New Jersey's rebuilding effort going forward. Now that he's in Milwaukee, though, he gives the Bucks one of the league's better all-around small forwards (though the price tag of $42.4 million over the next 3 years is a bit steep). On offense Jefferson is a deadly scorer who can both slash to the basket effectively (.600 eFG% inside, .511 FTA/FGA) and knock down jumpers (.362 3P%); he also enjoys a reputation as a strong wing defender, though that may be a bit outdated (he was one of the league's worst defensive SFs last season by DAPM). At the very least, he'll give Redd efficient scoring help on the wing, something the Bucks have been lacking in recent seasons. Backup Adrian Griffin was picked up from Oklahoma City in the 3-team Mo Williams trade, and he'll be on the floor for defense and defense only -- his offense was beyond brutal last year (88 ORtg on 15 %Poss). He could lose playing time to rookie Luc Richard Mbah a Moute, but Mbah a Moute is of the same mold as Griffin: all defense, and not much offense to speak of (12.2 P/40 as a junior at UCLA).
Grade: B-
Power Forward: That Yi Jianlian didn't work out in Milwaukee wasn't much of surprise, given his complaints about the city before ever donning a Bucks uniform. But even after taking into account his attitude and lack of production, it is surprising that he was shipped out after just a single season of NBA ball. Now it's Charlie Villanueva's show again -- not that he's been an overwhelming player in his 3 NBA seasons, either. Villanueva has no problem creating shots (he took more than 26% of Milwaukee's FGAs when he was on the floor last year), but they're not exactly the highest-percentage looks in the world; despite standing 6'11", 63% of Villanueva's shots were jumpers, and he wasn't very good at converting them, with an eFG% of just .414. On the plus side, Villanueva's not a bad rebounder, but he's also a very poor interior defender who blocks shots but is otherwise abused by opposing PFs down low (they lit him up for almost 20 P/40 on .542 eFG% last year). Rookie Joe Alexander also figures to see significant playing time at the 4 for Milwaukee, though Bucks fans may be disappointed with the early returns. Alexander impressed with his athleticism and offensive repertoire in pre-draft workouts, but he also ran hot and cold as a junior at West Virginia and while he created a ton of shots (28.8% of WVU's FGAs when in the game), he wasn't overly efficient with them (.474 eFG%). He could very well develop into the star some people are projecting him to be, but I think he should have stayed in school for another season. Malik Allen is also on the Bucks' depth chart at the 4; he's an extreme journeyman in the "jump-shooting big man" mold, but he gives Milwaukee some size on defense.
Grade: D+
Center: Milwaukee made another major commitment this summer when they extended 7-foot Australian center Andrew Bogut for 5 years and a guaranteed $60 million. Bogut, the #1 overall pick in the 2005 draft, is a well-rounded player who can score down low, rebound some, and pass the ball very well for a big man. But was he worth the 1st choice in a draft featuring Chris Paul (among others), and is he worth that much money for the next 5 years? The answer to the former question is an emphatic "no", not with Deron Williams and Paul going 2 and 3 picks later, respectively. And as to the latter question, it's dubious; Bogut is certainly a nice player, but he hasn't improved that much since entering the league, and he'll be 24 next year, which doesn't leave much time left for him to upgrade to #1 pick-type levels of performance. Bogut is definitely an above-average player at the moment -- which is especially nice in a league devoid of legit centers -- but he's just not that much better than average (in fact, he's below-average on defense); worse yet, he shows few signs that he's capable of being much better than he is right now. Off the bench, Bogut will be spelled by some combination of Francisco Elson and Dan Gadzuric. Elson was picked up from Seattle/OKC via free agency to provide size, defense, and the occasional board, but he's coming off of a truly awful offensive season (83 ORtg) and won't be of much worth if he can't bounce back at that end of the floor. Similarly, longtime Bucks backup Gadzuric plays with a lot of energy and has improved a lot on defense, but his offense has completely fallen off the face of the planet since 2006. Whichever of the two recovers the most on offense will earn the majority of the minutes in relief of Bogut.
Grade: C+
Outlook: The Bucks are a tough organization to figure out. On the one hand, they identified the main reason why the team slipped from 40 wins in 2005-06 to 26 last season (the defense, which was easily the NBA's worst) and hired Scott Skiles to give them a much-needed defensive overhaul. They also traded young (Yi) for old (Jefferson) over the offseason, re-signed Bogut to a long-term deal, and added veteran role players like Lue, Jones, Elson, Allen, and the like. In other words, these are the moves of a team in win-now mode, a team that seemingly believes they are on the cusp of the playoffs... But then they turn around and deal Mo Williams for spare parts in a clear salary dump, the type of move you make in anticipation of a rebuilding season. So which is it, Milwaukee? Are you all-in or not? As training camp is set to begin, it appears the answer is "neither" -- and that doesn't speak well for new Bucks GM John Hammond. Currently, Milwaukee is in no man's land, with neither the cap flexibility of a rebuilding team nor the talent of a playoff-caliber squad. With Williams, they may have been able to sneak past Indiana/Chicago in this division and/or make a playoff bid. But without him, they're also-rans who aren't even bad enough to position themselves for a high lottery pick in 2009. Excluding a brief run under George Karl around the turn of the century, the Bucks have been run with a similar lack of foresight for almost 20 years; the Hammond/Skiles era wants to promise that things will be different, but based on the early returns it looks like business -- and losing -- as usual in Milwaukee.
Note: Player Rankings are based on projected productivity this season. This not only takes into account a player's talent level, but also his durability, his expected playing time, and his role on the team.
2008-09 NBA Scouting Reports Series
Ad blocker interference detected!
Wikia is a free-to-use site that makes money from advertising. We have a modified experience for viewers using ad blockers

Wikia is not accessible if you've made further modifications. Remove the custom ad blocker rule(s) and the page will load as expected.