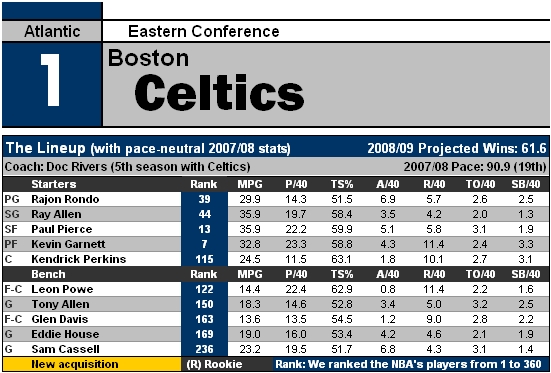 Burning Question: Will they be as hungry the second time around?
Point Guard: Going into the 2007-08 season, there were still lingering concerns in Boston over whether or not 2nd-year PG Rajon Rondo had what it took to pilot the new-look Celtics to a World Championship. Needless to say, a year later those doubts are a thing of the past, as Rondo proved a very capable starter throughout Boston's title run. The 22-year-old Rondo isn't the greatest offensive player at this stage of his career -- he's neither a scorer nor a textbook distributor, and he still lacks a consistent jump shot -- but he is a very effective defender and a surprisingly good rebounder for a guard, which makes him the kind of solid all-around PG that can help a team contend for a(nother) championship. Backing him up once again will be Eddie House, who should become the team's primary 3-point specialist with the departure of James Posey. House has no problem creating shots and can heat up from downtown in a hurry, but there are limitations in terms of the personnel that he can play with -- because he isn't a great ballhandler, the team would prefer that he not bring the ball down the court like a traditional PG. Third on the PG depth chart is Gabe Pruitt, a second-year man out of USC. Pruitt played sparingly as a rookie and shot poorly when he did play, but he has solid passing skills and could see an expanded role this season. That is, unless Rivers decides to go again with über-veteran Sam Cassell, who will apparently return to the Celtics for his final NBA season before becoming an assistant coach with the team. Cassell was absolutely brutal during his brief stint in Boston last year, shooting horribly and generally stagnating the offense, but I guess there's always the off-chance that he could be a useful player again.
Grade: B
Shooting Guard: Although Garnett and Pierce were clearly the more important members of the '08 Celtics, let the record show that the "Boston Three Party" first began to take form on June 28th, 2007, the day Danny Ainge acquired Ray Allen in a trade with Seattle. Let the record also show that Allen was everything the Celtics expected in his first season with the club, providing an ultra-efficient third scoring option who knocked down 40% of his threes and overcame some rough performances early in the playoffs to have a great Finals and help Boston win a ring. Allen isn't without his shortcomings -- he's a poor defensive player and, at age 33, his best days are definitely behind him -- but he can still score and he still has one of the best shooting strokes in the game. With Pierce and Garnett attracting plenty of defensive attention again, expect Allen to have another strong campaign in 2008-09. Behind Ray Allen will be Tony Allen, who suffered through a down season in '08 and saw his playing time all but disappear during the playoffs. Unlike Ray, Tony is as tough a defender as ever, but his shot abandoned him last year and he's too turnover-prone to be an effective offensive player if he's not making shots. He'll be pushed for minutes by rookie J.R. Giddens, who started his NCAA career at Kansas and ended it at New Mexico, padding his stats as a 23-year-old 5th-year senior in the Mountain West. A leaper who can shoot the 3 as well, Giddens is a talented athlete, but character concerns have hurt his stock.
Grade: B+
Small Forward: Paul Pierce has always been The Truth, but he was never more "Truthy" than during his first trip to the Finals. In a clutch performance that will go down in Boston history alongside the likes of Yastrzemski, Orr, and Brady, Pierce willed himself back onto the floor after a knee injury in Game 1 against L.A., pouring in 15 3rd-quarter points en route to a Celtics victory that set the tone for Boston's impressive 6-game championship over the Lakers. Long one of the most underappreciated superstars in the NBA, Pierce finally got his due during the Celtics' remarkable title run, often outshining even Garnett/Allen and earning Finals MVP honors in the process. Pierce's chief asset is his diverse offensive game; he's rare in that he can take over a game from the perimeter (.493 eFG% on jumpers) or by forcing the issue inside (7.9 career FTA/G). He's also not a bad rebounder or defender either, when motivated (which he should be again on another loaded C's team). Once again getting the mop-up minutes behind Pierce will be Brian Scalabrine, whose chief contribution comes as a cheerleader on the bench. When Scal does end up playing, he's a total offensive non-factor, but he's active on defense and the glass. Also in the mix is rookie Bill Walker, who was drafted by Washington with the 47th pick and acquired shortly thereafter by Boston. Often overshadowed by fellow Kansas State freshman Michael Beasley, Walker is a project who has some scoring upside. Still, after offseason knee surgery, don't expect him to make a big impact in his first NBA season. In addition, Ainge took a chance on ex-(Jail) Blazer Darius Miles as August came to a close. The former wunderkind had previously been declared a "medical retirement" case by an NBA doctor, and it remains to be seen how much he has left in the tank after losing two full seasons to microfracture surgery. Besides, when last we left Miles he was posting sub-50.0 TS% seasons for Portland while alienating practically everyone in the city, so you have to wonder whether he can add anything to the champs' cause at all.
Grade: A-
Power Forward: Chief among the catalysts for Boston's record-setting turnaround was Kevin Garnett, who likely would have made a strong bid for MVP had he not suffered a midseason injury (and had the Celtics not jumped out to such a huge lead in the standings so early, killing any chance for late-season MVP heroics). Along with the coaching of Tom Thibodeau, Garnett's ferocious approach to defense was the main reason Boston went from having the league's 16th-ranked D in 2007 to its very best in 2008. Despite being one of the biggest superstars in the NBA, KG plays defense like an end-of-the-bench glue guy, hustling on every possession, altering every shot he can get to, and raising the intensity of his teammates in the process. Offensively, Garnett is what he's always been: a freakishly versatile weapon who, when he's at his best, can score virtually at will inside and out, but also a guy who will settle for too many 17-foot jumpers at times. That tendency makes Pierce a better go-to guy for Boston in crunch time, but KG's total all-around game makes him one of the game's most effective players and one of the leading candidates for the MVP looking forward to 2008-09. Backing up Garnett will be Leon Powe, who made tremendous offensive strides last year, upping his both his scoring (from 14.7 P/40 to 22.4) and efficiency (from 54.9 TS% to 62.9) in his second NBA season. Powe remains a questionable defender because of his lack of size, but as he showed L.A. in Game 2 of the Finals, he can rebound, draw fouls, and finish inside with the best of them.
Grade: A
Center: The other supposed "weak link" for Boston going into 2008 (along with Rondo), Kendrick Perkins finally started to cash in on his potential during the Celtics' title run. Yes, he's still a total offensive liability who lacks any scoring skills whatsoever (though he at least did a much better job of finishing inside), but he mostly stayed out of the Big Three's way and did his job, which is all coach Doc Rivers asked of him. That job, of course, continues to be to provide tough interior defense and rebounding, and few young bigs do either better than Perkins. He seemed really inspired at the defensive end by playing alongside a competitor like Garnett, and the two combined to make Boston one of the toughest teams to get quality looks against. Also in the rotation is Glen "Big Baby" Davis, the man-child out of LSU who is now in his second year. Stepping in admirably when Garnett and Perkins went down with midseason injuries, Davis intrigued with his combination of size, touch, and rebounding as a rookie -- and, more importantly, he quieted concerns about his ability to control his weight. With P.J. Brown moving on, you can expect Davis to see an expanded role this season. Ainge also took a flier on 7-footer Patrick O'Bryant (formerly of the Warriors) this offseason. As is usually the case with these project centers, he'll probably never be a real contributor -- although O'Bryant wasn't really that bad during his two seasons in Golden State, dramatically improving his rate stats (albeit in limited minutes) across the board last year.
Grade: B-
Outlook: In many ways, Boston's magical run last season was the stuff of fairy tales -- an amazing confluence of the right players at the right time, it was a prime example of the lightning-in-a-bottle phenomenon that makes sports so compelling in the first place. However, the question the Celtics now face is this: how, exactly, do you follow a season as exhilarating and miraculous as the one they enjoyed in 2007-08? With the Big Three a year older (don't forget the added wear and tear of that deep playoff run, either) and the rest of the league that much closer in talent, it's clear that they won't win 66 games again. They appear to be one of the best teams in the East once again, of course, and they ought to win another Atlantic crown on the strength of the Big Three alone (barring injuries)... But even though they are loaded with talent, the C's have weaknesses that almost ended their playoff run before it even began. They are old, and as such they struggle when a team with fresh legs decides to push the pace (see the Atlanta series). They are also a good -- not great -- offensive team which sometimes gets bogged down at that end when the Big Three aren't clicking; Garnett will occasionally become a 6'11" jump-shooter, Allen can go into prolonged slumps, and when that happens the responsibility for creating shots invariably falls to Pierce and Pierce alone. If the '09 Celtics play to their potential all of the time, they can absolutely go all the way, but then again, that's true of a lot of teams. Given everything that had to fall into place for them to win last season, the more likely result is another deep playoff run, but this time one that falls just short.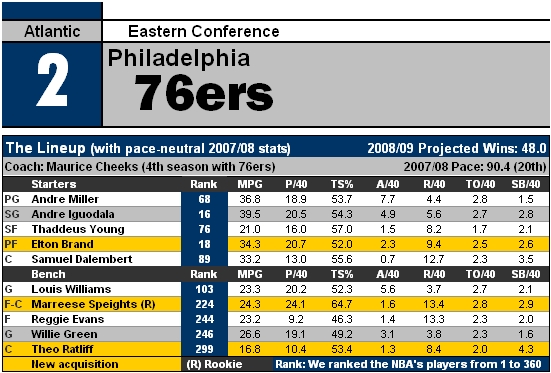 Burning Question: Does adding a Brand name put them among the East's elite?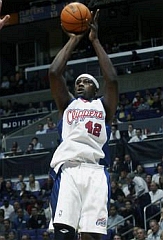 Point Guard: Replacing Allen Iverson in Philadelphia is a tall order for anybody, but Andre Miller managed to pull the feat off as well as anyone could have expected in his first full season as a Sixer. At the helm of Philly's attack, Miller had his best offensive season since his Cleveland days, setting new career highs in scoring rate (18.9 P/40) and 2-point FG% (50.4%), while the 76ers actually saw their offense improve from 26th in the league (a 103.6 Offensive Rating) to 18th (106.4). Now, make no mistake, Miller isn't as good a basketball player as Iverson -- but he is perhaps a better fit for the current Sixers than A.I. because he is more of a traditional PG, commanding far fewer shots than Iverson did and allowing Iguodala & others to blossom within the offense. What's disturbing is that Miller's rebounding and defense, two areas where he used to excel, have fallen off a cliff in recent years. Miller is still pretty good on the glass for a PG, but it's no longer the advantage it used to be, and he's now one of the worst defensive PGs in the game. Still, the overall package that Miller brings to the table makes him a big asset to Philly's developing talent base. Backing up Miller will be Philadelphia's PG of the future, Louis Williams. After 2 years of steady progress, the explosive Williams appears poised to become a solid shoot-first point in the mold of (guess who?) Iverson. Aside from the steals, Williams is a poor defender, and he doesn't add much other than scoring, but he is taking better care of the ball than ever on drives (TOs were once a major weakness), making him a serious offensive threat when he uses his speed to blow past defenders. Also on the roster is journeyman defensive specialist/offensive disaster Royal Ivey, who was acquired over the offseason for depth.
Grade: B+
Shooting Guard: In August, the Sixers finally came to terms with Andre Iguodala, re-signing him for six years and $80 million. Good move, because Iguodala is one of the top overall shooting guards in the league, an athletic leaping machine who excels at both ends of the floor. Iguodala's primary offensive weapon is his driving ability, where his quickness allows him to beat most wing defenders off the dribble, although he's also a solid passer and ballhandler capable of playing the 1 in a pinch. His jump shot is still lacking, however, which keeps him from being a bigger scoring threat (he still managed to pour in 20.5 P/40, though, good for 16th among SGs). Defensively, Iguodala is a stud, one of the NBA's absolute best; his anticipation and quickness lead to plenty of steals in help, and his strength & athleticism make him a superior one-on-one stopper on the perimeter. All told, Iguodala is one of the most effective wing players in the game. On the other hand, his backup is Willie Green, one of the least effective wing players in the game. Green's lone skill is shot creation, in which he takes the "quantity over quality" approach to incredible extremes. Last year, he took 26.3% of the Sixers' shots when he was on the floor (12th among SGs), though he shot just 43.6% from the field and posted a 49.2 TS% (49th among SGs). As bad as Green was last year, though, his '08 represented a major improvement over his first four NBA seasons... which pretty much tells you all you need to know about how pathetic his production typically is. Also swinging between bench slots at the 2 and the 3 will be journeyman Kareem Rush, who suits up for his 4th NBA team in 5 years. Rush's only marketable skill is 3-point shooting, though he's not especially good at it (career 3P%: 36.0; league average in 2008: 36.2), and he hurts his team in every other phase of the game. Basically, there's no reason this guy should still be in the league, but here he is anyway.
Grade: B
Small Forward: After a dynamite rookie campaign, the path has been cleared for Thaddeus Young to take over as Philly's starter at the 3. Though he didn't look for his own shot enough to be a big-time scorer (he only used 17.1% of possessions while on the floor), Young was highly efficient as a rookie, posting a 57.0 TS% and an offensive rating of 115. He was also strong on the glass for a wing, ranking 8th among SFs in rebound rate, as well as a surprisingly solid defender (8th in defensive adjusted +/-). Just three years removed from high school, Young should eventually develop into a bigger scorer, and right now he's still a very valuable player to have around, assuming he can build on (or at least maintain) his rookie production with more playing time. And if Young doesn't happen to be ready yet, the Sixers still have options -- they can always install Williams at the 2 and Iguodala at the 3. No matter who starts, Donyell Marshall will be the backup after signing for the veteran's minimum in September. After a very poor 2007-08 season which saw him traded from Cleveland to Seattle, the end of Marshall's career certainly looks near, but Philly is going to ask him to camp out in the corners and knock down 3s for at least one more year. Marshall's 3P% slipped to an abysmal .283 last year, though, and with his rebounding skills in decline as well, he brings little else to the table as a player. Which means Rush could eventually see time here as well, having played the 3 in a pinch during his days as a Charlotte Bobcat.
Grade: C+
Power Forward: Last year, the Sixers lacked production out of their power forwards. But this year? Well, let's just say they've made a major upgrade. By unexpectedly swooping in and inking Elton Brand to a 5-year, $80 million contract, the Sixers have added one of the NBA's marquee players, and they've very clearly separated themselves from the East's middle class in the process -- Brand is just that good, despite having missed almost all of the 2007-08 season with a ruptured Achilles' tendon. Assuming that he is back to his old self, Brand is a bona fide superstar in the post, an outstanding inside scorer who also excels in almost every other aspect of the game. In addition to a strong post game, Brand is rock-solid on defense and the glass, and can pass well out of the double-teams that will invariably come his way. The only real reservation about the contract is that the Elton Brand which Philly acquired isn't necessarily the same EB we speak so glowingly of above; in 8 games after returning from his injury (admittedly not a huge sample), Brand was dramatically less effective than he had been beforehand. But that's not a huge concern: Brand was feeling healthy by the end of the '08 season and should be 100% on opening night '09. One player who won't be 100% by then is 2nd-year big man Jason Smith, who tore his ACL at a summer camp and could miss the entire season. Smith wasn't overly effective as a rookie (-1.37 pure adj. +/-, -5.54 stat +/-), but he was a true 7-footer who could have developed into a decent reserve behind Brand. Instead, the primary backup here will be Reggie Evans, last year's starter. Evans is an incredibly poor offensive player and one of the main reasons Philadelphia needed to upgrade themselves at PF over the offseason, but he's a terrific rebounder (1st in rebound rate among PFs) and a solid interior defender who is ideally suited for an off-the-bench role like the one he'll be getting behind Brand. Also in the mix at PF and C is Shavlik Randolph, who was still recovering last season from a broken ankle he suffered in 2006. Randolph has only played 22 games over the past 2 years, but he was a good rebounder and an active defender when he was healthy in 2005-06. If need be, Marshall can also play the 4 in a small lineup.
Grade: A
Center: Starter Samuel Dalembert remains nothing if not maddeningly inconsistent. He still flashes loads of potential at times, but in general it feels like he hasn't progressed much beyond the player he was 5 years ago. For instance, Dalembert is and always has been a great shot-blocker, but he still goaltends too much and his fixation on swatting shots often leaves him out of position, making him a below-average defender overall. Also, Dalembert has never developed much of an offensive game in the post -- in fact, he took steps backward in that area last year, scoring less frequently and at a lower TS% than he had in 2006-07. All in all, Dalembert gave back all of his '07 progress, playing worse than he had since 2005 and calling into question whether he will ever reach the potential the 76ers saw when they gave him that huge contract in 2005. Behind Dalembert is rookie Marreese Speights, who turned pro after two seasons at the University of Florida. Speights had a great sophomore year at UF, scoring 24.1 P/40 on .624 FG% and grabbing 13.4 R/40. The future looks bright for him as a result -- Ed Weiland of HoopsAnalyst noted before the draft that essentially every player who achieved those benchmarks as NCAA sophomores eventually became an All-Star-caliber NBA player. The only concern is conditioning, but the good money is on Speights eventually becoming a very good player. The Sixers also brought veteran Theo Ratliff back into the fold late in the summer. Ratliff was in Philly during their magical run to the Finals in 2001, and he can still block shots with the best of them. However, he's 35 and the rest of his game has deteriorated -- in the playoffs with Detroit, he had only 4 more rebounds than personal fouls.
Grade: C
Outlook: Picked by most to finish among the worst teams in the Eastern Conference last year, Philadelphia turned heads by winning 40 games, making the playoffs, and winning 2 games against the heavily-favored Detroit Pistons instead. Then they signed Brand and locked up Iguodala long-term over the summer, establishing themselves as a cut above the rest of the East's vast middle class. But was it really worth it to make these improvements and become the 4th or 5th seed in the East? In the short term, no. As currently constructed, the 76ers are not as good as Boston, Detroit, or Cleveland, and they may not even be better than Orlando or Toronto. But long-term is a different story... They possess a young core of talent in Williams, Young, Iguodala, Dalembert, and Speights, and Brand is only 29 this season. As great as the Big Three are, Boston's core will only carry them for a few more years, and the same can be said for Detroit's key group of Billups, Wallace, McDyess, Hamilton, and Prince. Meanwhile, LeBron James may not even be in a Cleveland uniform come 2010. That leaves the East ripe for the taking in just a few short years, and there's no reason that Philadelphia can't emerge as one of its top teams by then. For now, though, Philly is merely a 2nd-tier Eastern Conference team, more talented than the riffraff but no real threat to elites like Boston, Detroit, and Cleveland.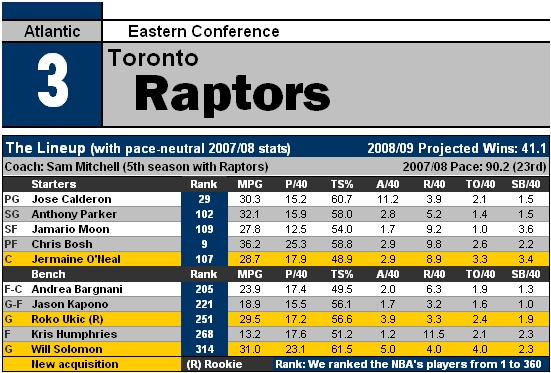 Burning Question: Will lack of depth sink Mitchell and the new-look Raps?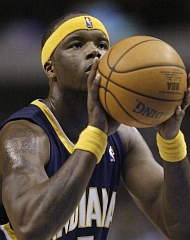 Point Guard: In a tough decision that had been brewing for years, the Raps finally chose which one of their two quasi-star point guards they wanted to go with in the future, shipping T.J. Ford to Indiana for O'Neal in June. The trade leaves Jose Calderon as the undisputed starter, a status he probably should have enjoyed for each of the past two seasons. That's because Calderon has quietly become one of the best offensive PGs in the NBA, an incredibly efficient player (a Reggie Miller-esque 126.9 ORtg in '08) who combines passing and shooting as well as any guard this side of Steve Nash. Unfortunately, just like Nash, Calderon is a truly awful defender, with Toronto's D checking in at 9.2 pts/100 possessions worse with Calderon on the floor after adjusting for teammates and opponents. Overall, though, Calderon is a bigger, cheaper, and more productive player than Ford, so you can't really argue with Toronto's decision. Continuing with the international theme, Calderon's backup will be his former TAU Cerámica teammate, rookie Roko Ukic, who came over to the United States this summer after spending the 2007 season playing in Italy. Ukic is a big guard (6'5"), and unlike Calderon he's more of a slashing combo G than a pure PG, so he'll probably see plenty of time at the 2 as well. Because his Euroleague performances since being drafted in 2005 have been pretty uneven, it remains to be seen if he will be able to translate his high offensive skill level to actual production at the NBA level. Rounding out the depth chart at the 1 is Will Solomon, another Euroleague veteran. Solomon hasn't played in the NBA since 2001-02 (and he was abysmal when he did play), but he has improved markedly since then, averaging 17.9 PPG on 55.9% shooting for Turkish club Fenerbahce Ulker in 2007-08.
Grade: B+
Shooting Guard: Candace Parker may get all of the pub, but avid NBA fans know that her brother can ball, too: just two years removed from Euroleague, Anthony Parker has established himself as one of the league's more solid all-around SGs. Parker won't impress you with eye-popping moves or flashy stats, but he excels at the proverbial "little things" that help teams win, whether it be 3-point shooting (he made 43.8% from downtown in '08), avoiding turnovers (10.6 turnover ratio ranked 11th among SGs), rebounding (7.5 rebound rate was well above average for SGs), or defending the other team's best wing scorer on virtually every defensive possession. Parker's play took a slight downturn in 2007-08 (his defensive numbers weren't as strong as in '07, for one thing), but he remains an underrated player and a vital piece of the puzzle in Toronto. Parker's backup is Hassan Adams, last seen suiting up for the New Jersey Nets in 2007. Adams was waived by New Jersey largely for cap reasons in June '07 and did not play in 2007-08, but Toronto saw something in him they liked during their free agent camp, and they inked him to a 2-year deal this summer. The book on Adams is that he can drive on offense and is a decent rebounder and defender, but he really can't shoot jumpers at all. Maybe that has changed and maybe not, but either way the Raps will have a lot of time to find out.
Grade: B-
Small Forward: Unheralded Jamario Moon was not expected to be much of a factor for Toronto as a rookie, given his small-college/minor-league background and "raw athlete"-type scouting reports. But a funny thing happened as Moon got more and more playing time last season: he played well -- really well. Moon showcased his versatile, athletic game early and often, proving to be a terrific rebounder, shot-blocker, and all-around defender, in addition to being a surprisingly efficient offensive player (110.5 ORtg, thanks in part to a low 8.9 turnover ratio that ranked 6th among SFs). Moon can't create offense for himself and could stand to improve his passing, but his athleticism makes him a very valuable performer for Toronto going forward. Backup SF Jason Kapono is the Raptors' designated 3-point shooting specialist, though he was markedly less willing to fire up shots from downtown in his first season north of the border. Kapono was at his best when playing for Miami, where he took almost 40% of his shots from beyond the arc while draining them at his customary 50% clip, and he needs to go back to that style of play to give Toronto his best level of production. On an almost identical % of team possessions, Kapono's ORtg fell from a strong 114.2 in 2007, his final season with the Heat, to a disappointing 105.4 in 2008. That difference cost the Raptors approximately 2½ wins last year, a decline that Kapono will have to reverse if the Raps are to play to their full potential. If Kapono continues to falter, disappointing 4th-year wing Joey Graham could steal some minutes as the team's backup at SF. Graham has a ton of talent (namely, a potentially deadly combination of athleticism, defense, and shooting skill), but he has never put things together on the court to become an effective NBA player. Making matters worse, a left quadriceps injury hampered Graham all season and limited him to 38 games. With only 1 year left on his rookie contract, this may be Graham's last chance to deliver on his promise in a Toronto uniform.
Grade: B-
Power Forward: Few young bigs bring as much to the table as Chris Bosh, who at age 24 is coming off of his best season as a pro. Already an All-Star performer, Bosh just kept improving last year, setting new career highs in adjusted and statistical +/-, P/40, TS%, A/40, and Stl/40. Simply put, Bosh is an absolute terror on the hardwood, a rare talent capable of dominating a game on both offense and defense. The only real concern with Bosh is his health -- he hasn't played more than 70 games in a season since 2004-05, and you have to worry that Bosh might suffer undue fatigue this season from playing with Team USA at the 2008 Summer Olympics. When he's 100%, though, Bosh is easily one of the game's 5 best power forwards, and what's really scary is that he could very well keep improving in '09. Backing up Bosh is perpetual letdown Kris Humphries, who continues to make everyone wonder how on earth he got picked 14th overall in the 2004 draft. To be fair, Humphries can rebound a little, but he offers very little aside from that board work.
Grade: A-
Center: By trading away T.J. Ford, the Raps not only resolved their logjam at PG, but in the process they also acquired Jermaine O'Neal, formerly one of the East's premiere big men. Of course, the key word there is "formerly," because over the past 4 years O'Neal has missed 117 games with injuries, and he's looked like a shell of his former self when he has played. O'Neal is still an elite interior defender, but his offensive game has regressed and was in shambles last season after being forced to carry Indiana on his back yet again. O'Neal was never a high-efficiency big man, but in 2007-08 he took it to new lows, ranking 45th out of 58 qualifying centers in TS% and 39th in turnover ratio, good for an abysmal 95.0 ORtg. The hope, though, is that O'Neal's efficiency will improve markedly in Toronto without the weight of carrying an offense. If so, O'Neal will instantly regain his status as a top-tier center, because last year he showed he could still rebound, defend, and even pass at a high level (for a post player, that is). And if not, well, Ford was a redundant, injury-prone PG anyway, and the Raps desperately needed an inside presence of any sort, so even if O'Neal's offense never returns, the trade can still be a success for Toronto. Behind O'Neal is Andrea Bargnani, a former #1 overall pick who is starting to be in danger of joining a list of Euro draft busts that includes Nikoloz Tskitishvili and Darko Milicic. Bargnani definitely has skills, as evidenced by his strong scoring rate and his ability to create shots without committing many turnovers. Trouble is, the overwhelming majority of those shots were low-percentage jumpers, which just doesn't cut it when you're 6'10" and you have as much talent as Bargnani does. Because of his poor FG% on those shots -- and his hesitance to offset it by going inside and drawing fouls or banging under the boards -- Bargnani's offensive efficiency was a low 97.8 pts/100 possessions last season, essentially killing any chance of his being an effective offensive player. Defensively, Bargnani is still too weak to do battle inside, and as a result opposing bigs destroyed him last season. The net outcome is an ultra-skilled but equally soft big man who still lacks a true position and simply isn't producing like a 1st overall selection should. Providing depth at center is Australian big man Nathan Jawai, who came over with O'Neal in the Ford deal. Jawai is kind of the bizarro version of Bargnani, a rugged, 6'10" inside player whom ESPN's Chad Ford called "a poor man's Elton Brand". I wouldn't go that far, but he does add some much-needed interior toughness to a team which severely lacks it.
Grade: C+
Outlook: Last year, Toronto seriously underperformed when compared to the record you'd expect from their point differential -- they finished 41-41 despite a pythagorean record of 49-33. The temptation would be to look at that fact, along with the potentially huge addition of a revitalized O'Neal down low, and pencil the Raptors in for at least 50 wins and a trip to the 2nd round of the playoffs. However, Toronto's offseason shakeup, while strengthening their starting lineup, robbed them of depth; Ford, Carlos Delfino, and Rasho Nesterovic were not All-Stars, but they were all quality contributors off of the bench, and their minutes will have to be replaced by relative unknowns like Ukic, Adams, Solomon, and Jawai. The result is a starting 5 that potentially has the talent to contend with most teams in the conference, but a very weak bench whose effectiveness depends on a number of question marks turning into answers: Will Kapono reclaim his old Miami form? Will Ukic and Jawai's performances overseas translate to the American game? Will Bargnani and Graham ever live up to their vast potential? If the answer to 2 or more of these questions is "yes," Toronto has a very good team on their hands... But if not (and if O'Neal truly has nothing left in the tank), the Raptors' offseason makeover will have actually sent the team in the wrong direction, plexiglas principle be damned.
Burning Question: Can the Nets compete in their first full post-Kidd season?
Point Guard: The Nets arguably took a step backwards in the short term when they dealt legendary PG Jason Kidd to Dallas last February, but the long-term future at the point looks bright for New Jersey because of whom they received in return for Kidd: 25-year-old rising star Devin Harris, one of the game's best young PGs. In addition to being an expert defender, Harris is a strong scorer on drives because of his trademark quickness, and he showcased a much-improved jump shot last year, addressing what had been one of his primary weaknesses as a player. Also encouraging was the fact that Harris' passing ability, stifled in Dallas because of their iso-heavy offense, showed promise after the move to Jersey -- his post-trade assist ratio would have ranked him 11th among point guards, a far cry from his rankings in Big D. Harris still needs to take better care of the basketball, and a little added muscle wouldn't exactly hurt him on D (though he already ranks among the best at his position), but those are minor complaints... In a few seasons, don't be surprised if Harris has NJ fans asking, "Jason who?" Backing up Harris is Keyon Dooling, a journeyman tweener who revitalized his career in Orlando last season. A failed Clippers prospect from what seems like a lifetime ago, Dooling was always a shoot-first point who couldn't actually shoot (career FG%: .417)... but last year those midrange Js started falling and never stopped, as Dooling hit a career-high 49.2% on 2-pointers, buoying him to a nice 114.7 offensive rating that was easily the highest of his career. Now 28 years old, it's possible that Dooling finally tapped his potential and that his performance last year is sustainable going forward... but I wouldn't bet the farm on it. Look for an offensive regression in '09, although Dooling is still a pretty good reserve to have around because of his solid D (he was 7th in defensive APM last year).
Grade: B-
Shooting Guard: Maybe it only seems this way, but almost instantly upon signing a long-term deal to stay in New Jersey, 32-year-old Vince Carter started to show his age. While Carter's shooting efficiency stayed virtually the same last year (.494 eFG%, versus .503 in '07), VC was unable to create shots as easily as he had in the past, and his scoring suffered as a result. In fact, not since Carter's rookie season with Toronto had he taken a lesser % of FGA while on the floor (26.7%), and it wasn't like he was deferring to better players -- aside from Richard Jefferson, the only full-season Nets with a usage rate over 20% were Bostjan Nachbar, Nenad Krstic, and Malik Allen. Now, you may immediately think that Carter's reduced output was due to the 2nd-half absence of preferred setup man Jason Kidd, but Carter's FGA/40 actually increased slightly after the trade, from 17.3 to 17.6. All of which means something far more unsettling for Nets fans -- that the athleticism of Air Canada, once breathtaking enough to allow Carter to create shots virtually at will, has finally begun to succumb to Father Time. Don't be surprised, then, if we look back at 2007-08 as the beginning of the decline phase of Carter's career. The good news, though, is that it looks like it will be a gradual decline, because the rest of VC's game remains relatively intact; he's still a good rebounder for a SG, in addition to an underrated passer and defender. Behind Carter the Nets have several other options at SG, although it remains to be seen how many are worth the playing time. Veteran defensive specialist Trenton Hassell will see minutes off the bench at the both the 2 and the 3, but he was absolutely terrible last year (44.1 TS%, -8.5 APM) and is of little use if he doesn't defend well. Also in the mix is Maurice Ager, a Michigan State alum who arrived from Dallas in the Kidd trade, but with a lifetime FG% of .319 he doesn't look destined for much of a career. If those two flop, Hayes and/or Douglas-Roberts can also man the 2 off of the bench, although neither brings enough defense to keep up with shooting guards on a long-term basis.
Grade: B-
Small Forward: After a lost season in 2007, Bobby Simmons admirably came back from injury a year ago, but the results just weren't the same as they had been in L.A. and Milwaukee from 2004-2006. Limited to just 22 MPG, Simmons posted the 3rd-worst TS% of his career, didn't rebound like he had before the injury, and continued to show little of the scoring touch that he had found during his magical career year of 2005. Still, the Bucks weren't really expecting that anymore; all they really wanted was for Simmons to knock down 3s and defend -- both of which he did reasonably well -- and that's exactly what the Nets hope to get out of Simmons as well after picking up the final 2 years of his contract in the Richard Jefferson-Yi Jianlian trade. As previously mentioned, behind SF Simmons and SG Vince Carter on the depth chart, things get complicated. Free agent pickup Jarvis Hayes has the inside track on the backup SG job, but he could even beat out Simmons for the starting SF slot by the time camp rolls around. Like Dooling, Hayes shot uncharacteristically well on 2-point jumpers last season and can probably expect a decline, but he'll get the benefit of the doubt (at least early in the season) because he scored some last year in Detroit. Given the obvious flaws of Simmons, Hayes, and Hassell, though, the spoiler in New Jersey's wing logjam could be rookie Chris Douglas-Roberts from the University of Memphis. CDR was likely the steal of the draft at #40 overall, because he scores so frequently and efficiently; in his final season at Memphis, Douglas-Roberts posted an ORtg of 117.5 on 26.6 % of possessions (by contrast, highly-touted teammate Derrick Rose's ORtg was only 111.8 on just 0.6% more possessions). CDR is lacking in the non-scoring areas of the game, but his offensive abilities will definitely give NJ a spark off the bench. By contrast, one advantage of Hassell is that he gives the Nets flexibility because he can also come off the bench and defend 3s effectively.
Grade: C-
Power Forward: Equally unsettled is New Jersey's predicament in the low post. The preferred plan is to start 7-foot sophomore Yi Jianlian at the 4, where Milwaukee used him the majority of the time last year -- though Yi has the skillset (and the slender frame, unfortunately) to displace Simmons and/or Hayes at SF if need be (which would only further complicate the Nets' convoluted wing situation). Either way, Yi needs to show more in his second NBA campaign. Despite being named Rookie of the Month in December, he didn't exactly impress during his lone season with the Bucks, scoring just 13.9 P/40 on an abysmal 48.5 TS% while rebounding and defending at below-average rates for a PF. However, Yi did play better during the Olympics, and he is just 21 -- or is it 22? -- so he has plenty of time to get stronger and tougher inside. Over the offseason, New Jersey also added one of the more underrated players in the league in Eduardo Najera, king of those "little things" you always hear Hubie Brown talk about on TV. Najera's scoring is limited to garbage points, but he makes the most of his chances around the basket (57.0 TS% last year, 60.9 in '07), rebounds despite a lack of size, defends hard (2nd among SFs in defensive APM last year), and basically does the "hustling energy guy" thing to a T. Rookie Ryan Anderson will also see time at the 4, and he was a dynamite scorer during his sophomore year at Cal -- a 121.1 ORtg on 28.4 %Poss is just nuts (as a fun point of reference, Larry Bird had a 121.3 ORtg on 28.8 %Poss in 1988, arguably his best offensive season), so there's no doubting his offensive chops. Too bad he's a non-factor on defense, meaning he's destined for the Troy Murphy Memorial Career Path™. Also in the mix here and at center is journeyman Stromile Swift, now on his third team in 3 years. Once the darling of APBRmetricians everywhere for his gaudy per-minute stats, Swift has fallen out of favor with eggheads and scouts alike in recent seasons because of his declining scoring ability, poor ballhandling, awful defense, and generally stalled development. What you see is what you get from Swift at this point, and it's basically empty athleticism.
Grade: C-
Center: Josh Boone is penciled in as the starter here, but anything can -- and likely will -- happen. Boone made improvements to his rebounding, passing, and ballhandling during his second NBA season, but his progress stalled because he shot and defended worse than he had as a rookie. Now, New Jersey has gone with this type of player in their starting lineup for extended periods of time before, but Boone's sophomore defensive slump showed that he's not really in Collins' league at that end, which he would need to be to justify a 25+ MPG role going forward. Boone could eventually be passed on the depth chart by Sean Williams, who showed some potential as a rookie last season. Williams' most impressive attribute is his great shot-blocking ability (though he still has a ways to go as a total defender), but otherwise his skill set is almost identical to Boone's. It will be interesting to see which of the two gets the lion's share of the minutes at the 5, or even if Frank plays them side-by-side in a big lineup with Yi at the 3. The 3rd center will be rookie Brook Lopez, by far the better of the twin Lopez brothers but not an overwhelming prospect because of his poor shot selection (you're 7'1" and you shot .475 on 2-pointers? Really?) and generally soft approach to the interior game (weak rebounding and shot-blocking #s). What he can do is score, though, and he's athletic for his size, so there's the chance he works on those flaws and lives up to his potential. But in all likelihood he looks like a guy with million dollar tools who will disappoint Nets fans by never putting it all together.
Grade: D+
Outlook: New Jersey is clearly in rebuilding mode after gutting most of their roster over the past 12 months; of the 11 players who saw minutes for the Nets on opening night a year ago, only Vince Carter and Josh Boone remain with the team today. In fact, by the summer of 2010, the Nets (as currently constructed) will have shed approximately $42 million off of their payroll since the beginning of the 2006-07 season. And I wonder why? Hmm, guess who will happen to be available that summer? And guess who one of LBJ's best friends is? And guess what team he has an ownership stake in? Like just about everyone else, I'm just saying: 2010 Brooklyn Nets. LeBron James. Mark it down. In the meantime, Harris and Carter will provide their share of highlights, but the Nets are going to struggle to score and struggle to win ballgames in 2008-09. Will it all be worth it? I have a feeling they won't mind at all if they can lure a certain superstar to Brooklyn in 2 years...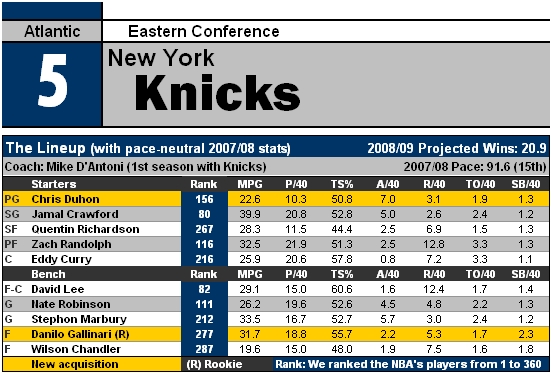 Burning Question: How long will it take new coach Mike D'Antoni to make the Knicks relevant again?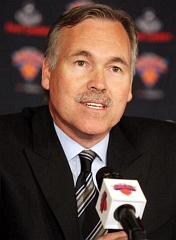 Point Guard: No, none of them are Steve Nash. Not even close. But some combination of Chris Duhon, Nate Robinson, Mardy Collins, and Anthony Roberson will have to do at the helm of Mike D'Antoni's "7 seconds or less" offense during the coach's first season in New York. New face Duhon is a smart, defense-first point guard who can be counted on to run an offense, but scoring definitely isn't his forte (he ranked 75th of 78 qualified PGs in P/40) because for a spot-up shooter he doesn't knock down a very high rate of his threes (career .356 3FG%), and he was an awful finisher when he did penetrate inside. At best, Duhon is barely an average player who has never logged more than 29 MPG in his career, so figure on seeing a lot of Robinson here as well despite the tiny guard's more SG-like playing style. Unlike Duhon, the volatile Robinson is an offensive dynamo who has no trouble putting the ball in the basket, but passing isn't exactly his top priority, which could limit his usefulness at the 1 in an offense like D'Antoni's. He'd be much better suited to an instant-energy 6th man combo-guard role like Leandro Barbosa played in Phoenix, but Robinson's diminutive stature makes him a defensive liability at PG, let alone SG, so for better or for worse Robinson is entrenched at the point. The 3rd PG job will belong to either Collins or Roberson, although neither has done much at the NBA level so far. Collins is a big guard who has struggled mightily as a scorer in 2 pro seasons; he has a deft passing touch, can rebound, and is a decent defender, but he must improve on his abysmal shooting (41.7 career TS%) to stay in the league. Meanwhile, Roberson is more of a scoring combo guard (he played SG at Florida) but he's too small to be anything but a PG in the pros; in a 20-game stint with the Warriors 2 years ago, he created a lot of jump shots but never penetrated inside and had only 10 assists in 227 minutes. And then there's the matter of Stephon Marbury, who was still technically on New York's roster at press time but was almost certainly on his way out after burning bridges with the organization and fans alike last year. There's no denying a fresh start would benefit both "Starbury" and the Knicks, so it's likely just a question of when and how he'll exit, not if -- his expiring contract could make him prime trade material, though there's speculation that new GM Donnie Walsh may save everyone the trouble and cut Marbury even before camp breaks. It's not clear how much Steph is capable of when he actually tries, but his heart clearly wasn't in things last year, and he posted the worst season of his career. I think Marbury could still be useful to an NBA team, but it will have to be one other than the Knicks after a tumultuous 4½-year stint in NYC.
Grade: C-
Shooting Guard: Easily the most durable of the Knicks' perimeter players a year ago, Jamal Crawford returns as the team's top scorer but also as one of the league's streakiest offensive performers, having once again shot just around 40% from the floor (.410 in '08). Some of that is mitigated by Crawford's outside touch (176 3PM) and his expert stroke at the line (.837 career FT%), but in many ways he regressed into old bad habits last year, settling for long 2-point jumpers again and often disappearing for just as many nights as he was a big factor. When Crawford was "on", he was one of the more gifted scorers in the league because he created a lot of offense without turning the ball over... but when he was off, the whole team suffered because Crawford's shot selection is among the most maddening in the NBA. In fact, despite a solid handle and good passing touch, Crawford can't really be trusted at PG for any extended amount of time because he calls his own number so often and with such mixed results. Throw in his customary uneven-at-best effort on defense, and it's no wonder that Crawford's name comes up anytime there's a discussion of the league's most frustrating players. When Crawford needs a breather, Robinson, Roberson, and even Quentin Richardson can swing over from their respective positions to play the backup SG role. Last year, Knicks coach Isiah Thomas liked to use a small backcourt with Robinson playing the de facto 2 on offense but Crawford guarding the opponent's SG. D'Antoni will almost certainly experiment with the same setup in his up-tempo offense, but that means Crawford will have to rein in his scoring instincts and focus more on distributing the ball, lest Duhon have to take on that role as well. Oh, and I almost forgot: apparently Allan Houston is attempting a comeback (see Hardaway, Penny, 2007-08 for a hint as to how that's going to work out).
Grade: C+
Small Forward: Once again the Knicks are going into a season with Quentin Richardson as their starting SF, and it's anybody's guess as to which version they'll get -- the effective long-range marksman, rebounder, and defender from 2007... or the bricklayer from 2006 and 2008? One thing's for certain: Richardson is almost guaranteed to miss a substantial portion of the season due to injury. While a balky back had sidelined him in prior seasons, Q-Rich's 2007-08 was marred by a wide variety of other maladies, from sprained ankles to wrist, knee, and elbow issues, with a concussion even thrown in for good measure. When Richardson is healthy he gives the team a rare catch-and-shoot threat who doesn't need to dribble 10 times before hoisting a jumper, but durability is always a concern, and (unlike a lot of other players) even when he does play through injuries he doesn't seem to be able to maintain his effectiveness. As we've seen throughout his New York career, he's just as likely to put up an ORtg of 95 as 110, and that volatility could make a difference of 4 or more wins to the Knicks' bottom line. Splitting the playing time behind Richardson will be Jared Jeffries and rookie Danilo Gallinari. The good news about Jeffries' '07-08 was that he managed to stay relatively healthy, missing just 9 games after sitting out for 27 the year before. The bad news is that he seems to have completely lost the form that prompted New York to use (waste?) their mid-level exception on him in the first place back in 2006. Jeffries' TS% plunged to 43.3, good for 66th out of 68 qualified SFs, while he turned the ball over on 18.4% of his possessions (which ranked 64th), all of which added up to an awful 94.3 ORtg. And it's not like he was creating shots, either -- he took only 12% of the Knicks' shots when on the floor, and scored an anemic 8.2 P/40. But at least Jeffries can still rebound decently, and he's a dogged defender; the Knicks were a full 3.3 points of DRtg better when JJ was on the floor, and it's that kind of impact that continues to make him a viable reserve. Gallinari has the opposite problem -- like most 20-year-olds just coming into the league, he's not really physically ready for the NBA (especially on defense), but he has a boatload of offensive skills and posted some impressive scoring numbers in Italy at age 19. I doubt he contributes a whole lot right away, but it's unlikely he busts like, say, Nikoloz Tskitishvili down the road. Rounding out the SFs is Patrick Ewing, Jr., a rookie out of (you guessed it) Georgetown. The Knicks dealt human poster Frederic Weis to Houston for "P-Ew II" in late August, but he's trading more on name than game at this point -- as ESPN's Chad Ford put it: "Actually he's more athletic than his dad, but he doesn't really have a position or a skill that translates [to the NBA]." Fun story: he once dunked over me, literally VC-on-Frederic Weis-style, in an AAU game when we were in high school and he was on the Georgia Stars. Unfortunately, the ability to posterize slow, white, 16-year-old, painfully unathletic, 6'4" PFs won't help him where he's going.
Grade: C-
Power Forward: Here's a big shocker: Zach Randolph wasn't exactly a hit during his first year in the Big Apple. Oh, sure, he averaged his double-double (17.6 PPG, 10.3 RPG) as promised, but they were, as usual, generally empty numbers. His ORtg was a mere 101.4 (NBA average was 107.5) thanks to high turnovers and subpar scoring efficiency, plus he (predictably) failed to mesh with low-post mate Eddy Curry, and was a turnstile defensively. As a result, the Knicks spent all summer trying to deal Randolph, but (again, predictably) there were no takers as of press time, meaning New York is likely stuck with him at the 4 again. He's not without his advantages as a scorer and rebounder, but he was a horrible fit here last year, and it's unclear as to how things are going to be different in '09 if Curry is still around. So basically NY is still on the hook for nearly $50 million to a poorly-conditioned, selfish malcontent who doesn't fit into their future plans at all... Thanks, Isiah!! Meanwhile, backup Wilson Chandler held his own as a rookie, struggling with his shot (48.0 TS%) but chipping in a little on the boards while adding defense (the Knicks were 1.3 efficiency points better on D when he was playing) and a little much-needed athleticism. Look for him to get better in '09 with an improved jumper and more judicious shot selection. And what about Malik Rose, you ask? Shhhh. Nobody remembers he's still on the team, and as long as he's drawing $7.6 million/year, he'd like to keep it that way...
Grade: D+
Center: Here's another shocker: Eddy Curry has been awful in his three years as a Knick. I mean, who saw that coming? Okay, fine, so he hasn't been entirely awful -- scoring-wise, Curry has few peers at the center position, as he converts a high percentage of his looks around the basket and draws fouls at a truly prodigious rate. But in every other phase of the game, Curry is a joke: his hands are awful (18.7% turnover rate despite rarely putting it on the floor), he has zero court vision (ranking 52nd of 58 qualified Cs in assist ratio), and for a 6'11" wide-body, he is a total non-factor on defense and the glass. Add to that ongoing struggles with weight/conditioning, and you've got one of the laziest, most overrated "stars" in the game of basketball. Want to know just how negative Curry's impact was on the Knicks last year? According to Adjusted Plus-Minus, Curry's mere presence on the court cost New York a staggering 16.08 points of net efficiency, easily the worst mark in the NBA. Curry's acquisition pretty much symbolizes Isiah Thomas' ruinous tenure in New York... He just kept bringing in one overrated, overpaid player after another, until he had finally assembled perhaps the least cost-effective roster in NBA history. It goes without saying that, like Randolph, the Knicks would love to move Curry, but they will likely have to live with his contract as well, a constant reminder of Thomas' disastrous reign as GM. On the other hand, at backup center is the anti-Curry, David Lee, one of the few bright spots to come from the ill-fated Thomas regime. Lee essentially shines in the areas where Curry struggles -- specifically hustling and rebounding, where he pulled down 17.5% of available misses (dwarfing Curry's 10.2% rate despite a big size disadvantage). You can't exactly run plays for Lee, and he's not the greatest interior defender in the world, but he's the prototype for an undervalued brand of player: the high-energy, undersized PF who rebounds and scores garbage points with great efficiency (see also Houston's Chuck Hayes). Needless to say, on a team of selfish, low-efficiency gunners, a guy like Lee has been a breath of fresh air these past 3 years. As opposed to Jerome James, who has been like a breath of sarin nerve gas these past 3 years...
Grade: C-
Outlook: It'd be easy enough to write off the Knicks in 2008-09 simply because they're still essentially the same squad Isiah Thomas hand-picked, one which finished 23-59 and really never had a prayer of competing. But there's a new wrinkle, of course -- at long last, Thomas isn't running the show here anymore, and the collective cheer from Knicks fans could be heard from the Hudson River to Lake Erie. Not that the newly-minted Walsh-D'Antoni brain trust should be expected to do much more with this ill-conceived mess of a roster than Thomas did a year ago... To say that New York's current players are poor fits for the new coach's run-and-gun style would be an understatement, given the guards' allergy to passing and the big men's aversion to conditioning. So, yes, it will likely require even more patience from the Knicks' long-suffering fan base before the new bosses can turn their team into an actual NBA franchise and not a laughingstock. But at least there's a plan now, filtered down from an actually-competent GM to one of the league's best coaches. Don't expect immediate success from a team still stocked with Isiah's players, but do expect results once the onerous contracts come off of the books and the roster is re-shaped in the image of a basketball ops team that actually knows what it's doing.
Note: Player Rankings are based on projected productivity this season. This not only takes into account a player's talent level, but also his durability, his expected playing time, and his role on the team.
2008-09 NBA Scouting Reports Series
Ad blocker interference detected!
Wikia is a free-to-use site that makes money from advertising. We have a modified experience for viewers using ad blockers

Wikia is not accessible if you've made further modifications. Remove the custom ad blocker rule(s) and the page will load as expected.