Article:2007 NCAA March Madness Tournament Replay (WIS Style): Elite 8
Talk

0
Ad blocker interference detected!
Wikia is a free-to-use site that makes money from advertising. We have a modified experience for viewers using ad blockers

Wikia is not accessible if you've made further modifications. Remove the custom ad blocker rule(s) and the page will load as expected.
So, it appears as though I've screwed this thing up, I've already posted the Final Four, and Championship rounds this morning (apparently this article got lost somehow).  But, I decided I would post this anyway, because I know there are people out there, like [[1]], who would probably like to see all the games played.  SO, knock yourself out (even if you already know who won the Tourney).  Here's the link to the Final Four/Championship round article for those who haven't seen it.  If you like, you can go ahead and give it a vote so it'll hit the front page:)
http://www.armchairgm.com/Article:2007_NCAA_March_Madness_Tournament_Replay_%28WIS_Style%29:_Final_Four_and_Championship 
Elite 8:
Midwest:
10 Georgia Tech vs 1 Florida
My Pick: Florida- The defending champion Gators are an all-around in-depth team, and I don't think any number 10 team can knock off these Gators.
Gators over Yellow Jackets 82-76
http://whatifsports.com/ncaab/boxscore.asp?GameID=111489&nomenu=1
As expected, the Gators move on in their quest for a repeat, devouring the Yellow Jackets without a single sting (well, not exactly devouring them, but you understand, right?). Al Horford, and Joakim Noah went for 17, and 16 points in the Gators win.
West:
8 Kentucky vs 3 Pittsburgh
My Pick: Kentucky- The WIS simulator has been picking upsets so far, so why not an 8 over a 3??? I think Kentucky really has as much a chance as Pitt in this game anywway.
Panthers over Wildcats 77-64
http://whatifsports.com/ncaab/boxscore.asp?GameID=111495&nomenu=1
And, once again, I go for the upset, and it fails to happen. Unlike the actual Tournament from last year, Pittsburgh manages to reach the Final Four, by defeating the 8th seeded Wildcats by a total of 13 points. Aaron Gray led the Panthers in scoring, with 17 points, and added 8 rebounds, which also happened to lead the team (tied with Levon Kendall).
East:
4 Texas vs 2 Georgetown
My Pick: G'Town- I believe in the Hoyas' big man, Roy Hibbert, he's an amazing player, and I think that he can lead this team to victory over Kevin Durant and the Longhorns. G'Town wins big over Durant and the fourth-seeded 'Horns.
Longhorns over Hoyas 80-70
http://whatifsports.com/ncaab/boxscore.asp?GameID=111496&nomenu=1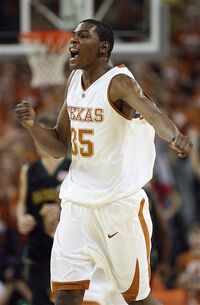 And, once again, I fail to predict the outcome. This is tough to predict the outcome of the games simulated on WIS. But, anyways, Hibbert and the Hoyas fail to reach the Final Four, and Durant, whose Double-Double (20 points, and 13 rebounds) led the 'Horns to victory, will get a shot at a title for Texas.
South:
2 Memphis vs 1 Ohio State
My Pick: OSU- Since I haven't been doing so great with the picks so far, I'll stick with the number 1 Buckeyes, led by big man, Greg Oden. I think they will dominate the inside, and Mike Conley will hit multiple 3's on the outside, for the OSU win, and Final Four appearance.
Buckeyes over Tigers 75-66
http://whatifsports.com/ncaab/boxscore.asp?GameID=111497&nomenu=1
No upset here, Ohio State moves on to the Final Four with a 9 point win over the second seeded team, the Memphis Tigers. Oden went for 10 points, and 7 rebounds, he's gonna have to do a little better if the Buckeyes want to win the Championship, especially if they have to face the Florida Gators.
Final Four Matchups:
3 Pittsburgh vs 1 Florida
4 Texas vs 1 Ohio State
---
The field of four is now set, give me your picks for the Final Four, and tell me who is gonna win the Championship (I should've asked you this for the 1st round, but whatev). I will post the Final 4, and Championship game in an article a little later. I know, you can't wait can you???----
Haha, well I guess we can forget about the above paragraph^^^^, huh??? Well, sorry for posting this article out of order, won't happen again:)