This is a quote by a man that has been in a media whirlwind as of late.  If you here this player's name, first thought that comes up is Human Growth Hormone (HGH).  This player has admitted to the use of HGH and apologized to his fans, the Yankees' fans, and the fans of baseball.  He could, and probably will, be called to the stand to testify against his former "best" friend, Roger Clemens, who refuses to admit to using HGH or anabolic steroids.  This player didn't avoid the questions about his use of HGH at a 45 MINUTE press conference before his first day of spring training at the Yankees' camp.  He sat and took the heat, not making excuses.  Still people label this man as a cheater to the game.
Andy Pettitte...
201-113
3.83 ERA
1,844 Ks
The Quote in the headline pretty much sums up Andy Pettitte's character, he is a fighter.  He is competitive and is in the business of baseball for one reason, to win.   Andy Pettitte is a husband and father to four kids.  He holds the all-time record for most starts and innings-pitched in the MLB post-season.  This cheater won the Good-Guy Award from the New York Sports Photographers.  Also a winner of the Warren Spahn Award , which is given to the top performing left-hander.  Twice Andy has been a twenty game winner and four of his fingers are heavy with world series rings.  Consistent is what he should be labeled, as he has never had a losing season in his career.  All this has been overshadowed now as he was named in the most infamous document in the history of the MLB, The Mitchell Report.
December 13, 2007 was a day that Andy Pettitte must felt like someone just low blowed him with a sledgehammer.  This was the day that The Mitchell Report was released and the day that Pettitte fell into the media's fire.  Mitchell received information on Pettitte from none other than Brian McNamee.  McNamee stated that he injected Pettitte with HGH two to four times in the 2002 season to help Pettitte heal from an elbow injury.  December 15, 2007 was the day that Pettitte came forward and said he did indeed use HGH on two occasions to help heal from an injury, not help enhance his performance.
Now Andy Pettitte must live with the consequences of his use of HGH, but he must suffer the worst punishment of all...shame in the eye of the fans.  Wait though, was he wrong in what he did?  First, he was wrong in possessing the hormone because he did not have a prescription.  The HGH came from a prescription given to his ill father, so yes he broke the law in that sense, but what about in the sense of breaking the rules of baseball?  In 2002, the season Pettitte injected himself twice in one day, MLB did not have any rules banning the use of HGH.  Pettitte had sustained an injury to his throwing elbow that could have altered his season and even his career.  He wanted a fast and full recovery from this injury and as baseball fans we know that elbow injuries can really hurt a pitcher career.  When his trainer, at the time Brian McNamee, came to him with a solution that would make the healing process fast and VERY helpful, Pettitte jumped at it.  Put yourself in his shoes, you are presented with a solution that could keep your baseball career on the high and do it legally (in MLB's mind).  He used HGHJ to recover from an INJURY.
cheat-er
-noun
a person or thing that cheats
Cheat
-verb
to deceive
-noun
a person who acts dishonestly, deceives, or defrauds
a fraud
an imposter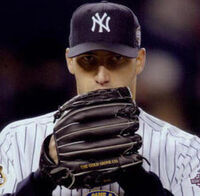 Andy Pettitte...  A fraud?  An Imposter? He was deceiving?
Pettitte said he was not trying to enhance his performance, or in other words he was not trying to deceive us with his game or being an imposter.  How could you be an imposter in baseball you ask?  Easy, you take HGH to be a better pitcher, to gain an edge on players, which in my eyes is trying to be an imposter of a dominant pitcher.  Pettitte was saving his career and hoping to be able to recover from this injury and be able to player for many more years.  He took TWO shots of HGH in the same day that is it...  He was not cheating.  Maybe he was desperate, but one thing Pettitte was not doing was cheating.  He had good intentions, in his mind is seemed to be like taking an advil for headaches, just another prescription drug to help get over an injury.
Andy Pettitte, his apology at that gruesome 45 minute press conference... I accept it, but do the rest of you baseball fans?



http://cglzero2hero.wordpress.com

Ad blocker interference detected!
Wikia is a free-to-use site that makes money from advertising. We have a modified experience for viewers using ad blockers

Wikia is not accessible if you've made further modifications. Remove the custom ad blocker rule(s) and the page will load as expected.